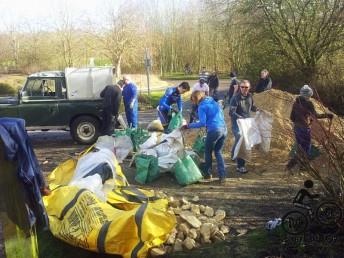 See the complete Croft trail build diary.
After low key build days in December (triangle surfacing) and January (triangle woodwork) we had a big day planned. Twenty tonnes of build materials had been delivered on Thursday morning: half a tonne of gabion (rocks) and 19.5 tonnes of type 1 limestone. Our target was to shift all of this in the day and it was looking promising; twenty people had clicked "yes" on the Facebook event.
We'd found our stash of large rubble bags on one of the previous build days. This includes two 3 x 3m bags that can hold around 7 tonnes each. We had Pete Ratcliffe and Daisy the Land Rover booked for the day. Tom Scott was bringing his barbeque and Kat Ratcliffe had cake and hot drinks ready to go. Well, the drinks weren't actually heated until needed but the plans were there.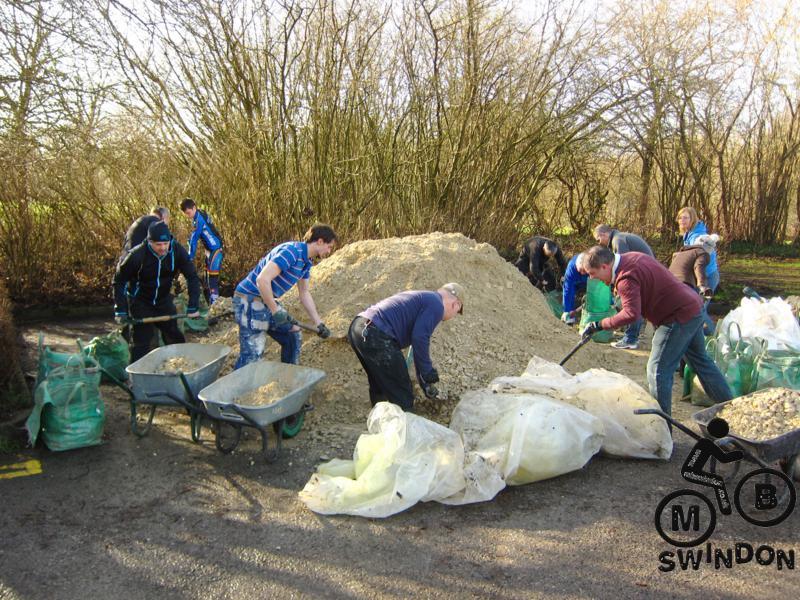 The weather since Christmas had been long periods of heavy rain interspersed with drizzle. When that stopped then it precipitated. When that stopped then it started to rain again. One day there was a period of literally minutes between the rain stopping and then starting again. On top of that it rained quite a bit as well.
More recently there had been a week of high winds that had felled trees at the major trail centres and Somerset was flooded. After all of this it was heartening to find that the majority of the trail was still intact. Some pot holes had formed but in other areas there was pristine rocky trail even if it was surrounded by water.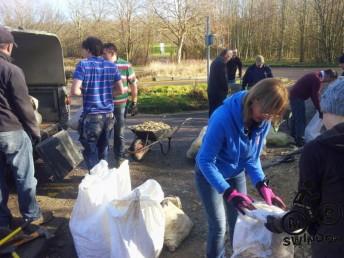 The first target was moving material down to a stockpile in the triangle area using the Land Rover. At the same time material was moved to the rock spine area using wheel barrows. Once the triangle stockpile was complete then a second was built at the end of motorway1.  On the way a large mud pit at the bottom of Pete's steps was fixed.
Paul and Debbie walked the trail removing branches and other debris. Debbie received kudos for raking moss off the woodwork. Kristian dug out puddles using his African monster mattock.
With so many people present we were able to start more jobs. Jerome filled potholes round the first section of the trail and on the north side of the pitch. A large group got started on the trail exit area which had turned into a quagmire. This was dug out and filled with rock. 
When that was done the the group moved onto motorway1 and filled more pot holes. Meanwhile Phil and myself (Tom) inspected the trail on the east side of the pitch and found several large puddles. These were drained.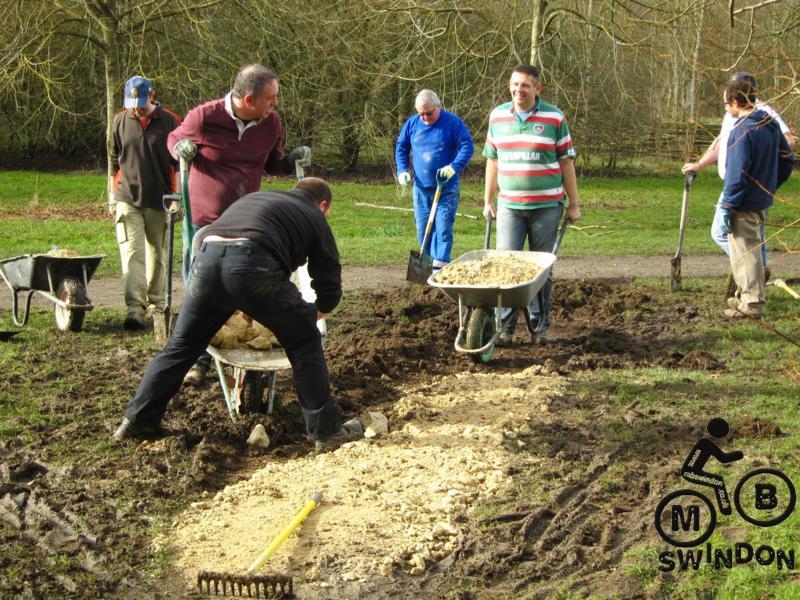 By 2:30pm most of the gravel had gone and it looked we were going to beat our previous record of shifting 20 tonnes by 3pm. With little else to do in the car park the main group moved to the east side of the pitch and dug even deeper drainage channels. The last two loads of gravel were used to fill potholes and puddles. Finally we entertained ourselves for an hour or so working on our drainage canal. This had been built two years ago after some newly built trail had been completely submerged. Cutting through roots that were under dank water gave us a few laughs.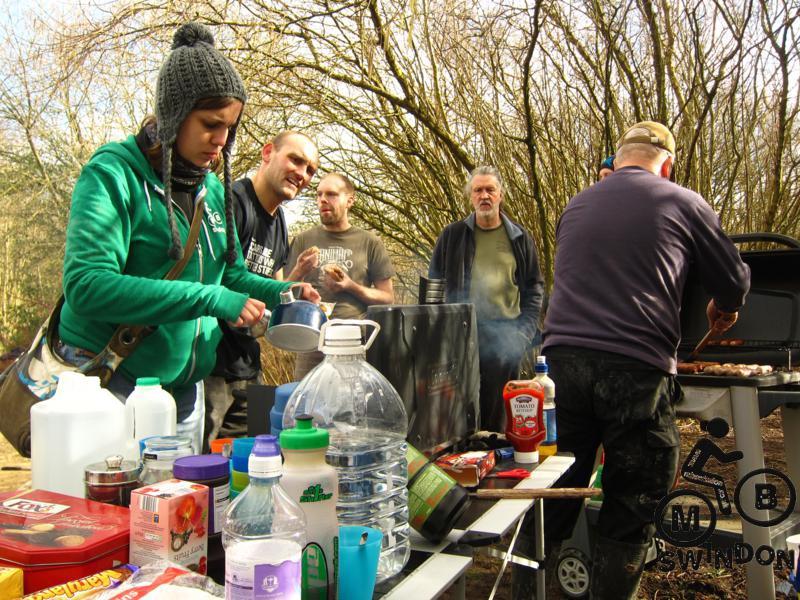 That was an amazing day and proved that with a decent number of people then a lot of work can be done and it's more fun. I remember the early days in 2009 when it was often just Phil Mayger and myself at the trail. We are winning the war on pot holes. If the trail can survive the last two months and remain in good shape then it can survive anything. Thank you everyone who came along and made this a success.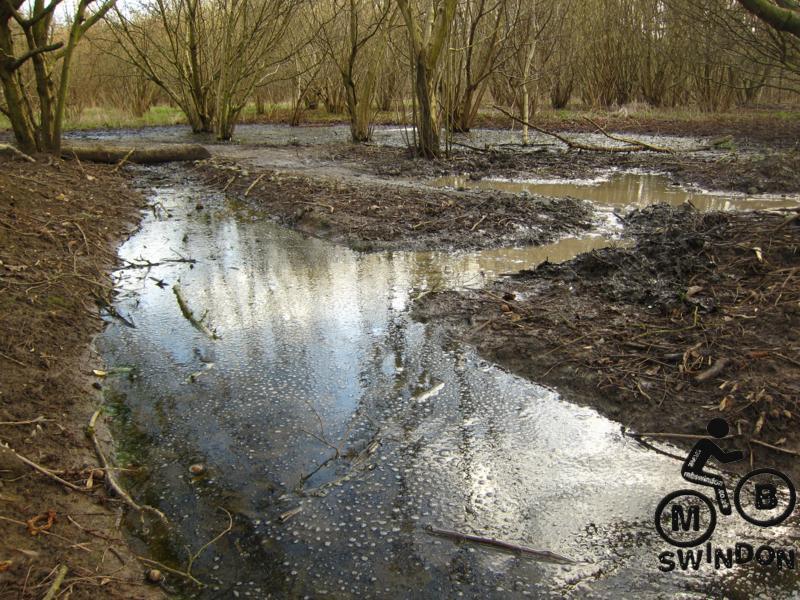 Those present
1 – Sean Carolin
2 – Mike Ponzo
3 – Andy Smith
4 – Jason Rodger
5 – Tom Scott
6 – Hazel Ross
7 – Ania Zielnik
8 – Debbie Davies
9 – Paul Allum
10 – Graham Burgess
11 – Gary (new Gary)
12 – Sean Morrisey (RAC man)
13 – Kat Ratcliffe
14 – Pete Ratcliffe (Daisy operator)
15 – Kristian Price
16 – Tom Stickland
17 – Phil Mayger
18 – John Crocker
19 – Jon Proudman
20 – Richard Barnett
21 – Gary Palmer
22 – An Wheeler (previously known as Anne and then Ann)
23 – Jerome Crametz
24 – Gary Lee
25 – Mike Jeffries
26 – Steffan James
27 – Christopher Banjo Vincent
28 – Phil Allum
29 – Paul Kidd
30 – Malcolm Toop Rose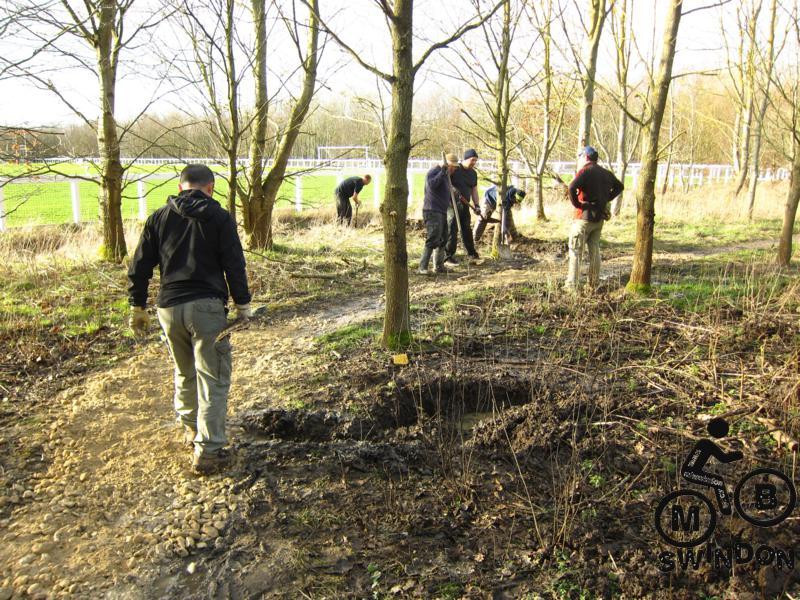 Gravel shifting league table
 Our new gravel shifting record: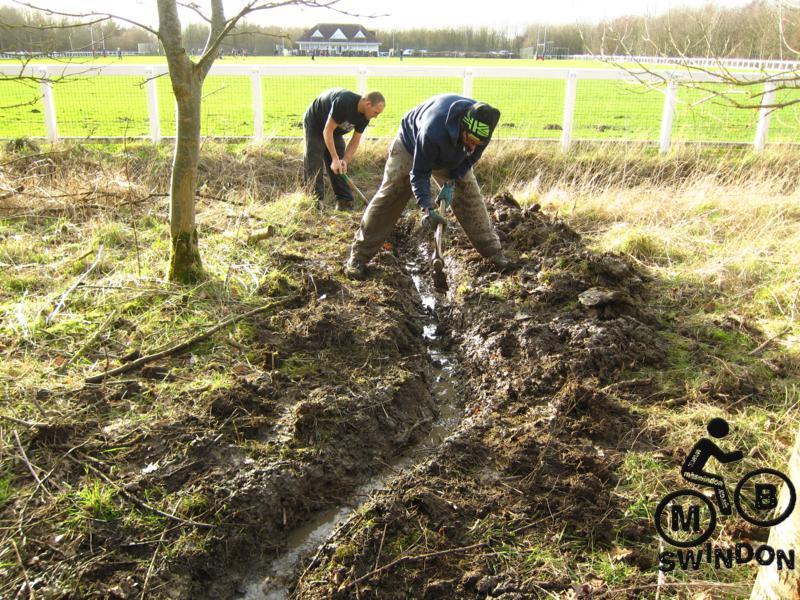 History corner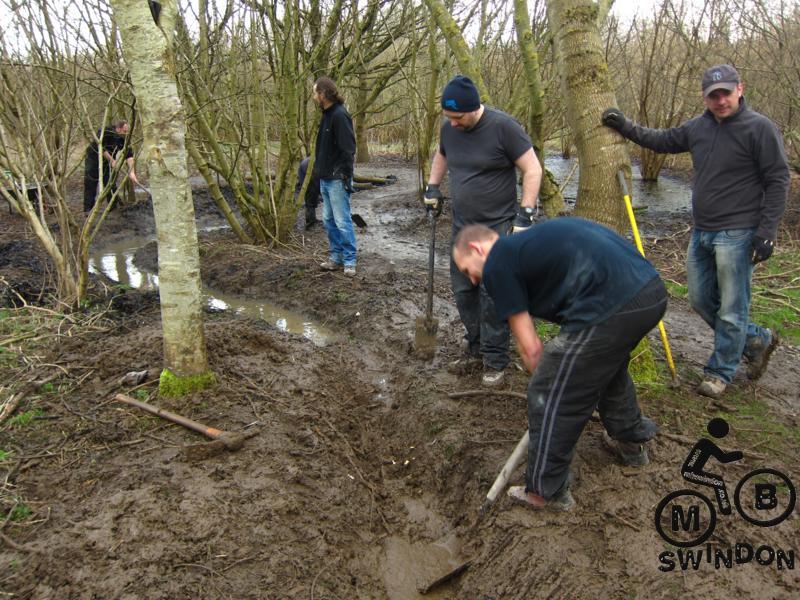 Complete trail build diary.