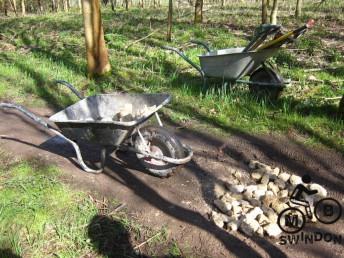 After a bit of warm rain on Saturday it was promising to have a dry and sunny morning. Arriving just after 10am I found Stewart Mackay, Paul Kidd, Finlay Kidd and Wayne Brown ready and raring to go. We got stuck straight into the first task for the day: fixing a load of potholes in an area we call "motorway1" and "motorway2". 
The potholes received gabion rocks and a topping of limestone before being compacted (once we had the whacker plate running). A fence was constructed to close off an annoying short cut on the bottom switchback. As the morning progressed we were joined by Matt Dobson, Pawel, Gary Yeates and Phil Mayger.
A club ladies ride was taking place at the trail so we spotted a few riders as they came past.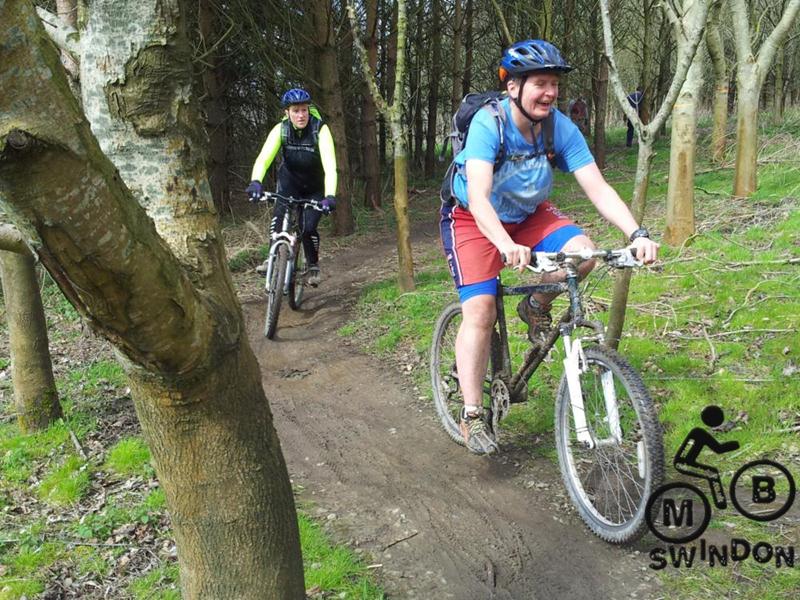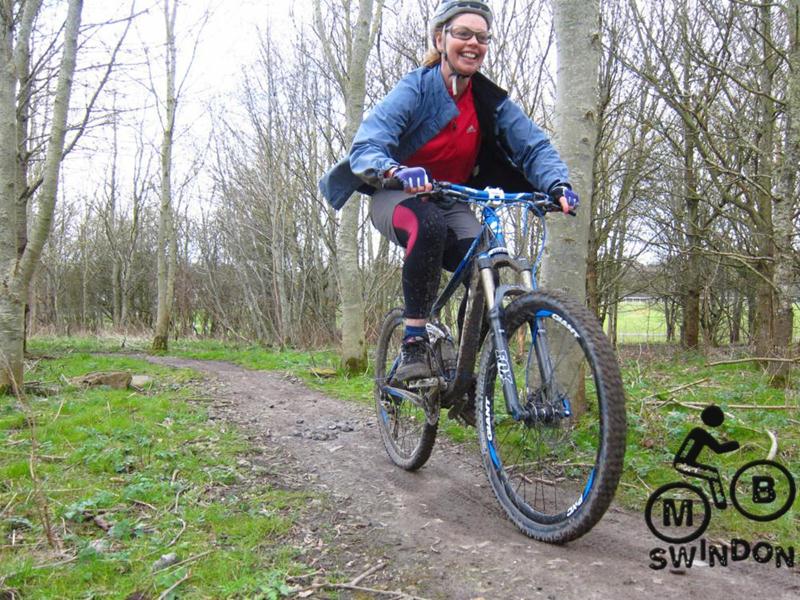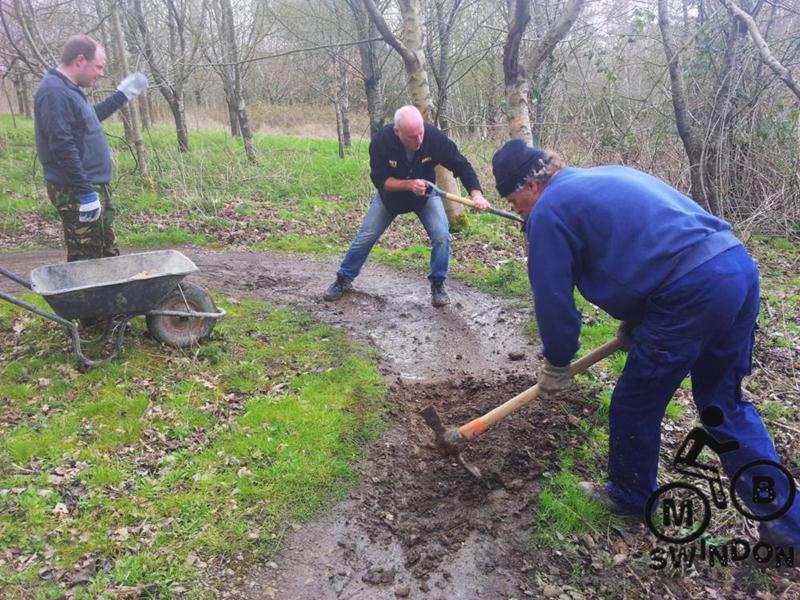 This area was first dug out on 27th Sept 2009 (not uploaded yet), first surfaced in Oct 2009 and then properly in  Sept 2010. A section was rebuilt in Dec 2010 . More surfacing was done in Jan 2011 (more) and March 2011,  gaps filled on 4th and 10th of March 2012 and then patched in September and December 2012.
Two more short cut obstructing fences were built in the area at the end of the trail near the tennis court.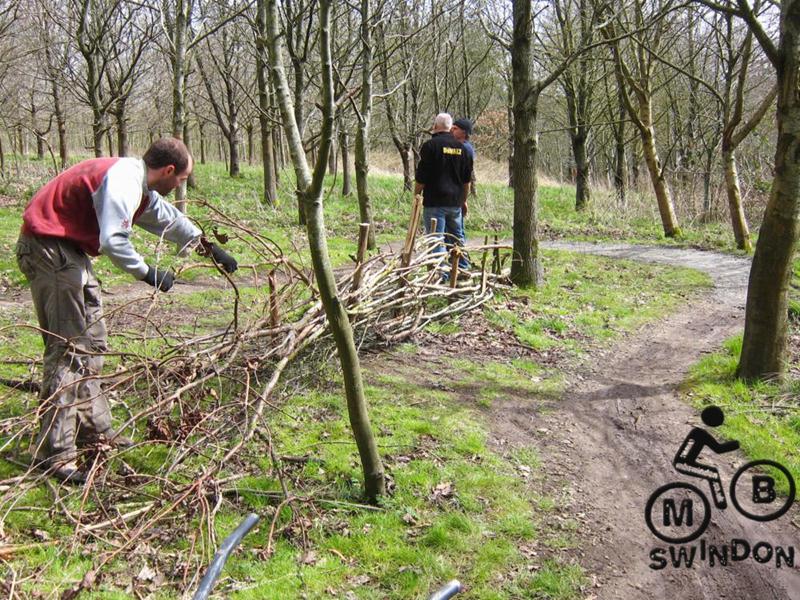 With all the material used up from the first pile we had to barrow more in from the triangle until everything was fixed to our satisfaction.
With that done we moved onto a second major job of the day: fixing potholes in the alley. This was first surfaced in Oct 2010, exit mods were made in Dec 2010 and more surfacing was done in  Jan 2011 plus the final link in Dec 2011. The first part was topped up in May 2012. Our first surprise visitors for the afternoon were Ben Rukin and Kate Bevan. They arrived in time for Sharon Bassingdale's cakes.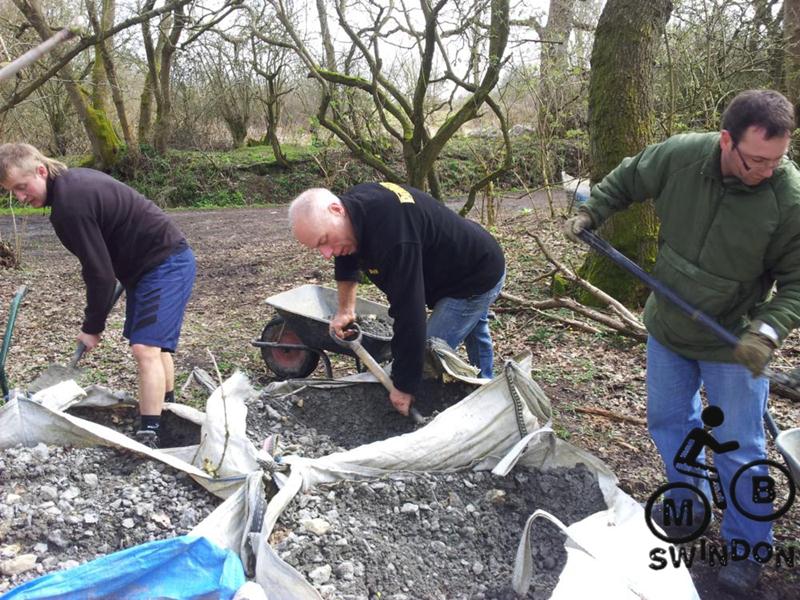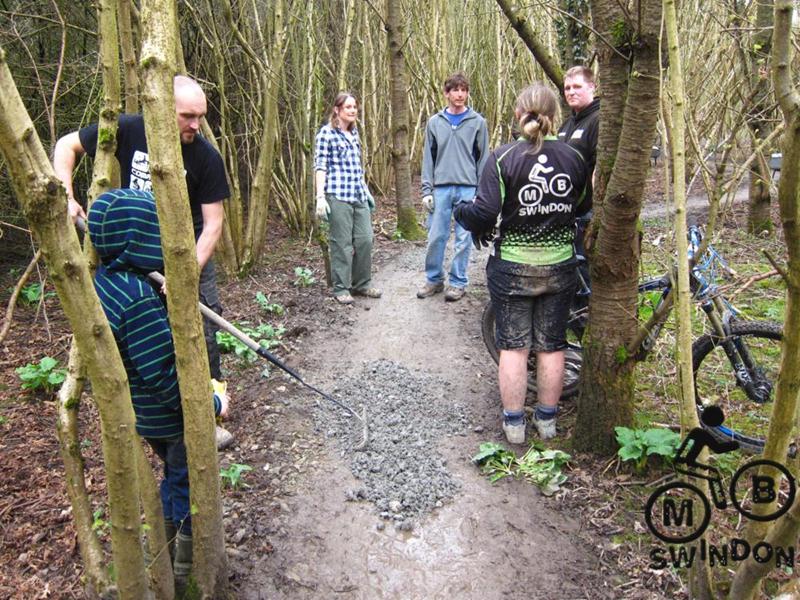 Our second surprise visitor of the day was Andy Matthews. Old time trail builder, not seen for a while.
The last of the material was used to fill potholes in the triangle: a small hole after the rock feature, some bigger ones after that and the whole of the back straight. We were running very low on material by this stage and some areas only received puddle drainage. This area will be reinforced during 2013 once we've had some material delivered to the area.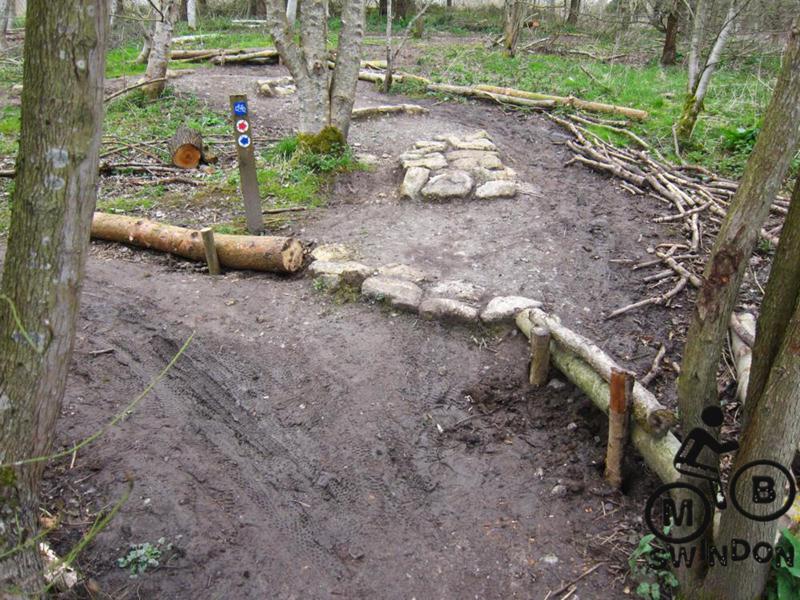 The triangle was dug out in June, July and August 2011 surfaced in September & October 2011, January 2012 and then topped up in Sept 2012 (more).
The final job of the day was blocking various short cuts on Pete's steps on Piper's hill.
Thanks to everyone who came along and, once again, made a massive difference to the trail.
1) Tom Stickland

2) Phil Mayger
3) Stewart Mackay
4) Paul Kidd
5) Finaly Kidd
6) Wayne Brown
7) Matt Dobson
8) Pawel Kotowski
9) Gary Yeates
10) Kate Bevan
11) Ben Rukin
12) Andy Matthews
13) Richard Ford lookalike (sorry, don't know name!)
14) Dan Westron
Trail build progress is shown in the map below.