The waymarked trail at Croft Country Park is based around a family/beginner off-road trail (Blue), with some more technical (Red) sections for the more experienced cyclist or those wishing to improve their skills. In all, the trail is about 5km long.
The beauty of the way the trail is designed is that it really can be ridden by anyone. Every technical feature has an 'escape run' alongside it, allowing riders to bypass features they do not have the confidence to try. Not only that, but the features are all 'rollable' meaning that you should be able to ride over an obstacle slowly and your wheels will just roll over it with no big drop on the other side.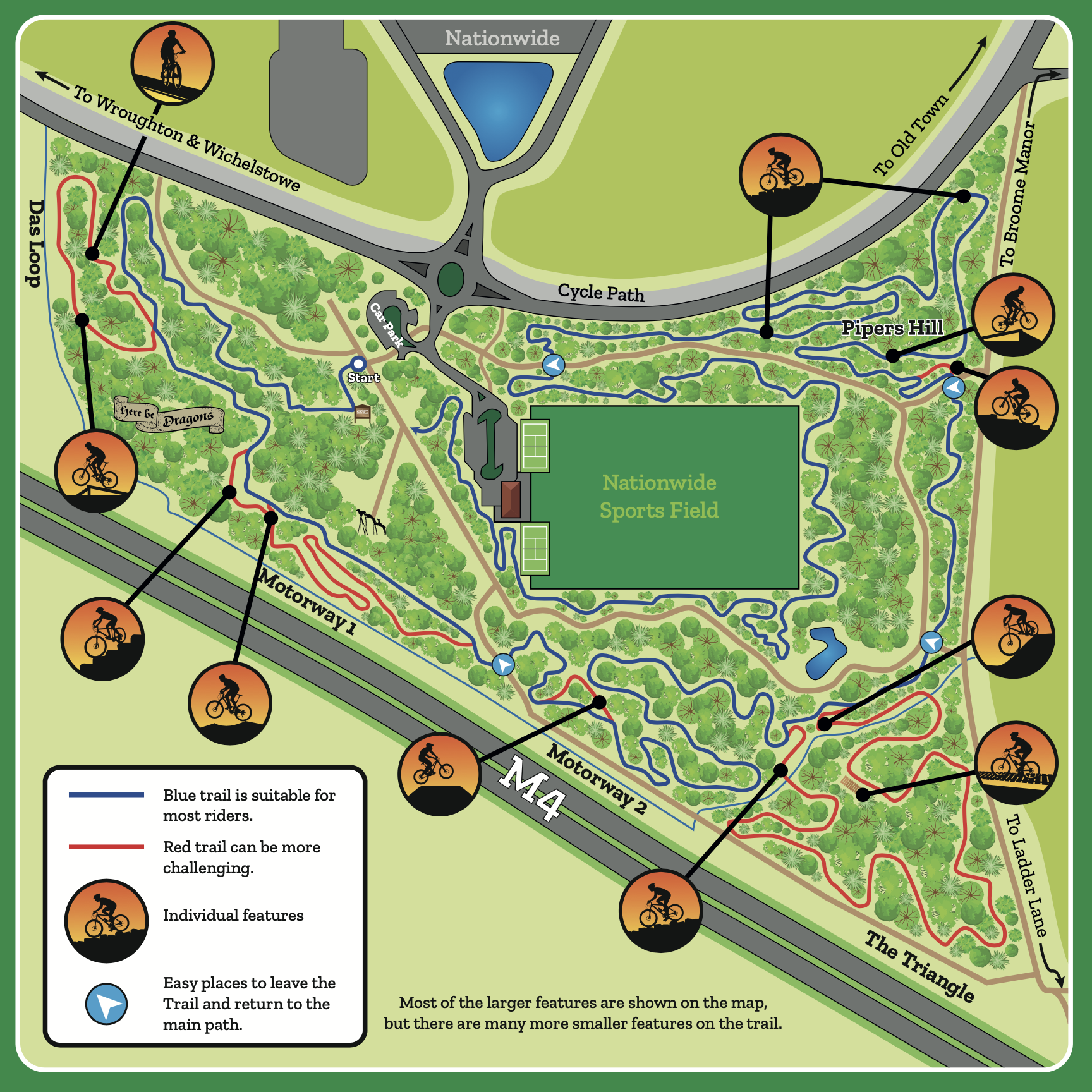 Open all year round and free to use, the trails are easily accessible. They are within a mile of Swindon town centre and there's free car parking at the start. There are even a few picnic tables should you wish to stay for a while. We have no toilet or cafe facilities on site, but Broome Manor Golf Club is just a five minute ride away.
Whilst built on land provided by Swindon Borough Council, the trail is managed by the MB Swindon club and has been built entirely by volunteers and is entirely funded by donations. So if you do come down to enjoy the trail, or have already enjoyed it, then please consider joining the club or come and help on one of the trail building days.
See our build diary for the history of work carried out on the trail from 2008 to 2016.
See a bit more about the Trail's history from 2007 onwards.
Directions
The Croft Trail is off the small roundabout in Pipers Way (B4006) – opposite Nationwide's HQ building (SN3 1TX).
As you enter the site there is a mini roundabout; turn right for the public car-park. As you turn into the car park, note the ramp & wooden bollards to your left – the start of the trail can be found by going up this ramp and heading straight across the main path and into the woods!
If you have any queries about Croft Trail, contact our Trail Manager, Julian – trail@mbswindon.co.uk