This was originally supposed to be a half day spent moving material with Pete's Land Rover (reg: M00 aka Daisy). The idea was that we shouldn't exert ourselves too much the day before a club ride. It never works out like that though and we rarely leave the trail before it's dark…
Things began at 7am when I set out to pick up some rubble from a few locations around Swindon. I had some brick pillars to demolish. They didn't take much effort – just looking at them the wrong way would have done the job. I took the chance to buy some drainage pipe so that we could fix the berms that were collecting water.
The target for the day was to move material into a section that had been dug out after Christmas but was currently bypassed due to mud issues. See the map below.
Red – surfaced
Black – newly surfaced
Yellow – unsurfaced
Blue – proposed new bits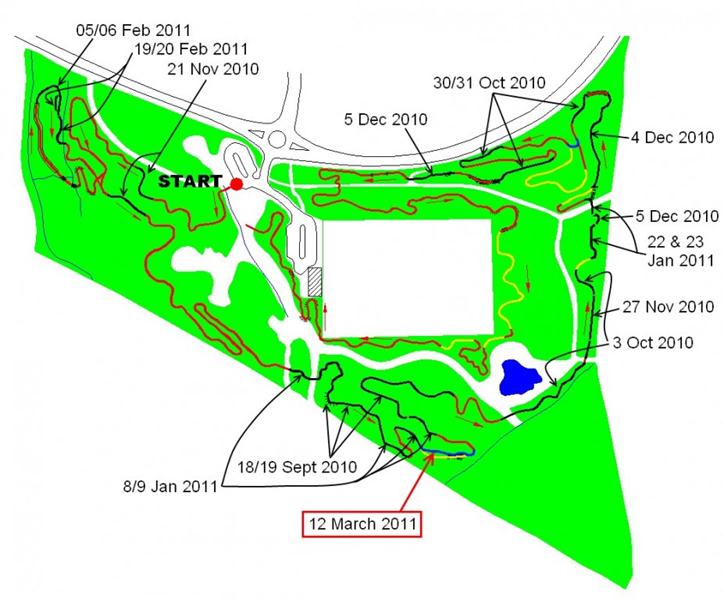 By 10.30am Pete had cleared a route for Daisy and we were ready to start moving material. We were soon joined by Richard who did an anger management session (smashing up bricks with the sledge hammer). We were then joined by Jez and Gary Yeates and finally Phil.
The trail line was dug out and lined with bricks and slabs. The drainage pipe was installed on the new berm. A set of rock steps were built in the area coming down to the berm. We moved a lot of gravel too using the Land Rover with Kat and Jez filling sacks. That was piled up in three locations right by the trail.
On the next build days it will just be a matter of compacting the rubble and then spreading and compacting the gravel and then another new section will be completed.
We want to go for a big push on the upcoming days!
Saturday
Sunday.
It will be great to have Piper's hill back in action in time for spring.
Big thanks to everyone who turned up to help.