We met with our usual strict time keeping at the market car park in Wallingford. Once we got going we had 16 riders and we were eager to see what Mike had in store for us.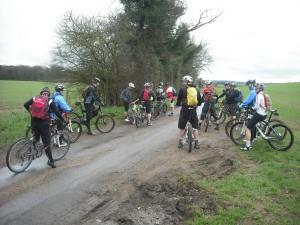 After an easy start along the road out of town we pulled onto the ridgeway path. After a bit of climb this turned into a really sweet, rolling descent threading between the trees.
The route then took us up a stinging climb through the woods and on to Nuffield. Here we were treated to another descent through the trees.
The ride continued in a similar manner, taking in a selection of bridleways and bits of back road and weaving through woodland.
Mike was eager to show us the pond that was used in Chitty Chitty Bang Bang. Youtube video of exciting pond. IMDB link.
Mike assured us that there were no pubs near the route. He was right. However, we did see a private house that the owners had decorated in the style of a pub. They'd done a very thorough job, even hanging a proper pub style sign outside and building a car park. Commoners weren't welcome anyway.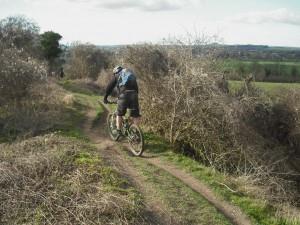 The most technical feature of the ride was a fun drop off down the bridleway after the Russell's Water. This was followed by a long climb back up the bridleway. At the top we helped a local fix his fence. MBSwindon – helping the community.
We followed more single track along the Chiltern way before joining the A1430 and looping back up to Nuffield. From there we worked our way back to Wallingford which meant that we rode down the big hill that we had climbed earlier.
We finished off with some sneaky single track back into town. The lack of pubs near the route meant that we had to call into the Red Lion at Brightwell Cum Sotwell for some sneaky beer. We were not disappointed.
Thanks to Mike for guiding us. He's got a plan for a longer (60-100km) route later in the summer. This will probably reach Henley on Thames. There's also a route from Watlington that we know of. Keep an eye on the events calendar for details.
Bing map of mountain bike ride from Wallingford.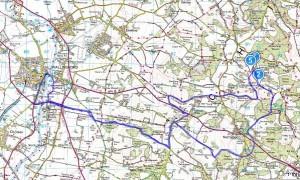 ---