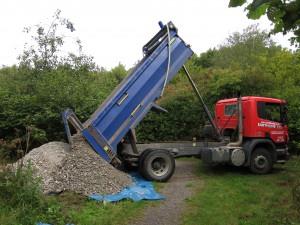 For the last month or so we've been digging out the new section in the triangle. See the build reports!
Today we had 50 tonnes delivered using the 10 tonne lorry. This can drive down muddy tracks so the material is really close to where we want to use it. We had 30 tonnes delivered to the triangle to go with the 10 tonnes already there (I think it was 20 actually!). Another 20 tonnes was delivered near Piper's hill and the East side of the pitch, both areas that will be surfaced this winter.
I also had the wheels on the log moving frame fixed plus I did a bit of a litter sweep. I removed mainly old bottles, cans and bits of plastic from the triangle – stuff that had been there for years by the look of it.
Now we need as many people as possible come and help on our build weekend on Saturday 17th September and Sunday 18th September. On both of these days we'll be holding a barbeque. Make a date in your diary, we really want to go for it on this weekend.