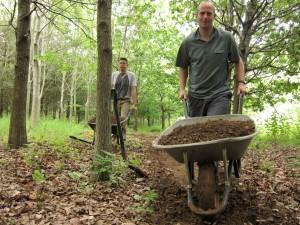 We had Tony on site with his motorvator ready for an early start. By 9:30am we were digging out the main route in the new triangle section. Whilst Tony and Phil raced off into the distance Sean, myself, Andy and Richard followed on behind digging out the mud. We built up several bumps and bermed corners. By lunch time we'd dug out around 200m of trail. Meanwhile the motorvatoring had reached approximately the 500m point.
Even with the motorvational assistance the digging was still heavy going. Andy was the first to crack and was seen wandering off muttering something about "got to get away from this and find a new life maybe on Piper's hill".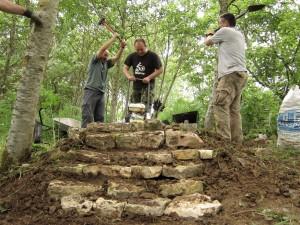 It wasn't long before we followed him onto Piper's hill. The plan was to finish surfacing the downhill section. Originally we'd built three bumps into this to act as rollers. The geometry of the bumps was wrong and it never really worked. The last bump had already been removed with the material used to enlarge the berm at the bottom of the hill. We decided to remove the top bump as well and use the material to enlarge the middle bump, giving us a much larger jump.
We ended up with a rollable jump that looked quite intimidating from the top. We saw several people ride off it, most rolling and one jumping.
Surfacing moved down the hill to the big berm at the bottom but then we were a few metres short before connecting back to existing trail. We had to resort to a wheel barrow relay from the nearest pile of gravel which was miles away in the triangle. It was worth it to finish this section off.
The step climb was also surfaced.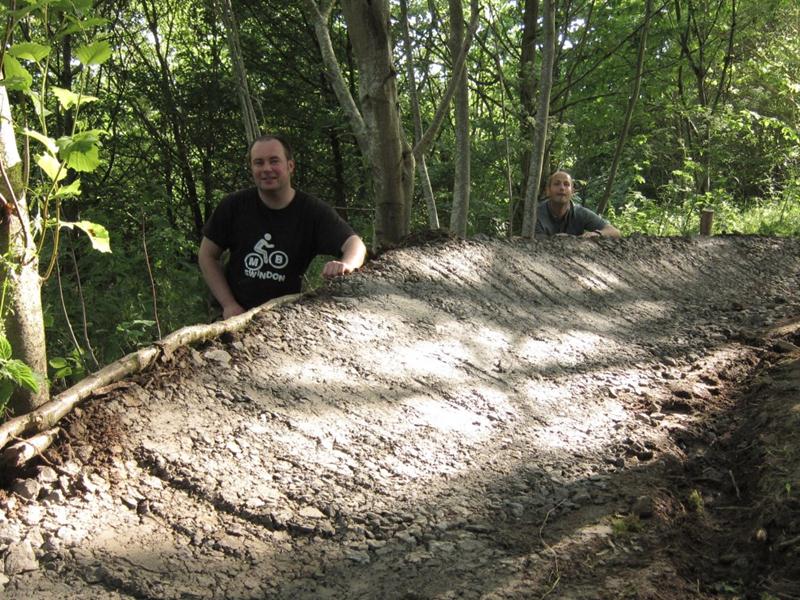 Once again it was a very productive build weekend and thanks goes to those who came along and made it happen.
We've got some build evenings planned for June and July. Keep an eye on the events calendar and facebook group for more info.