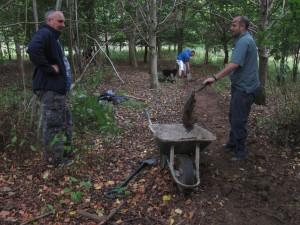 This was another of our Wednesday build evenings. See the events calendar for upcoming build evenings.
It was something of a channel tunnel moment as we dug out the soil to connect two sections together.Big thanks to those who came along: Nick, Andy Matthews, Chris Hopkinson, Jez and Phil.
We also fixed one of the corners near the start of the triangle section, giving it a wider and smoother line.
We've been test riding various parts of the triangle and we're pretty pleased with it.