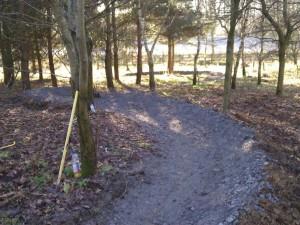 The day was a record day for volunteers! Phil reports that the following were there:
1 – Chris Hopkinson
2 – Richard 1
3 – Richard 2
4 – Jez
5 – Nigel Gregson
6 – Sharon Gregson
7 – Sharon Yeates
8 – Gary Yeates
9 – Lee Wright
10 – Jenny Wright
11 – Gary Lee
12 – Ben Rukin
13 – Pete Ratcliffe
14 – Lee Morgan
15 – Anna Buckingham
16 – Phil Mayger
Amazing! With a few more days like this we can deal with all the remaining boggy bits. A big thanks to everyone for making it happen.
Absent:
Tom Stickland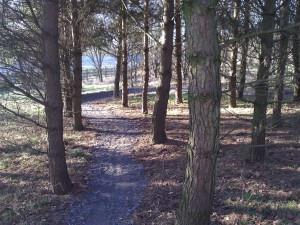 I had a good excuse though. I was, er, carrying out essential MBSwindon riding reconaissance in mid Wales. It wasn't any fun, nor was the beer.
Phil reports that the power barrow had 100% utilisation along with Mr Anon's van being filled with bags of gravel that were then tipped into wheel barrows near the drop zone. A team of four were working full time in the car park loading. The result of this was that 200m of trail was surfaced in a day and the 20 tonne load was reduced to a sad little pile. That's another 200m of soggy trail dealt with.
The berms that were built were originally tweeked back in January 2009.
Our next big push is going to be sorting the muddy sections on the top of Piper's hill.
---