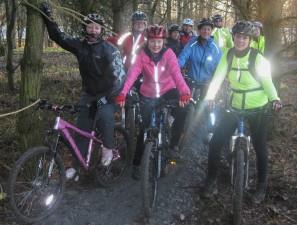 This was the second all women ride at the Croft trail, lead by women's office Jodie West. Many of the riders had come back after the November ride, even though it had been bitterly cold back then. We know that a few more had wanted to come but were stuck at work. So Jodie is clearly doing something right! We've got several more sessions planned for the next few months. Keep an eye on our event calendar and facebook group for the events.
---
Jodie says: "I've just returned home after our second successful ladies ride at the Croft Trail. Today I was joined by 8 lovely ladies, of which 2 were newcomers which was great. The sun came out to play too which was a big bonus.
I'd like to say a big well done to everyone, I'm seeing such progress since our last trip out which is really great news. As I said if you are able to ride the trail in this cold and damp weather whilst the trail is not at it's best then you'll be flying round by the time it dries out and the warmer weather comes along again. Because of the chilliness we of course had our obligatory hot chocolate and cake stop after the first lap – because ladies that's how we do it !!!!!!!
Anybody thinking of joining us I will sort a future date very soon for another little venture out.
Thanks everyone who joined me today – and already looking forward's to our next trip out xx"
---
Marie Root: "Thanks all. Neave and I had a brilliant time today. I'm really enjoying these ladies trail days, such a great bunch of gals. Of course having the fellas around today was great too! Thanks to the chaps for all their hard work in the cold keeping the trail going and to the lads that helped Hana with her chain and to …Anthony for loading my bike onto my car. There are some things that blokes are just better at…not ready to burn my bra just yet! 🙂 see ya next time girlies x"
---
Sharon Yeates: "Great ride today through all the gloop!! Thanks once again Jodie for leading the way and to all the girls for the fun and support. Had my first "off" too. Fortunately I didn't land in loads of mud but unfortunately I landed on the only and smallest bunch of nettles on the trail. So although my nice new leggings are gre…at at keeping out the cold and being seen at night, they weren't man enough for the nettles and I have some nice nettle rash on my posterior. You can all stop laughing now…….."
---
Lydia Jewell: "What more can I say – loved the whipped cream that appeared at break time :o) Another great day that we all enjoyed – thanks everyone and see you on next Ladies day if not on Novice ride in Feb".
---
Hana La Porte: "What a great time I had yesterday! Thanks to Jodie for her leadership, thanks for the lovely half-way snacks everyone. It was great, I'll definitely be joining you next time (hope it's a bit drier then:)
Thanks again everyone, it was lovely meeting you all..
Keep pedaling:)"
---
---