Next build day is Saturday 22nd October!
---
See previous build reports: June – Aug, Sat 3rd Sept, Wed 8th Sept, Sat 10th Sept, Sat 17th Sept.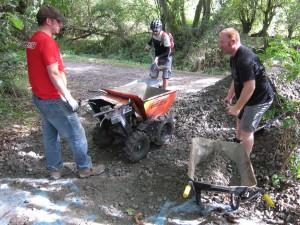 The aim for the day was to move as much gravel as possible.
Phil and myself (Tom) arrived a few hours early and spent the time marking out two big berms. We were soon joined by Tony La Porte and Jason and a while later by Pete Ratcliffe, Lee Wright and Nigel Gregson. Robin Steward was passing on his bike and lent a hand for an hour too. The group moved a lot of material and special mention must go to Nigel and Lee who both put in several hours of toil.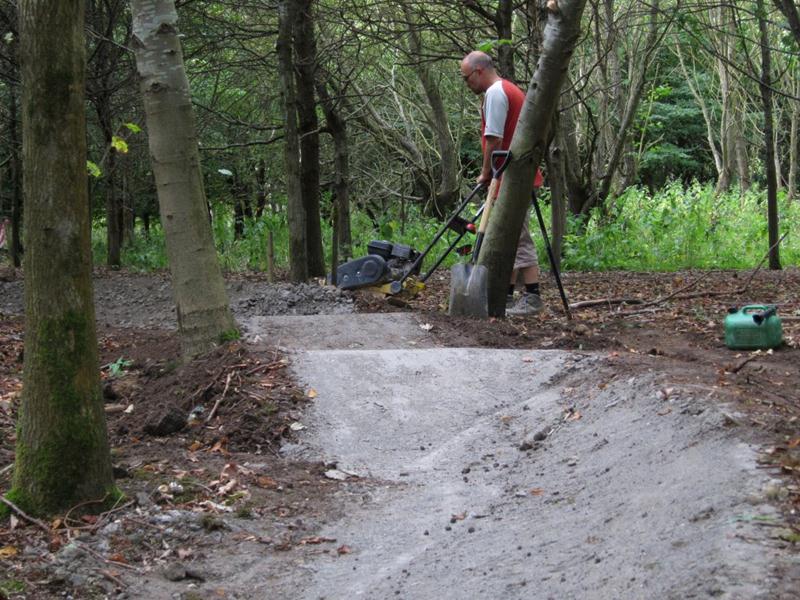 Later in the day Pete Ratcliffe and Gary Lee moved a lot of gravel using the Land Rover. The last berm before the exit bridge had a lot of concrete slabs dumped into the base before being built back up with mud.
We were visited by several women who'd just finished their ladies ride.
By the end of the day we had 300 metres of trail with gravel tipped on it, two new berms, some rollers and around 25 tonnes less material on our pile. Our stats from 2010 showed that we were using around 70kg per metre of trail. We're building wider and deeper now, using more like 100Kg/m which is an increase of around 30-40%.
Next build day is Saturday 22nd October!