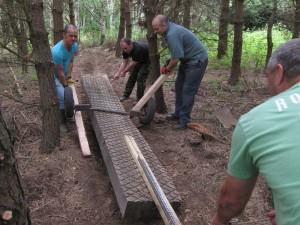 I was at the trail on my own for a while in the morning and started digging out the trail on the entrance to the optional section. This is being built up with some interesting North Shore style woodwork.
I was soon joined by Andy Matthews and Chris. Not long later Jez arrived with wood for the bridge tops.
We spent a few hours moving the three large logs. In the afternoon Gary and Phil joined us.
There was a lot of discussion about what to do with the logs.
Rafe turned up with his Land Rover and a load of rocks were moved from the car park. These had been moved by Steve Wilson from the Freshbrook community centre car park.
In the late afternoon Gary, Andy, Phil and myself walked round the triangle loop and widened and tweaked various bits of the trail. This is ready for our big push on the weekend of the 17th and 18th of September. We're going to start surfacing the section on those days.
Andy, Phil and myself spent the last hour or two working on the exit line. We're really pleased with how the last part of this looks.