Jodie West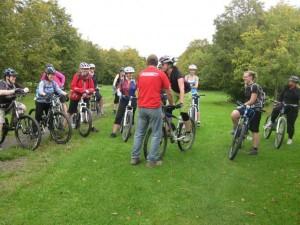 Well what a day! Our busiest ladies day to date with 14 riders at one point – fantastic. Three quarters of these were newbies to our ladies group too which was fab. I do hope we see you all again very soon. Like all previous ladies days I booked the good weather – with only a downpour for those who stayed to help build afterwards – sorry girlies :-(.
Thanks to Jen and Sharon for their help leading today whilst I spent my time popping up everywhere taking photos.
The first lap was the usual warm-up / get to know the trail lap and of course followed by lots of yummy cake :-).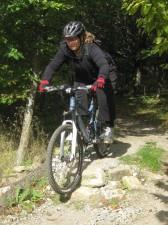 Pete Ratcliffe was very kind to come and lend a hand before and during our second lap with some very well recieved hints and tips on the correct body position. I hope this helped. It sounded as if it boosted your confidence as I hear a lot of you rode the log roll over afterwards – well done.
The group got a bit smaller before the third lap. This was only due to people having to go early not due to any off's I must add !
I'm really excited with how well the group is developing and growing and hope our next trip out – Mulled Wine and Mince Pies – is just as popular. Keep an eye out for further details and dates on the events page.
It was a pleasure seeing everyone out today even if I couldn't ride :-(. Be assured I will be back on my bike at the earliest possible chance and possibly with Peanut* in tow!!!!!!
* Peanut is Jodie's baby
Previous women's ride reports: January 2011, March 2011 – with video, May 2011.
MBSwindon – Wiltshire mountain bike club.