by Jodie West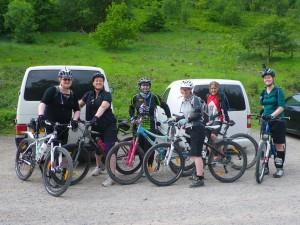 What a day!
We booked good weather and it delivered for us!!!!
Seven MBSwindon ladies all met at the Cwmcarn carpark. This was to be the first time at a trail centre for at least 4 of them.
I think there were some initial nerves even though some didn't like to admit it.
The ride was going to be a very steady pace so all who attended could enjoy it. The climb up is not easy, and sure set a challenge to us. However everyone dug deep and before we knew it we were sat at the picnic benches approx two thirds of the way up the climb having lots of cake, sweets etc!!! As we say ladies: "That's how we do it".
With our break over we climbed the Giants Finger before reaching the free ride section. Plenty of fun was had here with some loud squeels of joy from some of our ladies – the cimbing had been worth it just for this short section! A further short climb took us up and around the back of the mountain before we enjoyed the flowing descent. I won't deny it there were a few offs, but you can have these anywhere.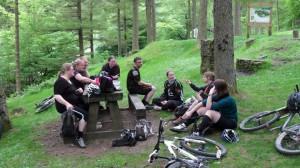 Thanks to Alan and Lee who became our mechnical and photographic back up – they were both very supportive and I think that deep down they enjoyed the leisurely pace!
This was another succesful trip out for our ladies. I want to encourage more trail centre virgins to join us on the next trip.
Thanks to everyone who came to play at Cwmcarn and I really do hope you have gained some new skills and confidence.
JODIE x
Next Ladies Croft Day – Sat July 9th – 11am
March ride report. January ride report.