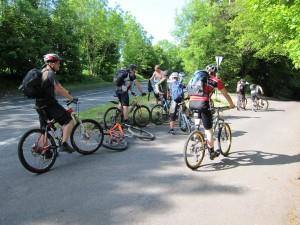 The Western part of the ridgeway provides 43 miles of tracks and bridleways over rolling hills (Ridgeway website). Originally we were going to ride out and back from Overton but the pub down there let us down so we decided to use our reliable local, the Check Inn at Wroughton. The plan was to go South from Swindon down to the start at Overton, then do the whole 43 miles to Streatley. On the Sunday we were going to ride back to Swindon.This gave us a route of around 56 miles on the Saturday and around 37 miles on the Sunday.
In order to save weight then every member of the group had been allocated kit to carry: tools, backup cakes or the very important shower gel. We hired towels at the Youth Hostel, so it was just clothes, water and food that had to be carried.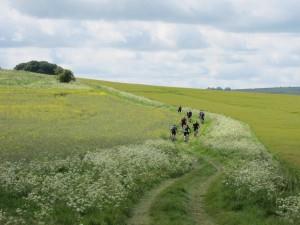 Ten riders assembled at the Check Inn by 8:30am for a fried breakfast. At 9am we decided that we'd better get started on the ride. The route took us around Wroughton, up the hill past the church and then onto bridleways. The sun was shining and we all felt fit and ready for the challenge so spirits were high. We took a slightly new route to Avebury via Windmill hill. For part of it we had a choice between nettles or deep tank tracks. There's definitely more routes to investigate in this area.
At Avebury we went straight past the pub and took the tracks to Overton. A group had formed at the last junction, not sure whether we were going to ride down to the road and back. We were! We descended to the road, took some photos, then turned round and climbed back up.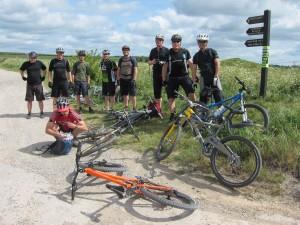 It had taken us an hour and a half to reach the start. We followed the well known route to Barbury, past the Castle, down Smeath ridge and then across the road for a climb up the next ridge. After several hours of riding we were getting very close to point where we'd started from.
We lost half an hour whilst Phil had to deal with a Paypal security breach which gave us time for a rest.
We finally reached Foxhills at around 1pm which made our target of 2:30pm at the Court Hill centre near Wantage looking distinctly viable. At last we turned East and started making progress away from Swindon. We reached Wantage in good time, having covered around 43 miles, leaving us 14 miles to Streatley. Didcot power station was now the major landmark.
After our food stop we were joined by John and Mark who seemed surprised at our pace. As I said at the time, the problem was too much getting on with it and it was hard to convince the group to slow down and stay together.
It wasn't long before we crossed the dual carriageway and were working up the last big hill before Streatley. We had a blast down the hill to Streatley. Simon and myself had a race along the last lane where I don't think I could give any more if I had to.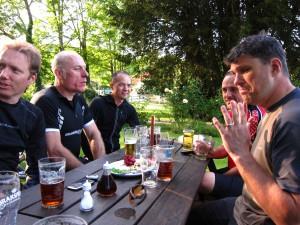 We called into the Bull at Streatley for a few beers before moving onto the Youth Hostel to shower. We had one less rider than we'd originally booked for so we had some spare funds to turn into beer. Then we returned to the Bull to eat. We were collectively knackered so an earlyish night seemed like a good idea.
On Sunday after a fried breakfast we called over to Goring station for 10am to meet three new riders and lose one. The twelve of us got started on the big climb out of Streatley. Strength and fitness levels were clearly still high. We soon discovered that the trailing wind from the Saturday was now going to push us backwards at every opportunity and it was generally uphil for the first few miles.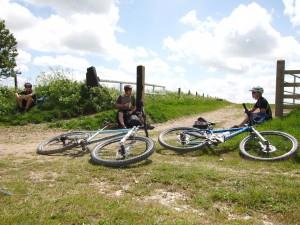 It was definitely harder riding into the wind. Spirits remained high as we worked our way back past Wantage, Uffingdon Castle and on to the last big climb up to Foxhills. We finally left an annoying runner behind after an hour or so spent leap frogging.
From Foxhills it was mainly road back to Wroughton. Having to pedal downhill means that downhill might as well be uphill. The road climb from Chiseldon wasn't as bad as expected and we were soon at the top of Ladder Lane. This gave us an opportunity for the only interesting bit of riding from the weekend. We then called in at the last bit of that trail in the woods opposite Nationwide. Finally we made it to the Check Inn for beer or two and a curry.
Including the ride to and from the start then we reckon that most people got close to 100 miles of riding in the two days. We had no major mechanicals and only one or two punctures in that time.
The fitness levels of the riders were clearly up to it and it's great to see the club doing long rides like this and having a good time.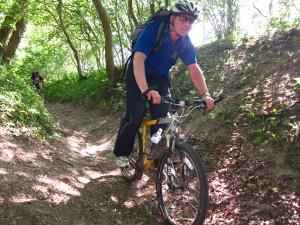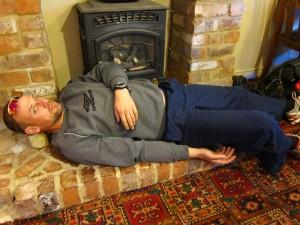 View Ridgeway out and back ride (MBSwindon) in a larger map