Jodie says
Hello Ladies!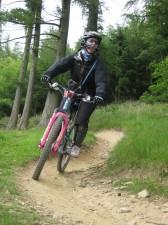 Sorry I've been a little quiet over the summer however as most of you will have heard Alan and I are expecting our first baby in January 🙂
For this reason I have drafted in the lovely Jen Wright to lead a ladies ride on Sunday 18th September – 10.30 onwards. As normal meet in the car park on the right at the Croft Trail (map) and if you are gifted in the cake baking field we always do cake 🙂 And I promise I will guard them well whilst I cannot ride!!!!
Pete Ratcliffe will be up the trail building on this day too and has offered to add in a few trails tips etc – which is great news.
Any questions then email Jodie at mbswindon co uk.
Jodie and peanut the bump!