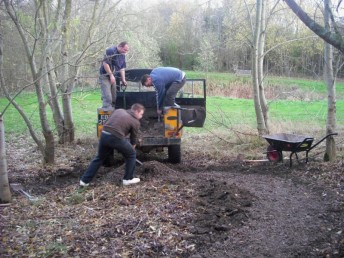 Rainy day.
In the morning Rafe, Phil, Pete and Tom installed some sample patches of the latest non-slip surface for the woodwork…..heavy duty felt roof tiles.
The afternoon was spent digging out and surfacing the trail on the South side of the pitch near the pond. When tiredness was setting in Lee turned up, and Pete a bit later. This had been cut out in October 2008.
A start was made on the difficult short cut near Piper's hill. These have been known since as "Pete's steps".