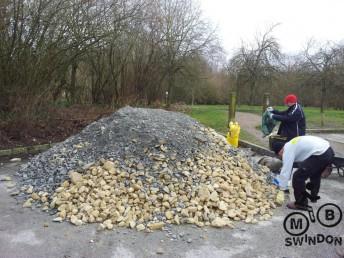 We had to shoehorn this build day into our busy calendar of events. Originally we only had 3 people down to attend! Ignoring the claims that mothering Sunday was the problem then a campaign was started to see if we could improve the numbers.
The plan for the day was simple: shift 20 tonnes of material from the car park using the Land Rover and at the same time handball material into nearby potholes. As usual, we had 2 tonnes of gabion and 18 tonnes of type1 limestone.
Phil Mayger and Simon Oxlade had both walked the trail and produced maps of the problem areas. We stashed about 12 tonnes of material in the large storage sacks on site and used about 6 tonnes on pot hole filling.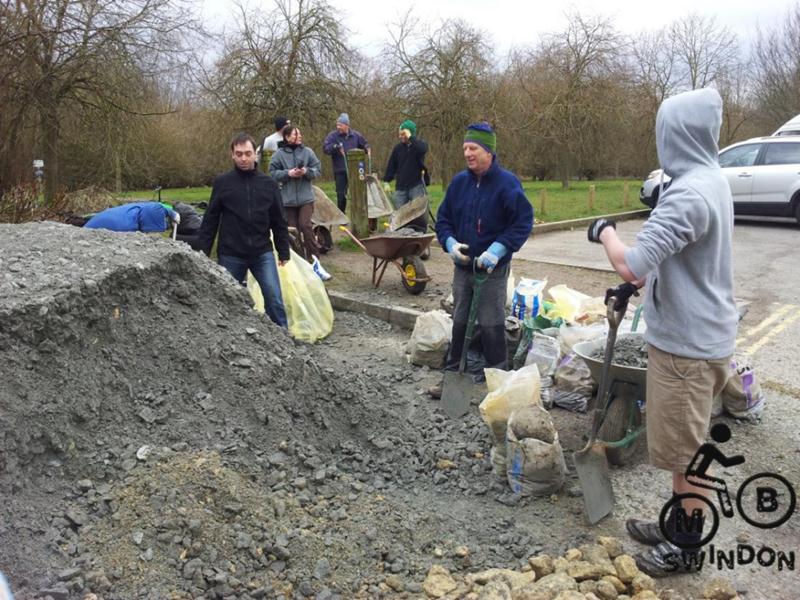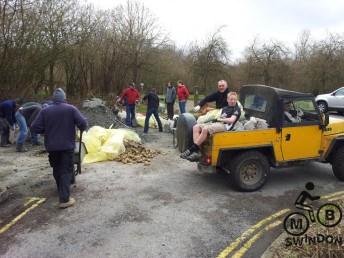 From our Twitter and Facebook updates:
6am: "6am eternal. Lets get ready to trail build. Better drive to Swindon first I suppose.".
9:30 "We have begun. Jez, Paul Kidd, Phil and myself."
9:45 " Tony Holmes, Stuart, Shaun, Nick too."
10: "Andy, Tristan, Rafe Rover. Amazing progress already. We've run out of wheel barrows though."
11:06 "Props to Aarron. He's here putting the effort in."
11:44 "Jamie here and Dion on the way with spare barrow."
11:48 "Courtney"
11:53 "Dion has delivered barrow. Jason Roger is in the area."
13:27 "Neil and Donny here plus Anthony de Hevington from Bristol trails group."
13:55 "Kristian is here."
14:45 "Gravel pile almost exhausted. And us."
Things went so well that all 20 tonnes were moved in 5 hours (3pm).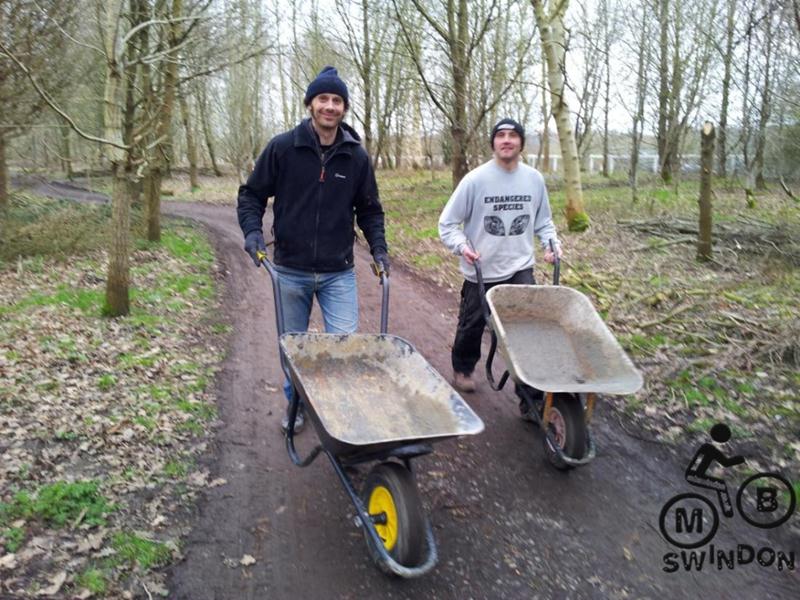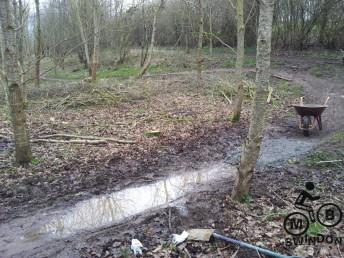 Potholes from the start of the trail round to the top of the first descent were fixed. Potholes on the north side and east side of the pitch were fixed plus two sections were built up using gabion as a base (end of roller coaster and following straight). These had already received some attention in September 2012  and December 2012.
We had enough time to resurface a load of trail down the pond that had sunk under water in the winter floods. See our previous drainage work for more details. We also fixed some of this up in March 2011 and it was first surfaced properly in December 2011.
Another amazing turnout! This matches our previous best from 8th September 2012. With this level of support we will be able to finish the pot hole fixing on our two days in April (see the calendar for upcoming build days).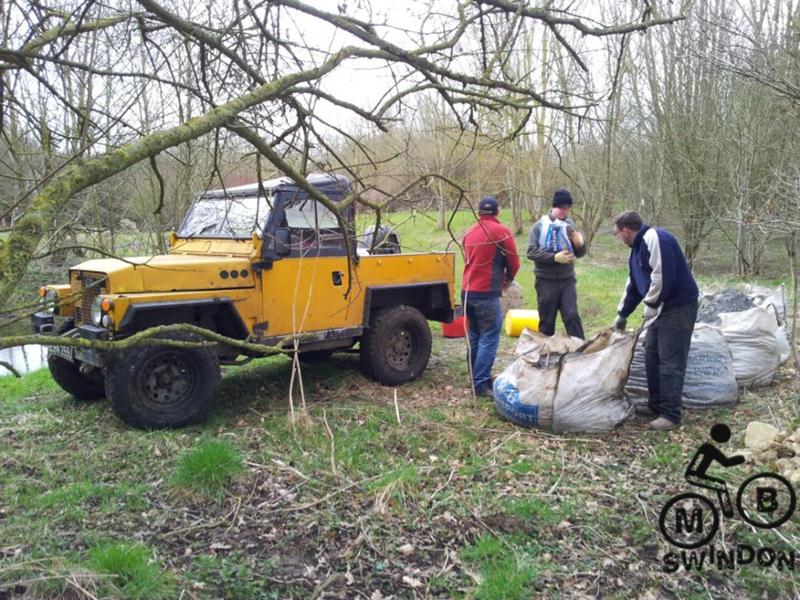 Dec 2011: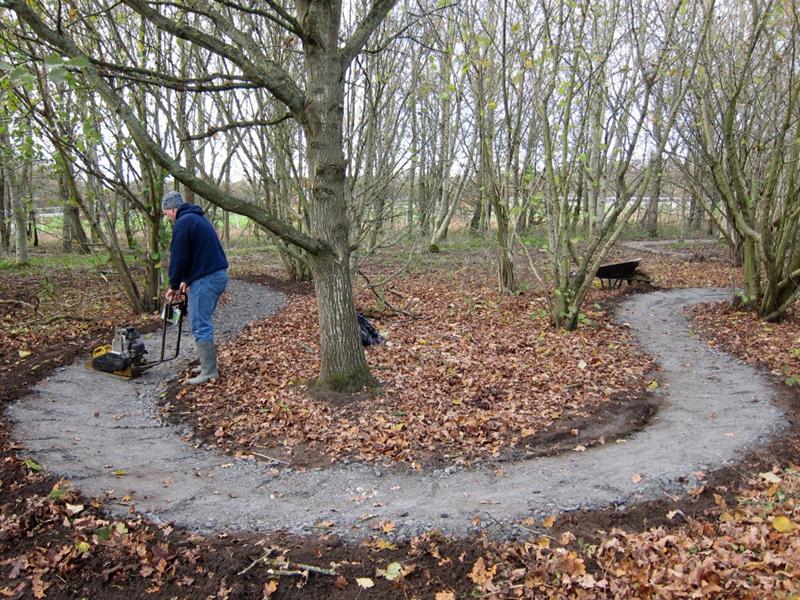 Dec 2012: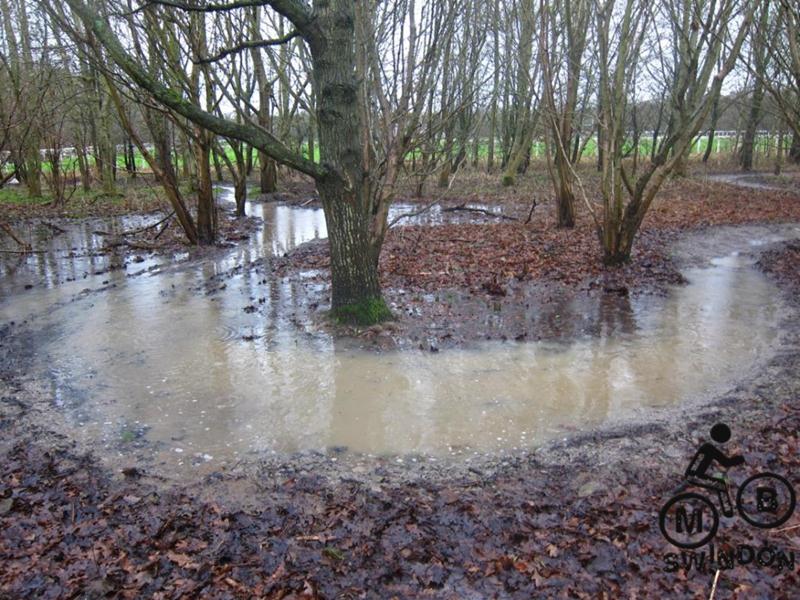 Jan 2013: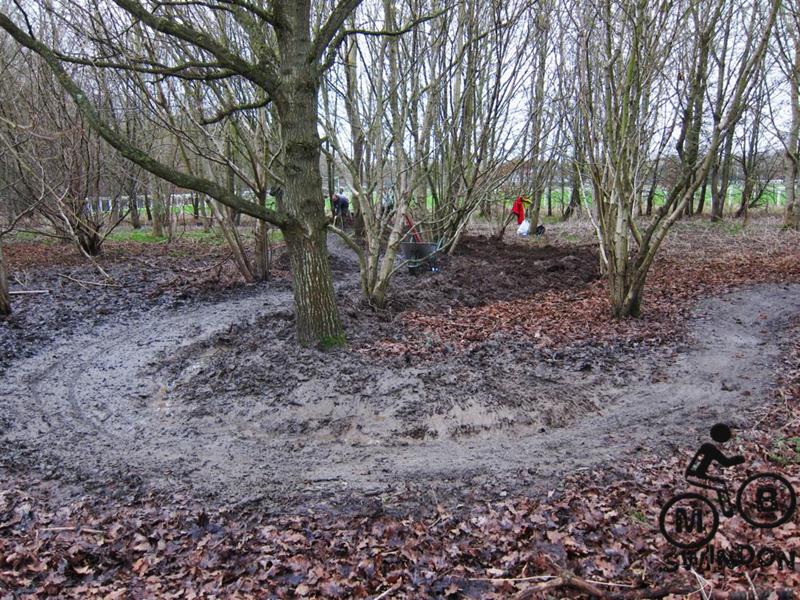 After being rebuilt: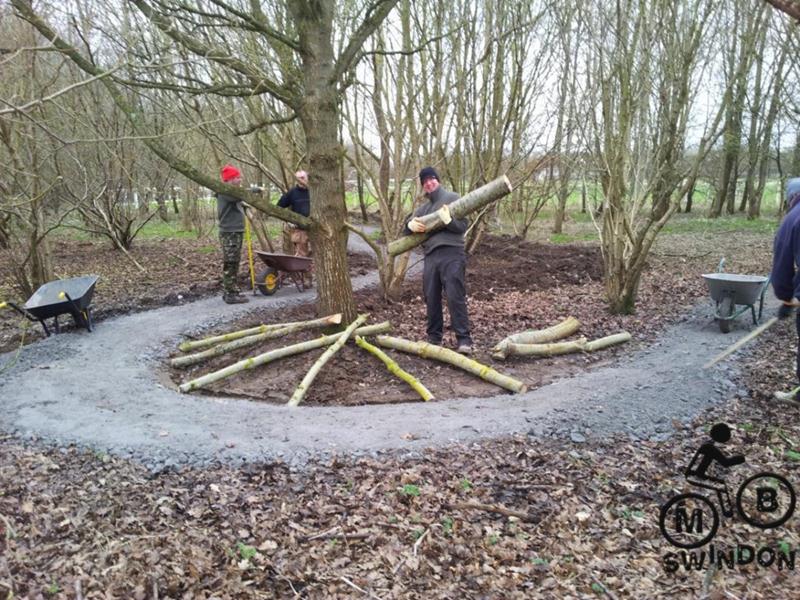 Present on the day:
Phil
Tom
Jez
Paul Kidd
Tony Holmes
Sarah Bailey
Simon Oxlade
Stuart
Shaun Carolin
Jonathan Proudman
Nick
Andy
Tristan
Rafe
Aarron
Jamie
Courtney
Jason Roger
Neil
Donny
Anthony de Hevington (visiting from Bristol)
Kristian
Elliot
Kat Beeston (cakes)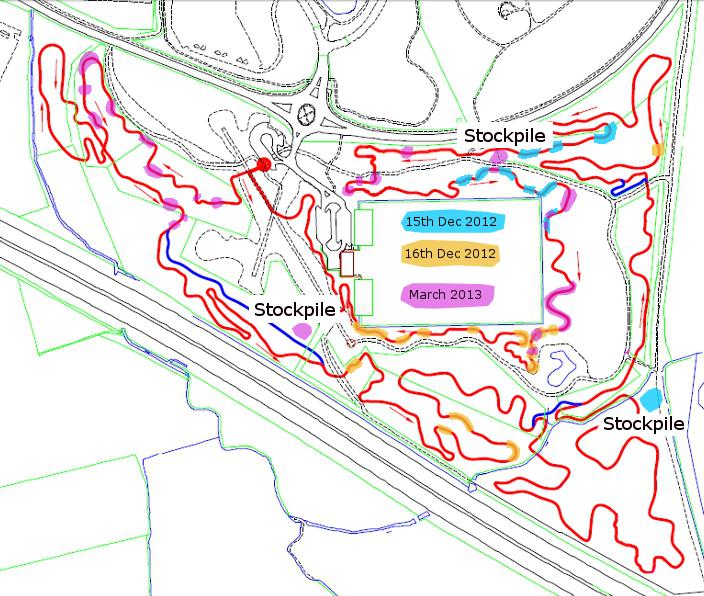 See the complete build diary. Future events are on the events calendar.