Saturday 9th April 2011
The plan for the weekend was to dig out a new climb and descent on Piper's hill. This was the result of three years of discussion and around 15 drawings concerning what to do with the hill. The plan was quite simple – a diagonal climb up the hill roughly parallel to the fence, a switch back, a bit more climb to reach the highest point and then a swoopy descent back down close to the entry point. This involved losing a bit of old trail with one swoopy corner that we liked. Hopefully the new bit will be considered good enough to justify this.
We'd already marked the route out on the previous Wednesday evening.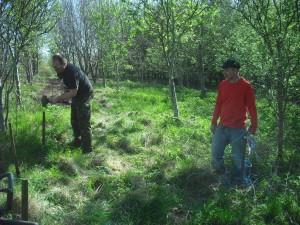 The day started with bright sunlight and looked like it was going to be warm throughout. By 10am we'd collected the compactoractorisator from Brandon Hire and were ready to get on with it. Present were Phil, Jez and Tom.
We started by marking out the switch back at the top of the climb and digging that out. We built the ramp up with a load of bricks and rubble from a nearby stash. We had a once-in-a-liftetime visit from Simon. He unleashed himself and the sledgehammer on an otherwise innocent pile of bricks. A little while later he was gone, promising to be back. Later. Maybe.
For a while it was just the three of us and we dug out the climb and used the material to build up the switch back. It was a relief to move under the cover of the trees at midday, though even then it was very hot.
In the early afternoon Jez had to go and do domestic admin and was replaced by Richard and Gary Lee.
The climb route received some slight modifications so that it started lower. It was all dug out before attention moved to the descent.
Jez had suggested a steeper line for this and the decision was made to go with it. This meant a bit more of a climb back up after the first berm, a longer, straighter descent and then a berm at the bottom of the hill before connecting back onto the existing trail.
Pete joined us in the afternoon and there was a lot of discussion about how many rollers or jumps to put on the descent.
We went home when it turned dark at about 8pm.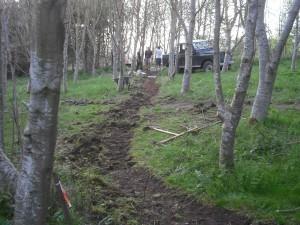 Sunday 10th April 2011
It looked like it was going to be another hot day when we turned up at just past 10am ish (the papers reported higher temperatures in Bournemouth than the Caribbean or something). We found Gary Smart waiting for us.
We spent as long as possible walking around talking about what we wanted to do because we were a bit knackered from Saturday.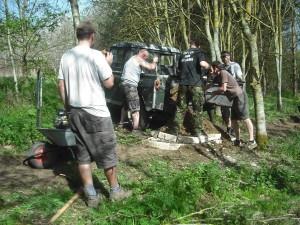 The connection back to the existing trail was finished off and then the berm at the bottom of the hill was built up with rubble and mud. We had a bit of time to kill before Pete and his Land Rover turned up, so we remodelled Pete's Impossible Steps (PIS).
By this time Nigel, Christian,Richard and James and his father had arrived.
The top two steps were moved so that they turned left rather than right. A new down step was added too. This means that the steps will now climb up, turn left and descend down the old trail before they join onto the new climb. The bypass turns left at the bottom of the steps like it did before and then joins onto the new climb after the first corner.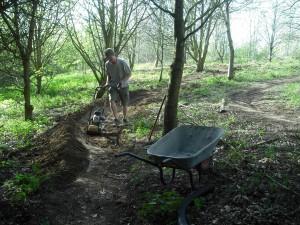 When Pete finally turned up (get on with it) he brought us a load of mud for the steps. This came from a 10 tonne pile that we bought from Earthline last year.
We had a change of personell when Gary went home and was replaced by Ben.
Chris came along with some donuts and hostage to fortune cookies. He was supposed to be doing the HONC (Hell of the North Cotswolds) ride, but wasn't well.
Pete spent several hours bringing us mud and this was used to build two berms up, two rollers and a jump on the descent.
Kat arrived with cakes, which was good.
By this time attention had moved to the rock spine descent which had several loads of mud added to it to build up the sides.
At about 4pm Pete went off and picked up Tony and his rotorvator. Tony used this to dig up the 200m of old trail on the hill.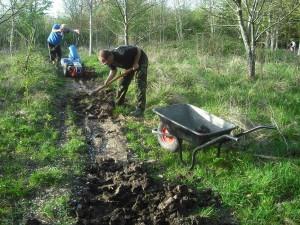 Meanwhile everyone else started loading bags with gravel which were moved to the top of Piper's hill. A stockpile was built up ready to be used as soon as the trail goes damp.
By the end of the second 10 hour day we had 230m of new trail ready to go consisting of a modified set of steps, a climb up through the trees, a switchback and then a descent with two big berms, two rollers and jump. As well as that there were several tonnes of Limestone chippings stockpiled on the hill and 200m of old trail was gone.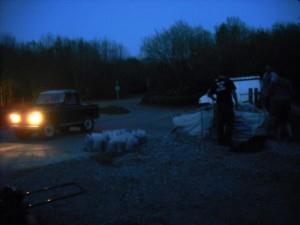 This shows what a reasonably small group of motivated people can achieve in a weekend. Big thanks to everyone who turned up to help.
It was also great to see so many people riding round the trail over the weekend.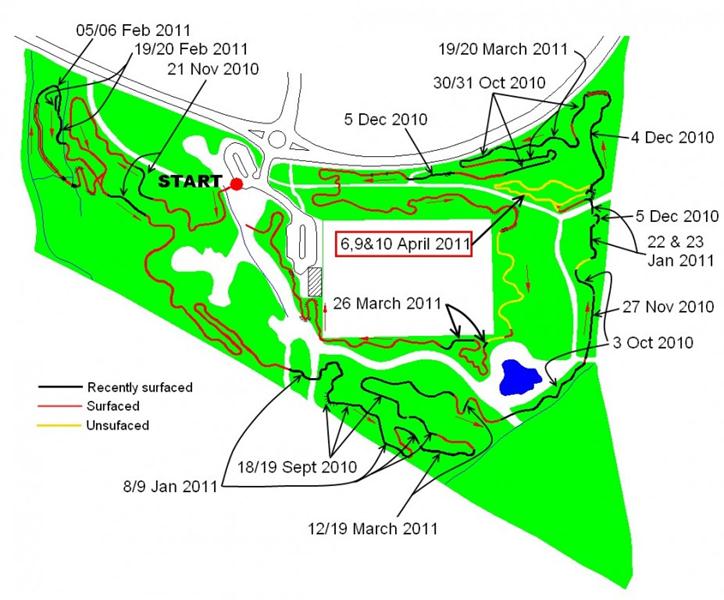 ---