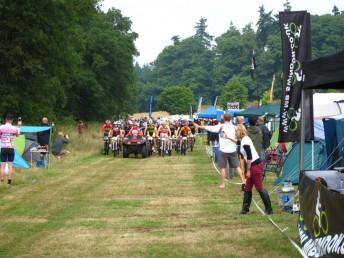 Also available in slightly different form on Tom's blog site.
This was a twelve hour relay race organised by Gorrick and based at Minley Manor in Hampshire near Bracknell and Swinley Forest.The race ran from midday to midnight on Sunday 25th August. We were on site from Saturday lunch time to try and claim a decent track side place. Rather like at Mountain Mayhem we arrived to find that a few clubs had staked out several acres of empty space for themselves which was bit annoying.
I got talking to Del from Four4ths lights and he's up for giving the club a set of demo lights. He also lent me a helmet light to try out.
We had a mix of pairs and soloists in our camp which was combined with Cotswold Veldrijen. This meant that masseur Debbie was on hand too. Which was nice. We were joined by various children and family.
It rained quite a lot on Saturday afternoon. There was a one lap women's race and the bikes coming back in seemed fine so the dry ground was swallowing up the water fine.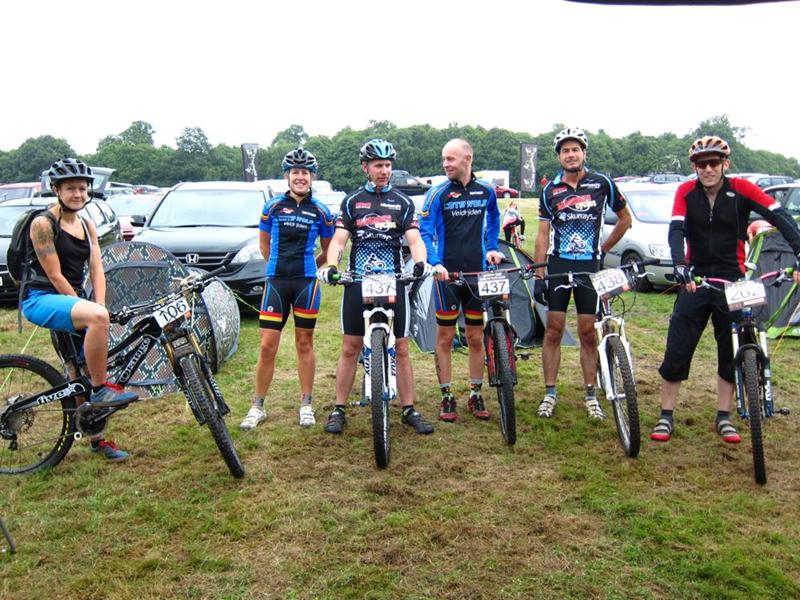 We did a quick recce of the route on Saturday night and discovered that it was mainly tight singletrack with a lot of tree roots plus some peaty sections that really dragged speeds down. Every down ramp seemed to end with a wheel shaped hole which meant maximum attention was required. There was one steep climb up a muddy bank. It certainly kept the interest levels out.  There was a double pig tail element via the use of a bridge which it crossed twice and went under once. 
Things weren't looking so good for me on Sunday morning when my dropper post lost some of its fluid due to the collar coming loose and became a dropped post. Luckily Phil had some random organic fluid in his garage which he brought with him which fixed it.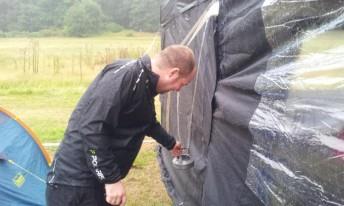 The race got off to a good start with all of our riders carrying a lot of speed past our gazebo. On my first two laps I caught a lot of riders. There was some queuing on the singletrack and the time had to be made back up with a total hammering on the wider sections. My lap  times came in at a pleasing 45 minutes for the first two.
Racing in pairs is a tough business, with the 30 minutes of rest between laps soon being used up. Out on my third lap I came to the conclusion that I would have to back off a bit – there was no way I could maintain my pace up the climbs and through the peaty sections. The endless bumps and roots was having an effect too. This was clearly going to be a mental challenge. There were a few sections of the route that could be classed as proper fun – towards the end a long section on compacted mud was a great challenge for  seeing how much speed could be carried through corners. Without a doubt the last section through a flattish field was the most demoralising. It climbed very slightly on damp grass that just sucked the energy from the bike.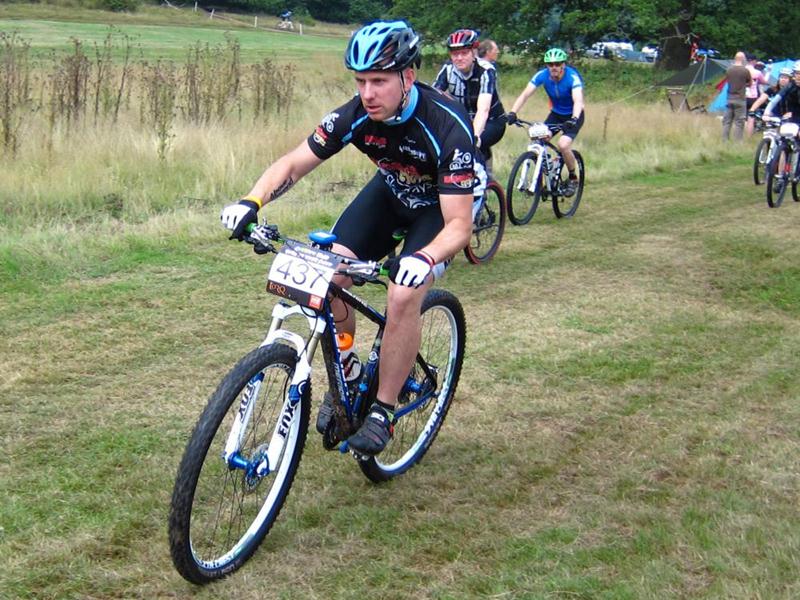 My lap time dropped to 47 minutes. That wasn't too bad. Discussing my flagging performance with the others I was relieved to hear that everyone else was backing off too.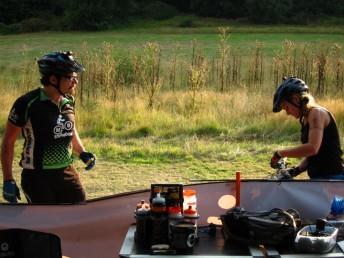 Remembering that I'd hit the wall at the Thetford race on lap 6 I bought some Torq enery gels and tried one. I'd describe the Rhubarb and Custard as half disgusting and half pleasant. It tasted alright but I was not used to gels and not sure that I'd appreciate the sensation of it going in and the taste on my lips half an hour later. Endurance riders like Matt Page swear by them so they must work.
At half way our fast pair were in 9th place and the slightly slower team 14th out of 40. The women were 2nd in their class and all of our soloists were still going.
Jo said " It was fun for the first 3 hours and then it was a challenge and then it was just hell, and then the lights went on and they put a DJ under the bridge and glowsitcks everywhere and it was fun again". I have to agree -in the dark there were sections of the route where you could see three lines of cyclists on different parts of the course and you started to feel like part of a very large train set. The DJ seemed to play house music and I tried to ID at least one track. I finally managed with Laurent Garnier – The man with the red face (Youtube).
My 6th lap was a 50 minute affair and then the 7th took me into the world of back pain to give a grimacing and moaning 55 minutes. My team mate Stuart is a seasoned racer and was a bit faster all day but the course finished him off too, ending with a 55 minute too.
Teams and results: 
(names, laps, posn/out of, av lap time, fastest lap time)
Aaron Tayler  + John Speed (xc team),  16 laps, 9/40, 46:10, 41:28
Stuart Selwood (xc team) + Tom Stickland, 15 laps, 16/ 40, 49:01, 43:32 
Claire Hall + Sharon Dolman (Cotswold Veldrijen), 14 laps, 4/6, 56:37, 47:04
Jo Page (Malvern Cycle Sport), 13 laps, 3/8, 59:35, 53:34
Jerome Crametz, 10 laps, 36/54, 1:12:48, 55:41
Andrew Jacques,10 laps, 32/49, 1:13:18, 54:04 
More photos on the Gorrick website. 
Big thanks to Phil for coming along to support this, everyone who helped set up and dismantle the camp and Debbie from Cotswold Veldrijen for the back massage.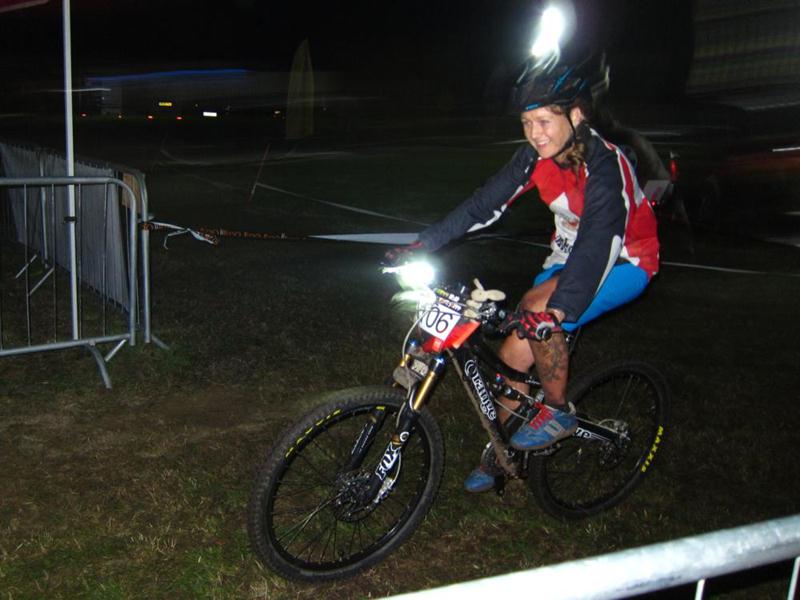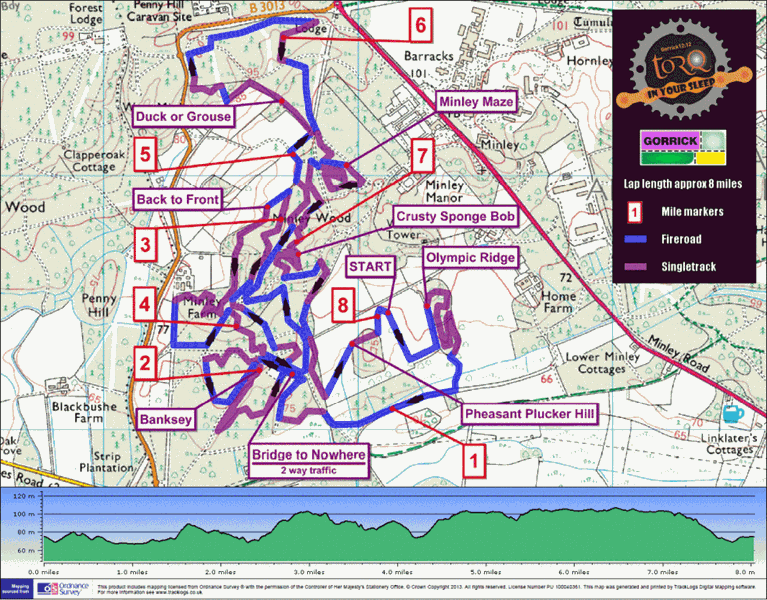 Course map: 12.6km (7.8miles) / 72m of ascent: OS Map, GPX. View on Bikehike.co.uk. 
We're keen to do more race events. Everyone is welcome regardless of fitness levels – we'll try to put you into a matched team. It's a good social and great way of building your fitness and riding skill. It's also a bit of a mental challenge.  This year we rode at the Erlestoke 12, Bristol Bikefest, Mountain Mayhem, Bontrager Twentyfour12 plus the Thetford 10 hour  and the Brighton Big Dog. If you like racing we also have two sponsored teams.
The next big race is Bristol Oktoberfest.