See the photos from our visit to Swinley in November 2011 plus the gpx route maps.
Full map: OS | Bing | Map my ride | GPX
It had rained for two weeks and the forecast was for heavy rain. So we had high hopes that the sunny weather would continue. Sadly, Richard was wrong and it rained. Still, we had thirteen riders raring to go at 10am. Obviously they had nothing better to do with their time. Either that or they had heard about our last ride there and wanted to do it all again.
Once again Steve Dunn from the Muddy Moles was our guide for the day. We were hoping to call round to his house afterwards for a warm bath and some food but he used the old "power cut" excuse, even though we suspect that it's a gas oven.
As expected, conditions were muddy and wet. We still had a great time and the trails were in pretty good shape all things considered. The effort involved in riding was higher than normal plus speeds on the downs were held back. More worrying, several of the holes that had been dug out to make rollers were possibly deep enough for total immersion if you chose to ride through them. An involuntary bike wash feature. We demand those wooden depth markers like roads get.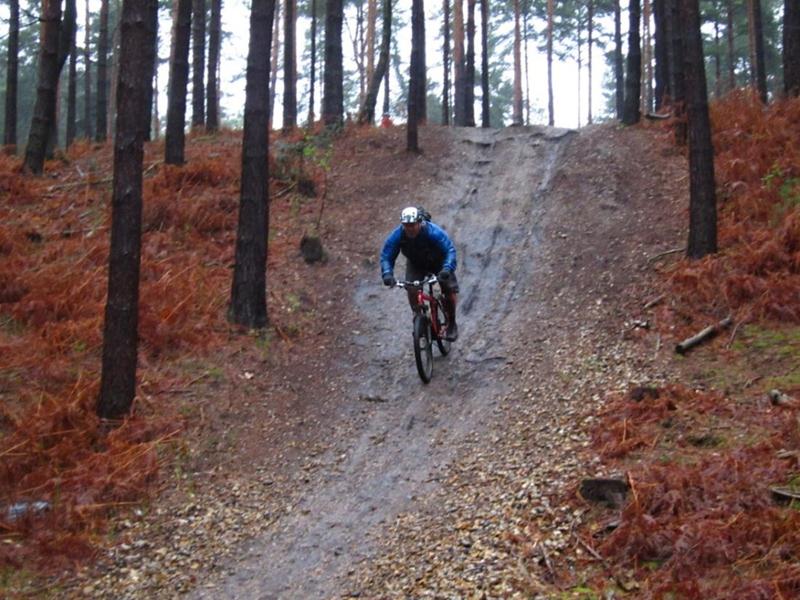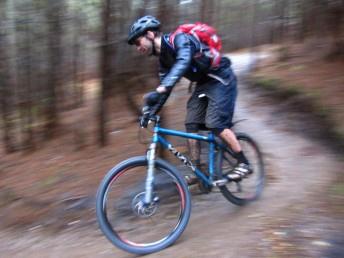 It's pointless trying to remember the route if you don't know the forest well. The gpx plot from last time is similar to those cannabis spider test results.
Steve's knowledge was stumped when we asked if he knew the bit by the tree, with the water next to it and a gravelley track running past it. First mistake: taking us seriously.
Once again we took a run down the Ski Run and then we did the various downhill runs down from the view point. The labyrinth lived up to it's name. It reminded us of that trail behind the Nationwide in Swindon. The Croft Trail?
After a few hours and 15 miles of singletrack we'd all had enough of being wet.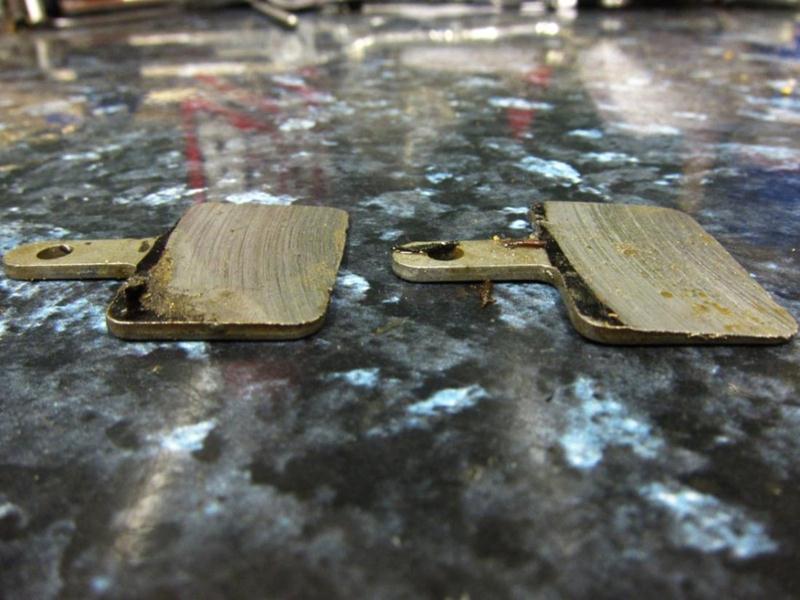 We finished off by stuffing our faces in the cafe and then getting back into our hovercraft for the return journey to the bright lights of Swindon.
Thanks to Steve for guiding us and everyone who turned up.