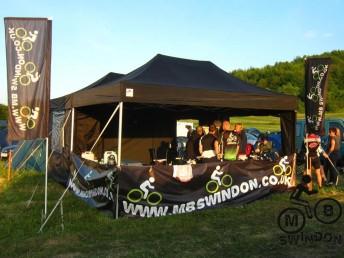 The Spambiking Erlestoke12 event takes place on MOD land near the Erlestoke prison. It's one of our favourite locations. It provides a lot of interesting singletrack. The 2012 route followed a similar layout to previous years albeit with some minor modifications. The bomb holes at the top of the hill were still probably the best feature of the trail.
Friday evening was an ideal chance to dish out some abuse to Ian Luff of the Luffbuss cafe (ex the Drop Off Cafe at Afan). This is becoming a regular feature at Erlestoke and Bristol Bikefest.
The threat of rain on Friday evening had completely gone on Saturday with a sunny spring morning happening around us.
We had 22 riders including a few from our race teams.
The race got off to a prompt start at 11:50am which caught a few people out. It would be fair to say that there were timing issues with transponders not reading and some confusion over the mapping of numbers to teams. Most of this was resolved by the end of the race though I would treat the individual lap times with some caution.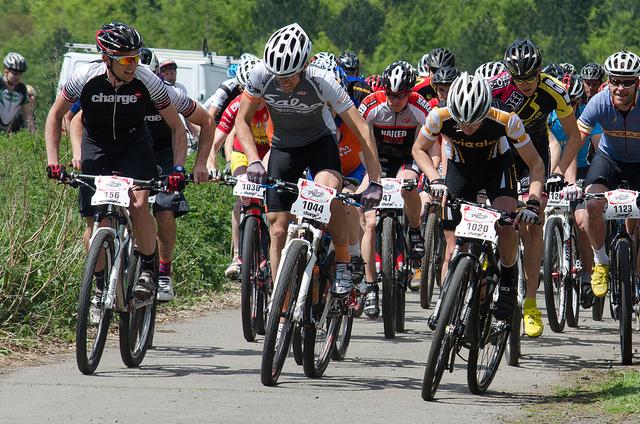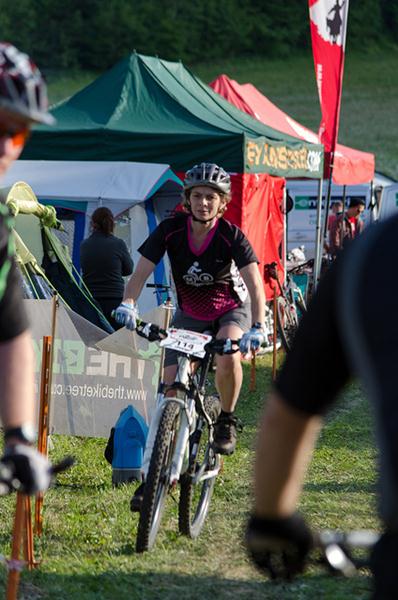 We had five teams and two pairs taking part. Results on the Timelaps website.
1/1 Race pair: Anna Cipullo + mate 
11/29 Pair: Phil Allum, Paul Allum

7/20 Race team (team 2) : Stuart Selwood, Dion Thomas, John Speed, Pawel Kotowski

11/20 Team 1: Aaron Tayler, Craig Dolwin, Tom Stickland, Gary Lee
14/20 Team 3: Phil Mayger, Graham Burgess, Darren Shepherd, Chris Hopkinson
13/20 Team 4: Leon Cardy, Jerome Crametz, Gary Yeates, Pete Toop
18/20 Team 5:Stuart King, Gary Palmer, Tim Rose, Nicky Harries
The race team were putting in lap times of around 38-40 minutes. Our new additions in team1 Aaron and Craig did some stunning laps, hitting the mid 30s. Also of note were Leon Cardy and Jerome Cramitz who were in the 39-40 minute range. Our other riders ranged from the low 40s to the mid 50s. We had a solid performance from everyone for the whole twelve hours.
Thanks to Chris Hopkinson for organising the teams and Sharon Yeates for keeping track of the changeover times.
Event photos from Tim Rose. See also photos from Kevin Sheldrake. Official photos from MBK Photos.