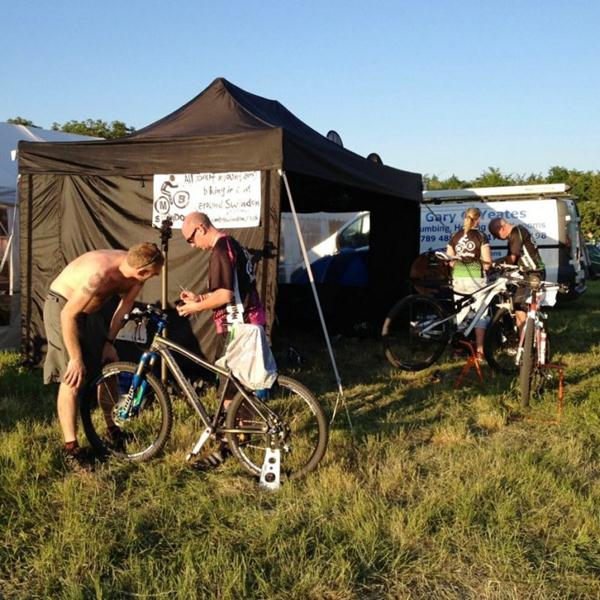 By Chris Hopkinson
I'd been looking forward to this event since it was announced back in February. Actually I'd been looking forward to it since last year's race but as it's held on MOD land and the MOD weren't too keen on mountain bikers tearing around there had been a strong rumour that this year's event wouldn't go ahead. As it happened the powers that be decided not to be a dirty old meanie pants and we were set to go.
The reason I'd been looking forward to it so much is obvious to anyone that's ridden there, the course is absolutely fantastic! The best course of any race event I've taken part in by a country mile. A few slight tweaks this year meant you started with a fast, fieldside section leading into some tight twisty singletrack through the woods. Then the climbing started. ARGGHHH, the climbing! First on grass, then wide gravel track, then on really steep singletrack. Just when you thought that the climbing had finished there was a killer road climb. Reward comes at the top however, with a fun bombhole section which spits you out onto a grass plateau and then it's pretty much tight, twisty singletrack of the downhill variety back to the finish.
We haven't published the route because a lot of it is on MOD land.
Contrary to last year's drizzle fest the weather was red hot and the course had dried up nicely after the torrential rain of the previous weeks, so it was with smiling faces and the sun on our backs we got underway. First laps were eventful. Dion had a bit of a deflation issue (tubeless my arse!) while overtaking someone on an off camber section and had a bit of a lie down. John stopped for some tree hugging action and this was to become a feature of John's riding for the rest of the day. About 100 metres into my first lap I realised I'd put my cassette back together with the smallest sprocket missing. This meant I'd lost my 3 highest gears and, as the chain kept slipping over and behind the cassette, my lowest gear as well. To combat this I left it somewhere about middle on the back and just used the front chain rings giving me just 3 gears to use.
Leaving the relative cool of the last wooded section and coming back out into the open was like someone switching the hot switch on.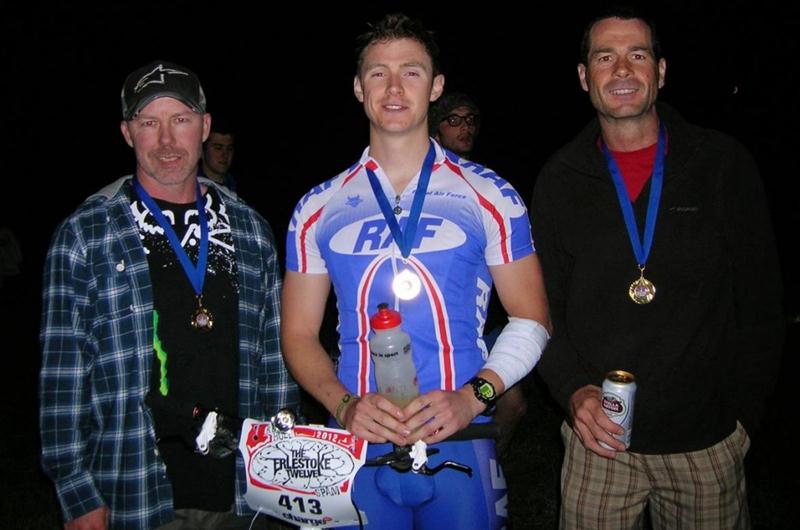 Lee, Dion and Stu (our fast team aka "the trail wreckers") were averaging laps of early to mid 30 mins and after a sterling effort finished off with a flying double lap from Lee to come in 4th place. Not a bad achievement considering they were a 3 man team and the 3 teams ahead of them were all sponsored riders.
Myself, John, Pete and Gary were averaging somewhere between 40 – 47 mins and came in 11th. Gary Lee put in a sterling effort in the 6 hour solo category where he came 68th out of 115. I don't think Gary Palmer would mind me saying he might just have bitten off more than he could chew for his first race event in the 12 hour solo category. Gary wasn't last though, with 5 laps putting him ahead of three other riders. The other MB Swindon representatives were Robin and John in the 6 hour pairs category. Kudos goes to them for the most chilled out, relaxed transitions ever seen and they still came 6th! Nicky Harries did a 12 hour solo ride because she likes a challenge.
Hero of the day award has to go to John (Speed). With 42 mins left on the clock he set off on our last lap. We were all waiting for him as the clock counted down to zero and he was nowhere to be seen. About 1 min after we spotted a slow moving light in the distance, "it's got to be him" we thought. As the light grew closer we could tell something was amiss. John had punctured in one of the last wooded sections. Not wanting to let the side down he'd shouldered the bike and run with it for about 2 miles, crossing the line exhausted and crippled by cramp.
All in all another cracking event. I'm already looking forward to next year, here's hoping the MOD let it happen.
Chris Hopkinson
Photos from Erlestoke 12 2011.
Lee Morgan is now our race team leader and has big plans for building up our competitive side. So far Lee, Dion and Stuart have been gaining great results for the club.