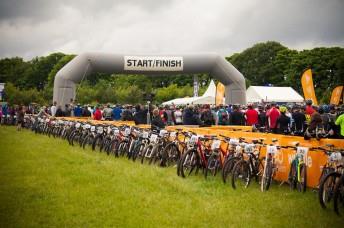 Over the last two years we've entered teams in the 12 hour races at Erlestoke, Bristol Bikefest and Bristol Oktoberfest. We've also entered teams into the 24 hour races at Twentyfour12 and Sleepless in the saddle.
We'd never got round to riding Mountain Mayhem, billed as "the biggest 24-hour mountain bike endurance event worldwide" (Wikipedia article). This was a lucky coincidence with the 2012 mud bath. We still suffered at Twentyfour12 and Sleepless in the saddle though!
After several years at Eastnor Castle (near Ledbury, we passed it on our Malverns ride) it  was announced that new venue was being used in 2013. The early press releases talked of a "secret venue" being found after organiser Patrick Adams spent 26 days spent on the road viewing possible locations.  Some time later the venue was confirmed as Gatcombe Park near Stroud, the home of the Princess Royal. So were spending a weekend riding around in Princess Anne's back garden. Quite a big back garden though, with room for 2500 riders. See the Singletrack magazine interview with Patrick.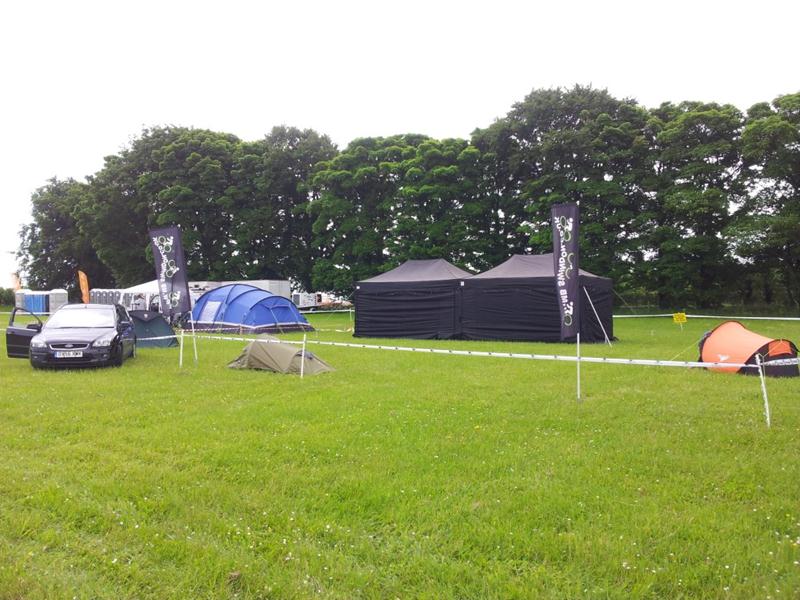 We had three teams: the xc race team were in the 24 hour mixed category with five riders whilst teams "quite fast" and "not quite so fast" were in the open male category with space for four riders each. Organising teams is always  a challenge and the day before the event we had seven riders which meant that the slow team became a three. Then one of our fast riders had to pull out due to an emergency so we had two teams of three. We decided to carry on anyway.
We'd heard that the camping was a free for all and really wanted the club to be close to the transition area and in a prominent location. The camp site opened at 9am on Friday so Craige and myself re-arranged our work schedules to be there bang on 9am. I'd studied the maps the night before so headed straight to my target and started unloading kit. Then I looked around and spotted an even better spot. One problem though –  a lone man was standing in the middle of  the area and said he was reserving it. I did ask him if he felt a bit selfish bagging the area the size of a football pitch for 10 people. At the same time I was doing a complicated moral high ground calculation: was I in the right with 2 gazebos ready to pitch versus him with nothing? Was I being unsporting since he got there first?  I decided that we didn't want to be camping next to someone we'd had an argument with so moved on. When the camp site filled up with trade stands the next day we actually ended up in the best place anyway!
The two of us went off to work whilst John Speed and Gary Palmer took over.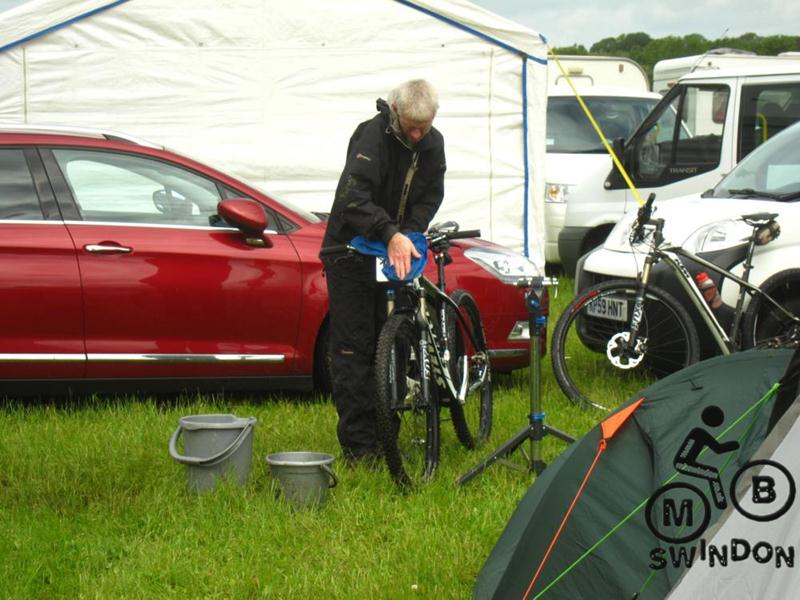 We went out for a practice lap at about 6pm. The route took us into the woods and then pitched us straight down a steep and muddy track. This was a lot steeper than we'd experienced at similar events.  The steep down soon lead to a steep up and we started to get a feel for the course. Another fast descent on a narrow track, some flat stuff and we were onto some fun singletrack along the side of the lake. This was probably the best section in terms of the feeling of speed and the view along the edge of the water. More climbing and traversing took us to the field of doom where there was a  very steep grassy climb, a grassy descent and then another very steep climb. The red bull section was a so-so descent with some 90 degree corners and a handy steep option as a short cut near the end. The following climb was the most difficult – steep rocks that developed a greasy sheen in the main race. One more up and down and then the route just sort of gradually climbed all of the way back to the arena.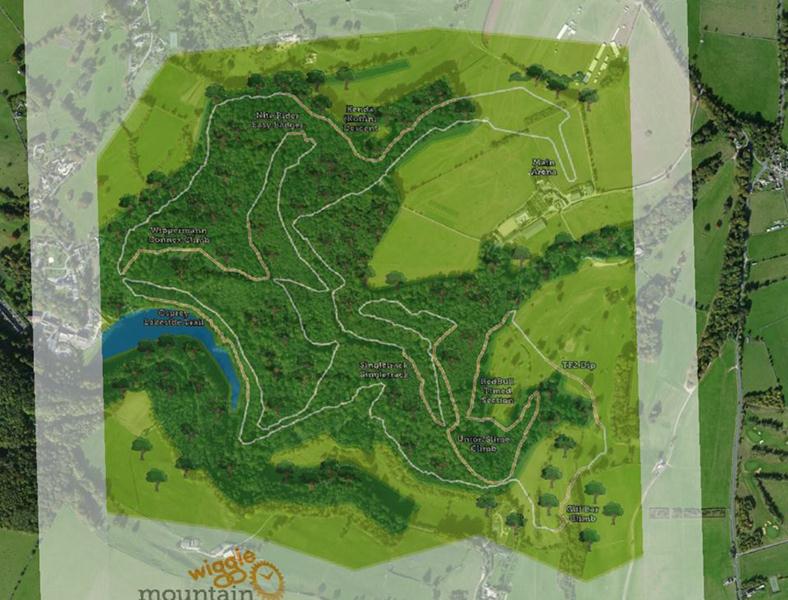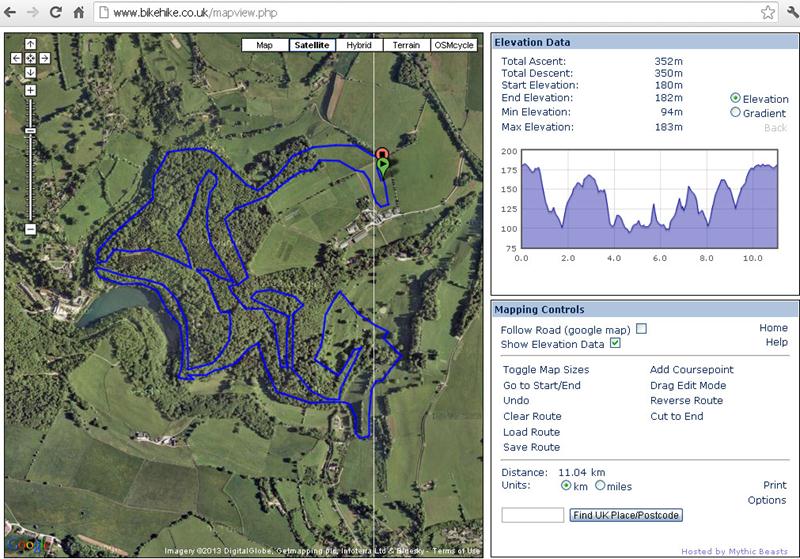 Each lap was 7 miles and 350m of ascent OS Map, GPX.
Overall we quite liked the route. Not as interesting to ride as the Twentyfour12  or Erlestoke routes from recent years maybe in terms of tight singletrack but it provided some good speed down the twisty tracks. To a degree you have to accept that the routes at the 24 races won't match the sneaky trails you might ride in your local woods. But you don't have 2000 riders in the local woods on a Saturday night.
It took us about an hour to ride around including stopping to chat so we estimated dry lap times as being 45-50 minutes.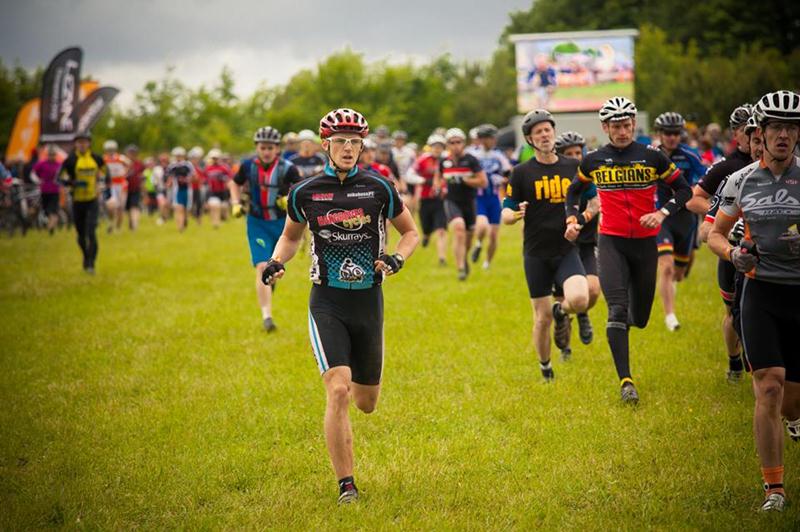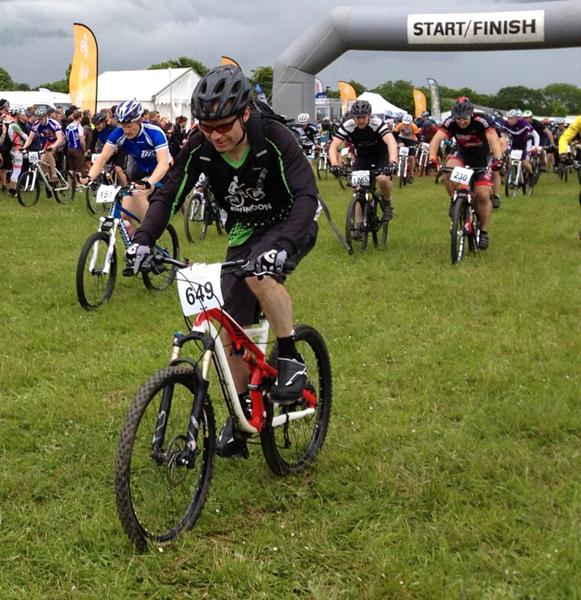 Our riders assembled on the Saturday morning following a night of mixed weather. We'd had some drizzle but none of it had lasted long. We had a support crew of Crispin Doyle on pit duties for the race team (he's a podium finisher in races himself) plus our very own team physio, Amy from First Physio (Twitter) via our sponsor Mike Buss and his contact at Boardman Sports Therapy. We were also joined for the weekend by photographer Graham Haller who ended up with 2000+ photos before uploading: part 1 & part 2.
The race started with a 900m run to spread the competitors out. I'd been chosen to run this year. I don't really like running much but it actually went well for me and I was in the first third by the end of the run.  Out on the trail there was a bit of queue at the top of the first steep descent but that was the only blockage. Our riders came back from the first lap with times of 44 minutes (Lee, xc team), 56 minutes (Tom, not quite so fast) and 58 (Jerome, quite fast).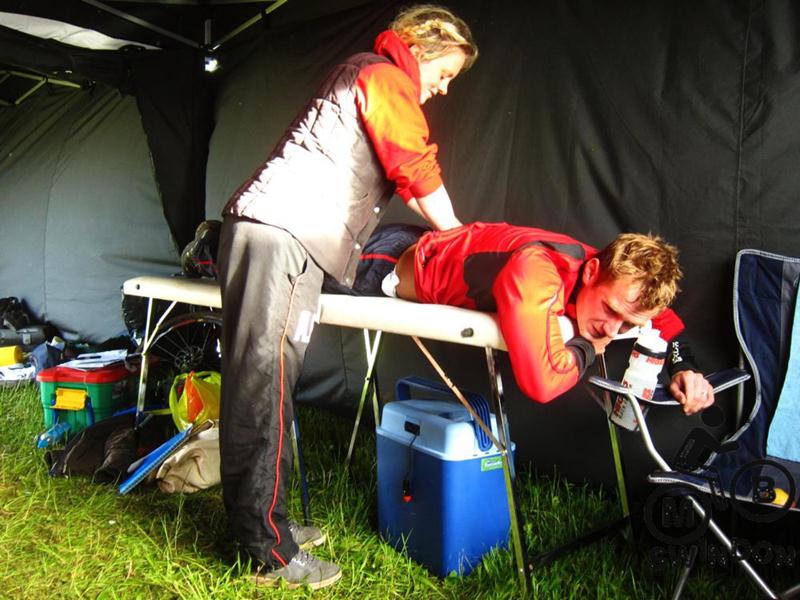 After a dry start things soon reverted to expectations with a massive deluge of rain. Lap times increased and riders ran about frantically shouting "mud tyres, mud tyres, get the mud tyres on!".  Luckily the rain died down after about an hour and then the rain was only sporadic. Lap times shortened so conditions were obviously improving.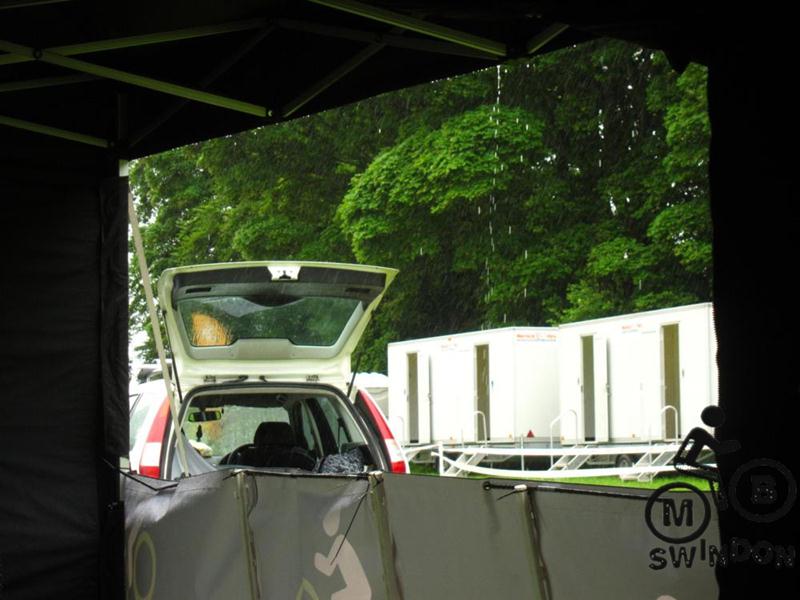 We did spot one woman coming into the arena with a bike frame in one hand and two wheels in the other, assumed to be a victim of the mud. She was still smiling though.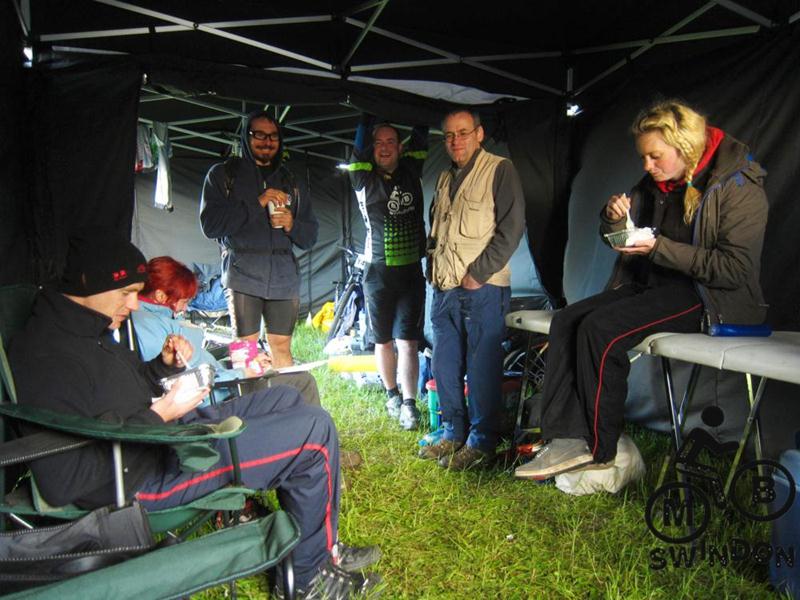 I put in my second and third laps during the early evening and a good line had formed in the mud but it was still sticky. A very special combination of sticky slipperiness. Probably known as slipstickeriness. i.e: slippery when you are steering but sticky when you are pedalling.
 We gained a fourth rider when Phil turned up and registered. He put in some 1 hour lap times, great for his acknowledged level of fitness. Having four riders made a real difference to the rest levels. Our fast team had real issues with the lack of a fourth rider and all broke themselves trying out double laps. I've met loads of people who talk about double laps being better at races. We decided that this is only true if the riders can keep up the race pace for the duration of two laps. With the sticky mud and steep climbs this event was not suited to double laps. Unless you ride solo, in which case you can do 12 double laps back to back.
An event like this is as much about the festival spirit as the riding. During my spare time I got to meet Matt Carr (Bristol Bikefest commentator) on the  Exposure lights stand, chatted to Singletrack mag, gravity team sponsors Fibrax (brakes),  the Loco Tuning team (suspension servicing club discount) and also the Noah's Ark bike shop team (who also offer a club discount).
The joys of being in a team meant that I  had a rest from 9pm until 4am. Then I had a 45 minute wait in the transition area before taking over in complete daylight. In that time I realised that there's only actually 5 shapes of riders that you can pick out in the dark when lights are glaring into your eyes. I also deduced that 90% of mountain bikers have the same three names with Dave being the most popular and that includes the women.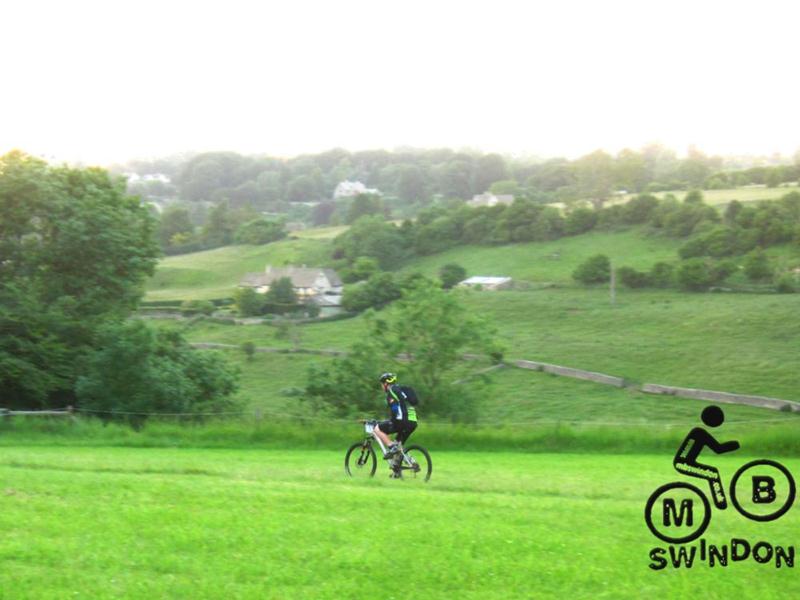 Out on the course I was fresh and I realised that there were a lot of broken riders out there. Every now and then a fast rider would glide past me like I was going backwards but the rest of the time I was methodically pulling in slower riders. Every corner that I turned brought a few more into sight. It was pleasing to be catching riders on the sharp corners as well a good time saving on the steep option for the Red Bull zone. A thumbs up to Pedal Progression there for the skills training sessions.
The first descent had been ripped up overnight so now had a slippery groove and loose rocks at the top. My first ride down it started with me in control before I realised that the only option was to hang on and ride it out. I was giggling like a girl at the bottom. On the next lap I was mentally prepared and chose to be out of control and giggled even more. The second big climb now had a bit of a short cut through the garlic plants that was clearly used by everyone to avoid the muddy steps on the main line. Everyone walked this section now. The only other unridable zone for me was the cobbled track after the red bull descent. I had managed that on the first lap but no more.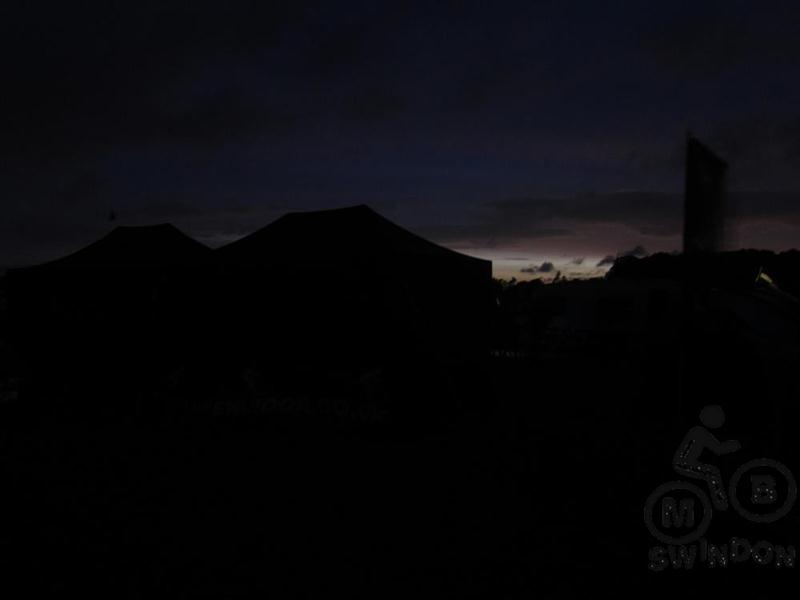 Our slowest riders had put in a sterling effort over night and I knew that now it was my turn to work hard. I always dread running out of energy on this sort of event so it was an exciting development to actually feel quite sprightly (I credit yoga and pilates) and also to have almost no back ache (yoga, pilates and Amy for a brilliantly focussed lower back treatment). The lap times were around 55 minutes and sometimes a bit quicker if I remember correctly.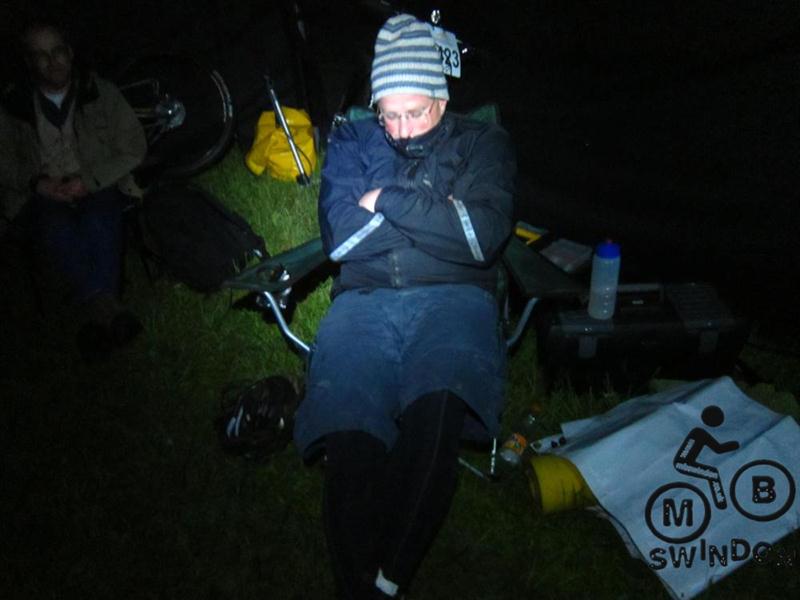 The race team were working quietly and methodically throughout this time. A rider would disappear off and then another would reappear,  a few words might be said, food would be eaten, a bit of physio might happen and a lot of tea was brewed. The team rode in sequence throughout the whole event unlike  some mixed teams.  An old trick is to have four racers plus a fast enough woman who puts in the mandatory minimum two laps.  I set out on one of my laps a few minutes before Anna from our race team and she caught me about a quarter of the way round. That spurred me on and we had a good race with each other until we reached the climb after the red bull section where she slipped away. It was interesting for me to watch closely to see where she gained ground. It was not on corners or really steep climbs; it was on nondescript sections of muddy grooves where I was mentally winding back a bit.
Jerome in the "Quite Fast" team had some bad luck and shredded a tyre near the start of the lap so ended up with a long walk.
I knew I had to do a few more laps and with our fourth rider going back to work  and the other two broken I realised that I would have to finish with a double lap. Finally the time had come to find out what had broken the other team. I set out at 10:40am and knew I had a 50 minute lap in me so I would definitely put in another one after that. It was quite disheartening to hear the marshals shout "come on mate it's your last lap!" when it wasn't. After passing through the finish line I set out on the final lap. So this is what it felt like being a solo rider. Just repeat that feeling 23 times.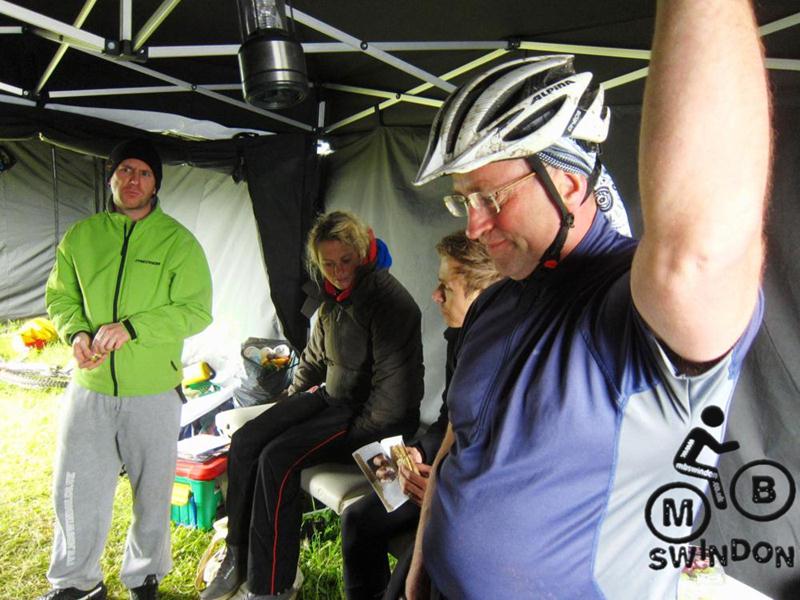 I made it about half way round before I started to think about stopping and having a sit down. I kept going for a bit longer, then a bit longer and then finally some gloopy mud finished me off. I lay on the ground and ate two 9bars and 2 nakd bars. That's probably about 1000KCals. That made a very slight difference to energy levels. I'd left the water behind so had to carry on dry.  
I discovered that hunger and lack of sleep strip had turned me back into primeval man. Food and survival was all that mattered.   A marshal who was clearing away his tent offered me a bottle of happy shopper lemonade and I necked about half of the bottle. It tasted both disgusting and amazing at the same time.
After the red bull descent and then I knew there was only one big climb between me and the chance to stop.  A faster woman shouted at me "it's amazing how much faster a man is with a wee girl behind him"  not knowing that I'd climbed that final muddy ramp on every previous lap. Anyway she wasn't behind me for long. The applause and cheering from the marshals and spectators motivated me to complete the lap and then it was all over.
xc race team, Sport mixed, 5th/83, 31 laps (1st had 35), average lap time 47 minutes. Anna Cipullo, Lee Morgan, Stuart Selwood, John Speed, Malcom Toop Rose (caravan)
Quite fast, Open men, 52nd/109, 21 laps (1st had 36), average lap time 68 minutes. Gary Lee, Jerome Crametz, Craige Goodson
Not quite so fast, Open men, 55th/109, 21 laps (1st had 36), average lap time 70 minutes. Francois Ford, Phil Mayger, Gary Palmer, Tom Stickland.
The race team operated exactly as planned. Our fast team really needed a fourth rider to ease the burden and could have managed 24 or 25 laps I reckon, based on my own lap times and knowing that I'm similar or slower than two of them. That would have placed them in the 20s or 30s. The slow team surprised me the most, being only 3 places behind the fast team. It shows that full team size, solid team work, maximum effort from all and no mechanicals do all make a difference.
Lap times:
XC team: Lee Morgan had a best of 39 minutes!, Malcolm Toop-Rose 42, Stuart Selwood 44, John Speed 48, Anna Cipullo 49.
Quite fast: Jerome knocked out some 52 minutes and then a triple finish. Mentalist.  Gary Lee  57 minutes. Craige Goodson 1:01 (injured in road bike crash a few months ago).
Not quite so fast: Brilliant. I got myself (Tom) some 52 and 53 minute laps. Phil Mayger a 1 hour, Gary Palmer a 1:03,  and Francois Ford a 1:18. Great work everyone.
Red Bull challenge times
13 Malcolm Toop-Rose 01:43
293 Stuart Selwood 02:06
307 Lee Morgan 02:06
378 John Speed 02:08
396 Anna Cipullo 02:09
475 Tom Stickland 02:12
567 Gary Palmer 02:15
733 Gary Lee 02:20
833 Phil Mayger 02:23
1032 Jerome Crametz 02:30
1106 Francois Ford 02:33
1137 Craige Goodson 02:34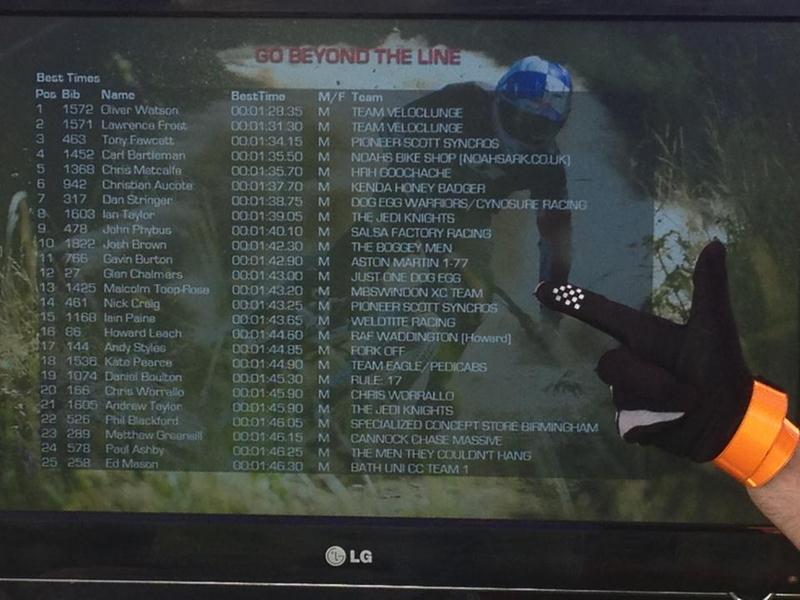 As with all the club race events it's really good to see everyone enter the spirit of the event and to keep going regardless of the conditions and the circumstances. Having said that, if the gazebo had blown over in the wind (again) I would probably have gone home. Talking of which I did see a team standing under the frame from a gazebo minus the covering.
Thanks to Crispin Doyle for supporting the race team, Amy for sorting Craige's twitching erectus and constructively prodding my backside, Graham for gathering his photos and the marshals for their unending support out on the trail.  Thankyou to our teams for the positive attitude to the weekend and for clearing up in quick time at the end.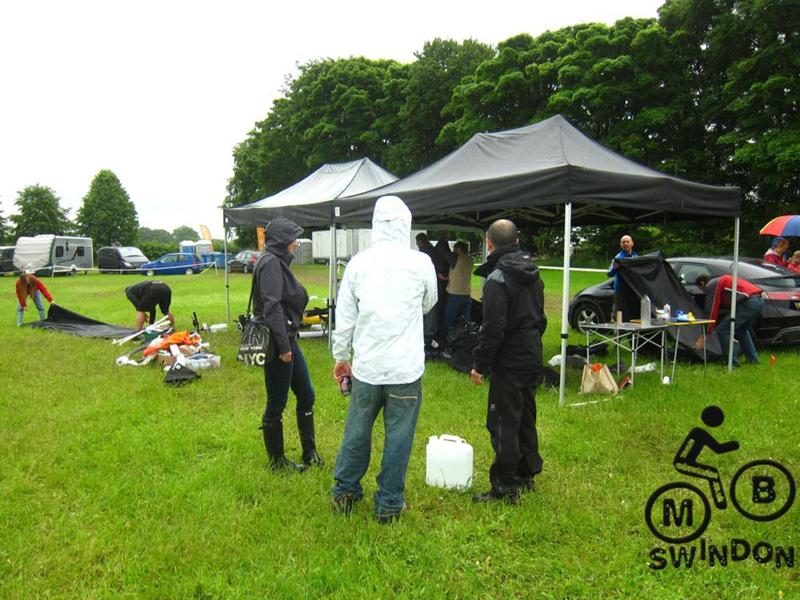 We're off to Twentyfour12 for our next relay race. If you want to join us then contact us.