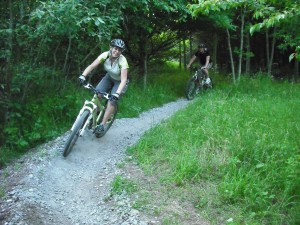 Come and join us for our regular Friday night social rides, but this time as part of bike week we will also have the BBQ out. So bring down some burgers, sausages or whatever takes your fancy and chuck it on the BBQ whilst you have a lap of the trail.
An evening/night ride at The Croft Trail. All welcome of any ability level – no one gets left behind on our group rides.
Novice Friendly group starts a few minutes after the main group.
This is a great chance to be given a guided tour of the trails if you've never been before and a chance to see the improvements if you have.
Depending on the season then you might need lights. Contact us if you would like to borrow some lights.
Winter (Nov – March)
Proper off-road lights will be necessary, speak to us if you want some advice on how to get into night riding without spending hundreds! 
Spring (March – May)/ Autumn (September – October)
It will be light enough to ride the first lap or two without lights.
After that proper off-road lights will be necessary.
Summer (June – August)
It will be light enough to ride without lights.
We'll meet for this special bike week event at 19:00 with the BBQ ready to add your items running right through until 21:00.
We go to the Check Inn at Wroughton after the ride too.