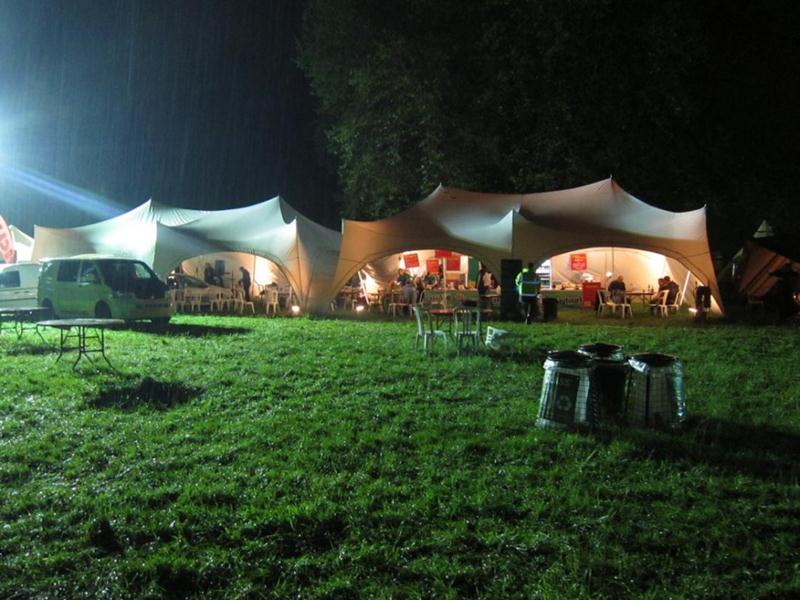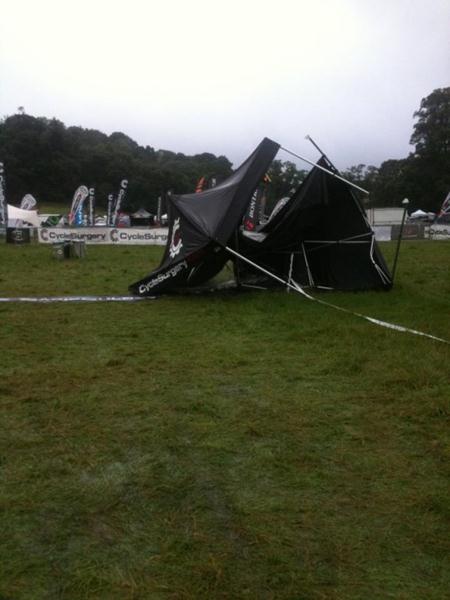 I was sat at home on the Friday before this event thinking about how warm and dry it was inside buildings compared with being outside. It had rainined for most of the last week, it was raining at the moment and Plymouth was the centre of an extreme weather warning.
It would be true to say that I wasn't feeling quite as motivated as I could have been. The prospect of doing wet, muddy laps and then lying in a cold, wet tent covered in mud whilst more rain fell onto the ground wasn't really selling itself to me.
There were seven other riders expecting me though, so I started to pack. As I mandhandled the two gazebos, tents, bike stand, tools, food and other kit into the car I started to feel more enthusiastic. This was going to be an adventure and if conditions were bad then we might gain places through the sheer stupidity of carrying on when others gave up.
We made it to the site for 10pm on Friday and the rain was intensifying. I made a mental note that inside the car conditions were warm and dry.
On arrival it turned out that quite a few of the other seven had had their doubts. It also looked like a significant number of teams hadn't bothered turning up.
It rained ever harder overnight. We awoke to find that the gazebo was now in the centre of river. Luckily my tent had missed this by a foot. Leon wasn't so lucky and binned his sodden tent off.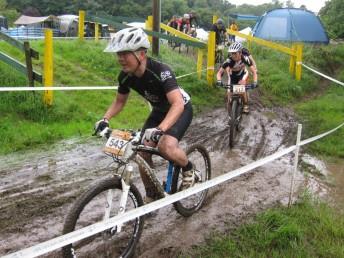 There were several mangled gazebos and tents on site. I'd slept through the high winds that had occured overnight.
We could only imagine what state the route was in as the race start loomed at midday. It did actually stop raining, though more was forecast.
By the time that the first riders had ridden the first section then it was already a mud bath.
Out on the route on my first lap (3 hours in) then conditions were variable. Thick mud, deep mud, wet mud, muddy mud and rocky mud were the options. Some sections were quicker to run than ride.
The organisers responded by closing and moving various sections as the race progressed.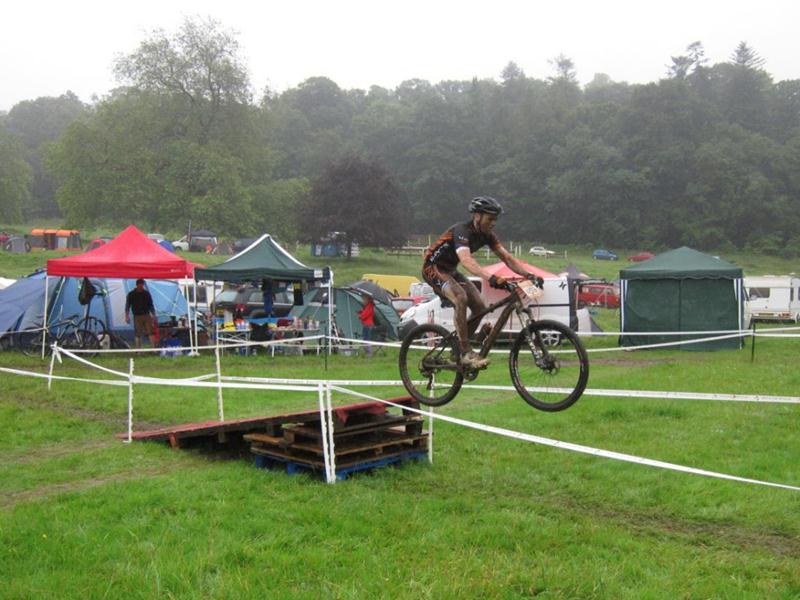 Despite the forecast it didn't actually rain again over Saturday and Sunday dawned with bright sunlight. This dried some sections out and made others even more tacky.
The conditions required a change of attitude – it was partially a survival exercise with increased drag at all points. What had been fast downhill swoops the previous year were now unsure and slightly scary drift zones. There was a risky satisfication in aiming the bike for the central groove on the biggest drop and knowing that the bike would probably roll and slide through it if you held your nerve. Rear wheel braking only and ride it cowboy. Powering along in the mud with the bike slipping and sliding brought some whoops out at the cheek of it all. Likewise some of the rooty sections rewarded really tidy and careful riding.
In some cases it was a tactical decision whether to run or ride to make the quickest progress.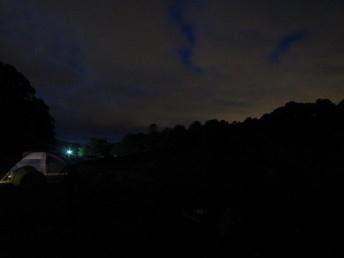 We had a few riders who dropped out due to the conditions and injuries. By Sunday morning our main team were in 21st position out of 45 teams in the category.
Chris went out at 09:27am and called back to base at the half way point with a broken bike. I lent him mine. He said he was on fire and reckoned he was going to get a good lap in.
I was stood at the transition area at 10:30am hoping that he was going to be there soon or very much later. I'd been putting in lap times just over the hour so I was confident I could get back before midday as long as I set off before 10:50am. Any later I was going to be under a lot of pressure.
He appeared at 10:42 so it was looking promising. I put in my best lap time (a few seconds over an hour) so Mark set off before the midday cut off and we had a bonus lap in the bag.
We ended up in 17th place our of 45 teams. We were quite happy with that. Our best lap time was 57 minutes (Leon) and a cluster not far off 1 hour meant that we had the potential to have scraped into the top ten.
Results on the Time Laps website.