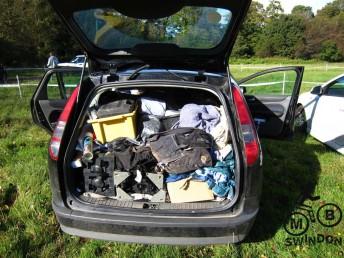 This year we entered 24 riders:
Solo: Neil Gibson
F Pair (4 hour PM): Kate Bevan, Meridith
M Pair (8 hour): Simon Morgan, John Speed
Race team: Lee Morgan, Dion Thomas, Stuart Selwood, Pawel Kotowski
Mixed up: Polly Eldridge, Phil Mayger, Chris Bevington, Pete Gowland
The MBSwindon 3: Gary Lee, Gary Yeates, Tom Stickland
M5: Andrew Weaver, Pete Toop, Gary Palmer, Pete Cannon
M32: Simon Oxlade, James Neale, Elliot Harris, Nik Wadge.

We also had Malcom Toop-Rose and Dave Barter nearby racing for Swindon Road Club.

Things started early on Friday when I loaded the tour bus (Focus estate) with both of our gazebos, flags, banners, bike, tent, food and a bottle of wine.

On arrival at the site it turned out that boggy ground issues had resulted in the event village being moved from the main field onto the track junction at the top of the hill. We had a bit of a dilemma: set up near the transition area or near the track. In the end we opted to be near the transition.

With some help from Nik Wadge we soon had chalet Swindon set up. It must have looked good because two guys asked us if we were the beer tent and another mistook us for a shop.

As the evening went one then we were joined by Chris Bevington, Gary Palmer, Gary Yeates and finally Pete Gowland.

We called round to Ian Luff at the Drop Off Cafe bus to deliver a load of cheek and our present – an MBSwindon apron with bunny logo. See our shop for similar items.

It started raining as darkness fell and it rained overnight too.

Saturday morning dawned without rain and a steady procession of vehicles arriving from 7:30am onwards. By 9am the first riders were assembled at the far end of the track and ready to run.

I'd been chosen to ride first for our team (the MBSwindon 3) and luckily got a good start so experienced no traffic jams apart from a 3s wait at the entrance to the proper trail where Lee Morgan from our race team cut past me (I think).

With most of the trail surfaced then it wasn't a bog fest but it was heavy going in a few places where mud was present. As usual, the climb up to the golf course was a ball buster. The rocks that had recently been dumped at the entrance to the woods now had a scaffolding bridge over them. Moderate speed was enough to jump off the end of this. I was interested in how far I was going to travel that I looked down at the ramp. Not recommended practice since I then ended up landing on it.

With a clear entrance onto the bridge this was definitely still one of the best sections.

The day progressed without any major disasters for any of our teams. After doing several longer races (24: Sleepless in the saddle and 2412, 12: Erlestoke) then the 8 hours went past really quickly.

I made it back with 10 minutes to spare and Simon Oxlade came in a few minutes later. All our other teams had finished by this time.

Steve Peat was spotted in the car park as well as recent celebrity Martyn Ashton (see video). Ali reported that he "has a rather nice and firm torso!".

---

Race team report from Dion Thomas

So, last race of the season at Oktoberfest. 4 of us in a team and 8 hours to race.

Not a great start for me, awake at 3am, up at 4, oh the joys of being a night worker.

It pissed down on the way there so we knew what to expect!

Great… got the runs (sorry) so 3 trips to the loo in the first 2 hours didn't help me at all…Huddled under a blanket between laps as I was so cold! 🙁

Conditions were very slippery…. even though 70% of the course was all weather, alot of mud was dragged onto the trail and since I'm just coming back from an injury then crashing wasn't an option!

In the end we did ok, 9th out of 73 teams entered. Cracking the top ten had been our pre-race aim!

Thanks to my team mates, Lee, Stu and Pawel…No crashes or mechanicals…Great job guys!

---

By the end of the day then the results were:

Malcome Toop-Rose + Dave Barter: 3/22 [old gits 8 hour]
F pair: 3/3 [Female 4 hour]
Mixed up: 8/14 [Mixed 8 hour]
Race team: 9/72 [Open 8 hour]
MBSwindon 3: 9/31 [Old gits 8 hour]
M5: 18/31 [Old gits 8 hour]
Neil Gibson: 33/50 [8 hour]
M pair: 35/49 [old gits 8 hour]
M32: 64/72 [Open 8 hour]
Results on the Timelaps.co.uk website.
Good work everyone and the majority did no training for this – just turned up and rode as if it were a regular ride.
Also spotted during the day were Ali Hardie (Swindon tri-club), Hanneke van der Werf (regular racer) plus one of the guys from Noah's Ark bike shop in Stroud (club discount).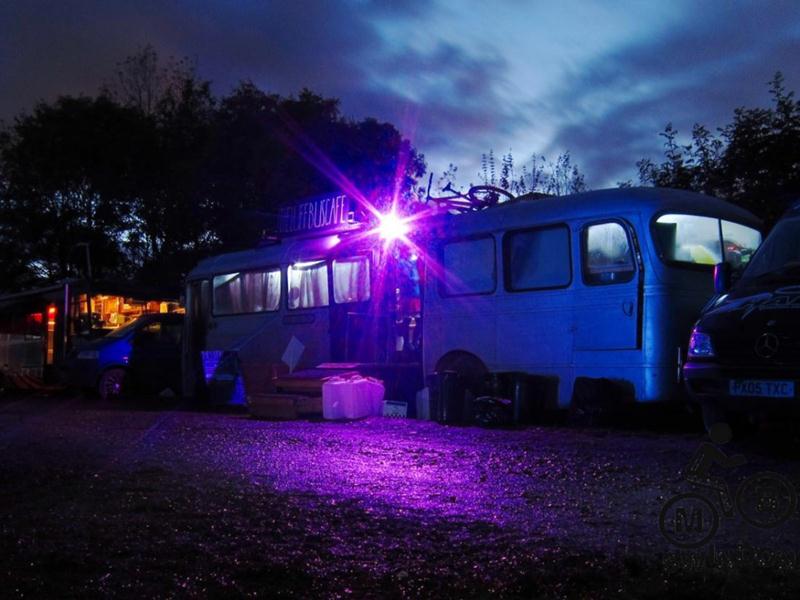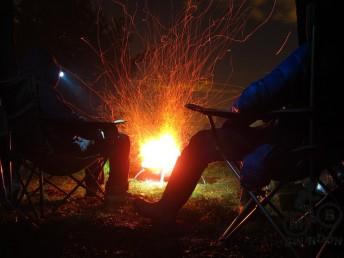 We abused Ian Luff a bit more and then returned to the gazebo to set light to some things and drink beer.
Sunday morning was cold but without rain. We walked over the new golf cafe at Ashton Court. This was a bit of a let down. At least the old cafe looked like a greasy spoon in a shack. This looked more plush but turned out to be serving miserly value sausages and filter coffee that might have once been near one discarded bean.
The duathlon was in progress as we walked back.
It took Phil, Gary Lee and myself 2 hours to clean up and dismantle the camp. Luckily the sun dried everything out ready for our next adventure.
Big thanks to everyone who took part and represented the club at the event.
See also write up from Bikefest June 2012, Oktoberfest 2011, Bikefest 2011and Oktoberfest 2010 (Train spotting).