See race reports from Bristol Bikefest 2011 and Oktoberfest 2010.
More photos in the Oktoberfest 2011 bonus photos gallery.
This was a big one for MBSwindon! We'd entered 34 riders into various categories. All were 8 hour races:
Male solo: Simon Morgan 1
Male solo: Gary Lee 2
Female solo: Kim Mazzucca 3
Mixed pair:Julie Brown & Mark Bonnes 4,5
Male pair: Robin Steward & Jonathon Proudman 6,7
Male pair: Stuary King & Dave 8,9
Female pair: Sarah Peters & Nikala Harries (Rosemary and Thyme) 10,11
Mixed team (A): Meridith Grimsley, Dion Thomas, Lee Morgan 12,13,14
Old gits team: Chris Hopkinson, Nick, Gary Yeates, Peter Toop 15,16,17,18
Male team (B): Rob Fairbrother, Ben Rukin,Tom Stickland, Kerry 19,20,21,22
Male team (C):Pete Ratcliffe, Phil Mayger, Andrew Weaver, John Speed 23,24,25,26
Male team (D): Lee Wright, Nigel Gregson, Andy Matthews, Francois Ford 27,28,29,30
Female team (E): Jenny Wright, Jess Clark, Sharon Bassingdale, Kate Bevan 31,32,33,34
The advance party arrived at 3pm on the Friday. Two other teams had put their gazebos up by that time. We still had a good location just downstream of the transition area.
By dark we had around 9 people on site. The Drop Off Cafe dealt with any hunger issues. We sat around in the dark with a few people doing some vital pre-race drinking.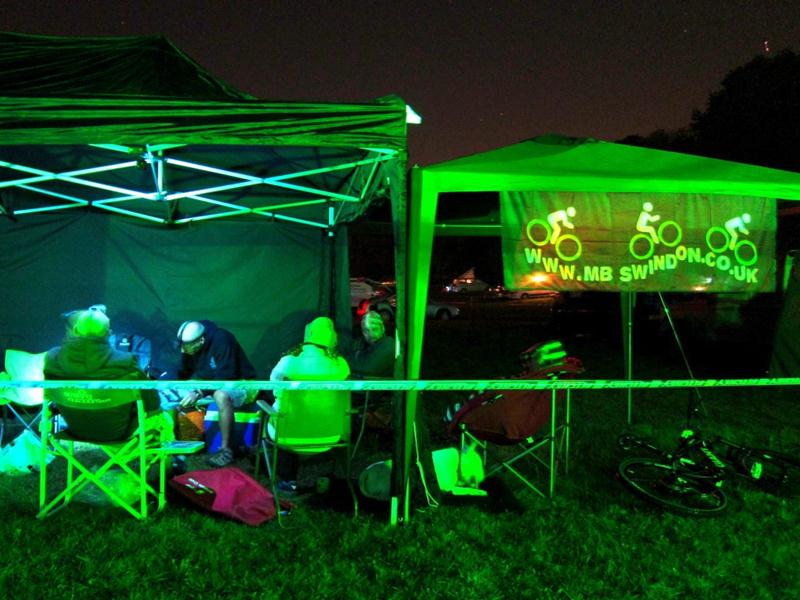 We were woken early on Saturday morning by the sound of vans and cars arriving. We had all of our riders present by 8:30am. We were only missing one rider and we already knew about that. So one ofour pairs became a solo (Kim).
The race started at 9am. I had a bit of a disaster; riding off after the Le Mans run I thought "this grass is really slippery". I looked down at the back tyre and realised that I had a flat. Luckily one of my team mates was able to take over. Losing 45s at the start translates into several minutes on the first lap because queues form as the start funnels down.
Apart from that then everything went really smoothly for all of the teams. We had one retirement due to injury – Phil had to crash to avoid a woman who'd been knocked off by a "fast rider" elbowing past.
We had our very own sports science masseuse on hand – thanks Donna.
| | |
| --- | --- |
| | |
| | |
Everyone was back before the 5pm finish. Out of our teams we had one podium place – first place for Sarah and Nikala in the female 8 hour pair. Our female team was robbed – they were put into the mixed team category when we registered, but the results show two other teams in the female teams category. So they would have been guaranteed third place.
Our fast mixed team were third for a while but later dropped into fourth place. Still a great result.
Our other teams and riders all did themselves proud. I'll be doing a detailed analysis of the results later.
Timelaps results for Bristol Ritchey Oktoberfest 2011.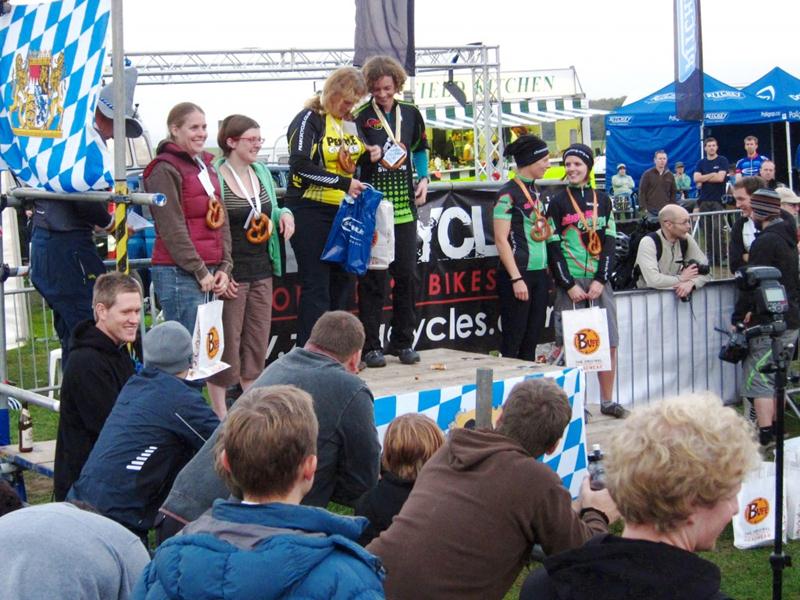 With the race over it was party time. It's fair to say that we were all knackered – 8:30pm felt like midnight. We made our own entertainment with a camp fire and a Ukulele. We stuffed ourselves coutesy of the Drop Off Cafe (again)
A lot of people went home as the night went on just leaving the hard core to brave the cold.
We were visited by two totally wasted kiddies once the main bar shut. I had to carry one back to his mate's because he couldn't walk more than 2 paces in the forwards direction.
On Sunday morning it was a trip to The Drop Off Cafe for breakfast and then a matter of clearing up from the previous night.
Thanks to everyone who came along and took part! We'll be doing more races in 2012. Thanks to The Big Adventure Store for bringing me some spare brake pads.
More photos in the Oktoberfest 2011 bonus photos gallery.
More photos in the Oktoberfest 2011 bonus photos gallery.