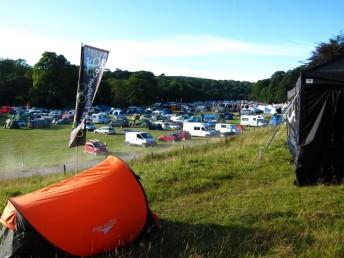 This was my third trip to the Bontrager Twentyfour12 race. See the pictures from 2012 (rain) and 2011 (dry). This has always been a favourite 24 hour event what with the interesting routes round Newnham park, the various marshal dj zones, the packed event village and the overall slight madness of the event.
Over the last three years I've also been to Mountain Mayhem and Sleepless in the Saddle, both of which were a washout in 2012. As a club we've also been to the Erlestoke12, Bristol Bikefest and Bristol Oktoberfest.
This has been an exciting year for me – I've been working on fitness via a challenging rides and a lot more races. I gave up drinking in February, adjusted my diet, sorted back ache via working with a few sports therapists (Nancy at The Medical and Donna at Back2fitness extreme)  and have been doing a lot of yoga and pilates. This has brought about a visible loss in weight and a lot more energy. A few days before the event I the encouraging sensation where the bike seemed to be picking up speed on hills without my legs feeling any pain. My hopes were that  I could transplant that feeling to the race at the weekend.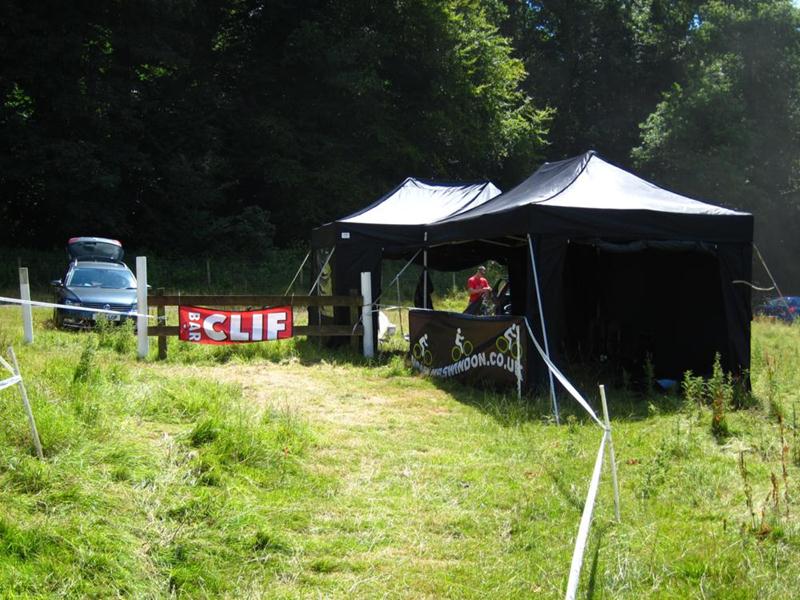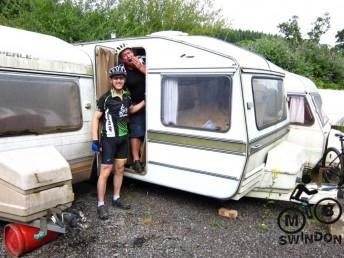 I travelled down early on Friday hoping to find a good place for the club stand. I did have a bit of lie in to be fair and driving at a very zen 55.00 mph  meant that I didn't arrive until midday. As with the Mountain Mayhem camping free for all this meant that all the track side spaces had been marked out with several hundred metres of tape.  I took a tour round the steep hill in the quiet zone before finding a great spot on the final hair pin bend. This was near the site entrance, several metres higher than the main camping field and right next to the course.
My task for the day was to set up the camp. My skin started to burn within ten minutes. This was a promising development after the floods of 2012. I managed to slot both gazebos into the space available and was feeling pretty chuffed with myself. Craige Goodson arrived in time to help set up our various flags and banners. He got the idea – we're aiming for maximum club publicity at events like this. 
We had a relaxing evening at the Luff Bus cafe, Craige sampled a load of free Dartmoor Jail Ale and cheese and we called round to insult Aaron at Cotswold Verijdan.
The rest of our riders arrived on Saturday morning. We had two teams:
"Proper job" (24 hours): Jerome Crametz, Craige Goodson, Nathan Lenehan, Gary Palmer and Tom Stickland.
"Half a job" (12 hours): Gary Lee, Nicky Harries (the other two couldn't make it).
Gary, Craige and myself did a recce lap. The route was similar and different from previous years. After a short section through the first field it hit a steep road climb to the top of the hill. This did level off a bit but then steepened up a section of grass just before entering the woods. Speeds picked up on the compacted mud in the woods. A draggy climb up the main track finally lead to the first singletrack section. This was a fun line down through the trees with a few sharp bends.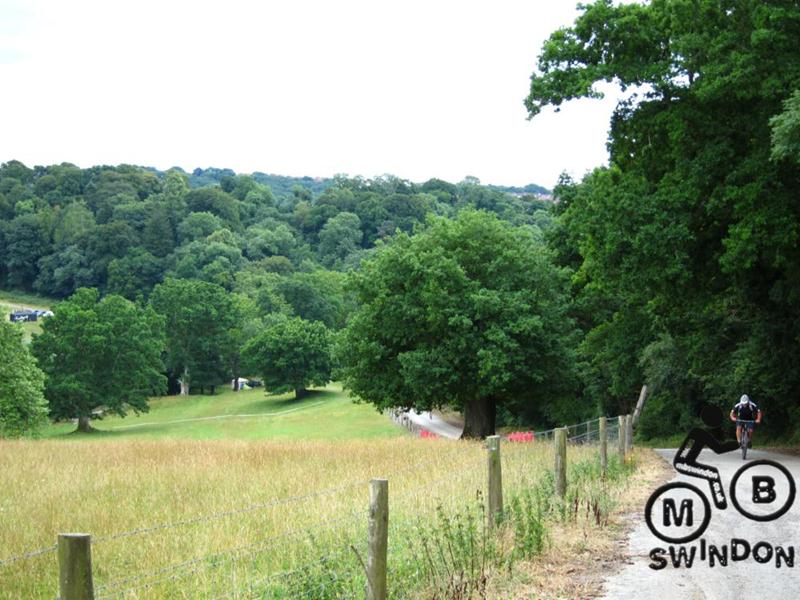 A hateful section of bumpy double track was next. It went up a bit, down a bit and then up more. The top of this linked into the bomb holes and then on into a long section of downhill singletrack that's probably the best part of the trail and has been used both previous years.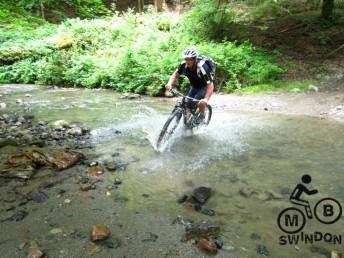 This was followed by a slog up the campsite field, the first river crossing and then the Silverfish section, an interesting and slippery route along the edge of the river with a great rooty drop in the middle.
A long and slight climb followed, up past the caravans and the terrapin buildings to a much deeper river crossing. This had a sneaky bridge option that I used in the early hours to avoid wet feet. The most challenging climb was next – first sticky mud, then saw dust and then  mossy grass and slippery roots. The good news was that this gained most of the height and a short ramp linked to the farm. The route went through the barn that was part of the 2011 route. After skirting a field most of the work was done.
A short section through the ferns with a steep climb, a fast drop down a gravelly track, some fun singletrack and then a great section of double track where the bike seemed to accelerate even though it was uphill for half of it. The field descent towards MBSwindon corner was a blast, a bit of jump off the bridge ramp was possible, then rapid braking and finally a bit of an amble round the camp site.
The weather was spot on – warm enough, slightly overcast with some talk about rain but nothing too threatening. Gary Lee and myself  set off in the middle of the start pack at midday. I was pretty pleased with a 45 minute lap considering the queues and the extra loop at the start.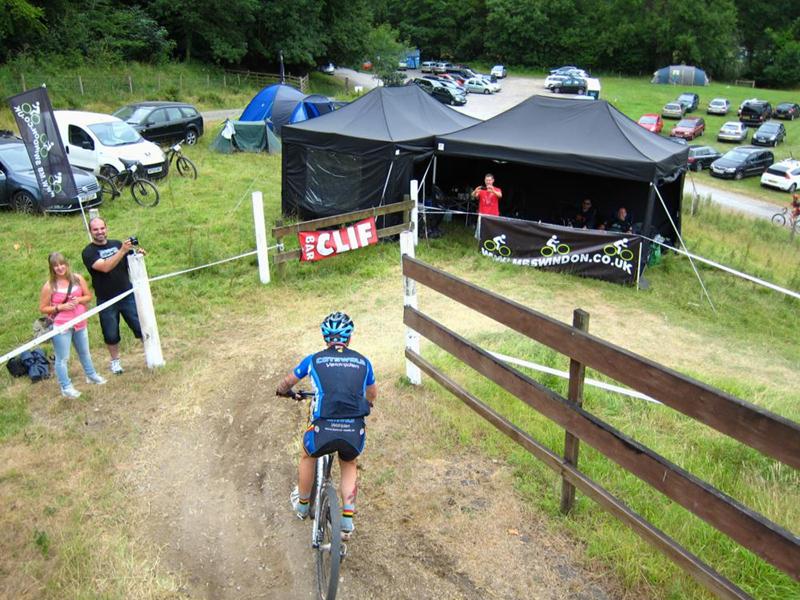 Jerome went out and did a 39minute lap and later a 36 minute lap "35 is not possible" he said. He was only two minutes behind the best lap time in our category!  I was pleased to scrape under 39 minutes and Craige was within a minute of that too. Our two slower riders both pulled in 45 minute laps which slightly better than the average lap times for the middle placed teams.
The event claimed a few bikes – we saw two riders running past with cranks in their hands.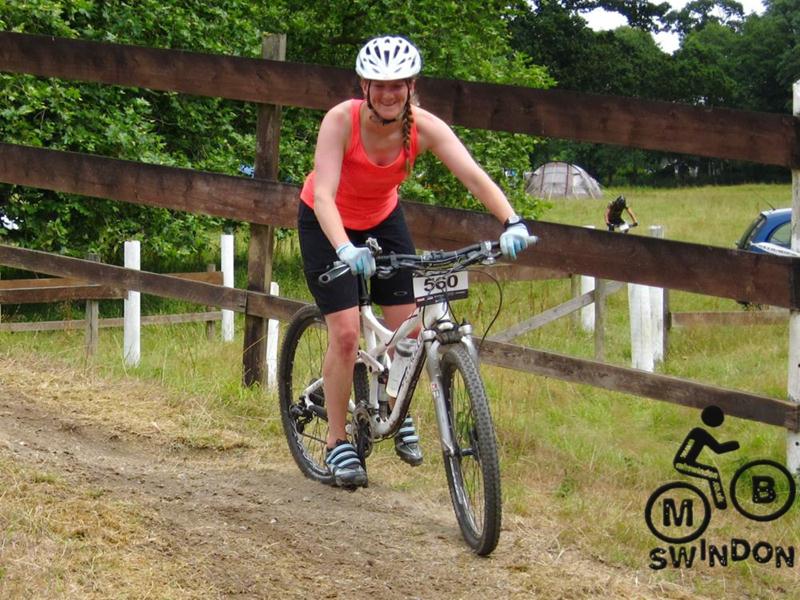 Meanwhile our pair did double laps whilst we wound them up about how many laps they would have to do.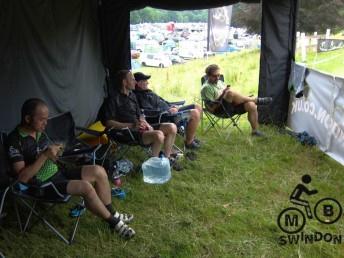 We saw a lot of people that we know: Fibrax brakes (race team sponsor), Mark Bonnes, Birds on Bikes,  Bigfoot MBC, Tim Flooks from TFTtuned plus a few people who seemed to know us who we can't remember how we know. We shouted encouragement/abuse at most of them and I'm most proud of  "come on RAF!" at the navy team but they didn't seem to find it funny.
There was a short burst of rain in the early evening but it didn't come to much. Both teams put in a solid performance. Apart from the bumpy track I was really enjoying the route. There were a few places where the bike seemed to be picking up a lot of speed even though it was slightly uphill. I was getting up the steep climbs with ease and I had no back ache! I felt like I was easily picking off a lot of riders. That's great for morale. Of course some proper fast racers would go past me from time to time.
According the sqiggle analysis below then Jerome's average lap time was equivalent to the 4th placed team's average lap time. I was equivalent of 9th  and Craige wasn't far behind at 13th (all out of 47 teams in our category). This was a team effort though and the consistent results from all team members is critical to the overall place. So big thanks to Gary and Nathan who worked as hard as anyone and kept our overall performance in shape.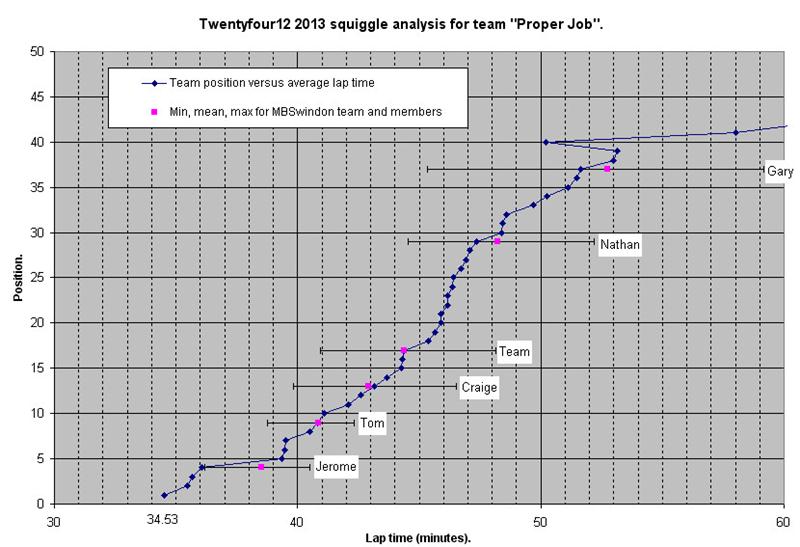 The pair did 6 laps each and stopped for beer at about 11pm. Meanwhile the 24 hour team carried on like a well oiled machine. I snuck in a few hour sleep in the gaps between laps. The sound of the jazz singer echoing round the hills at 2am was quite surreal and great.
We saw a few crashes on the bridge outside our stand due to some slippery dew on the wood surface. The route was diverted around it in the morning. We had expected at least one rider to crash into our club banner over the course of the race.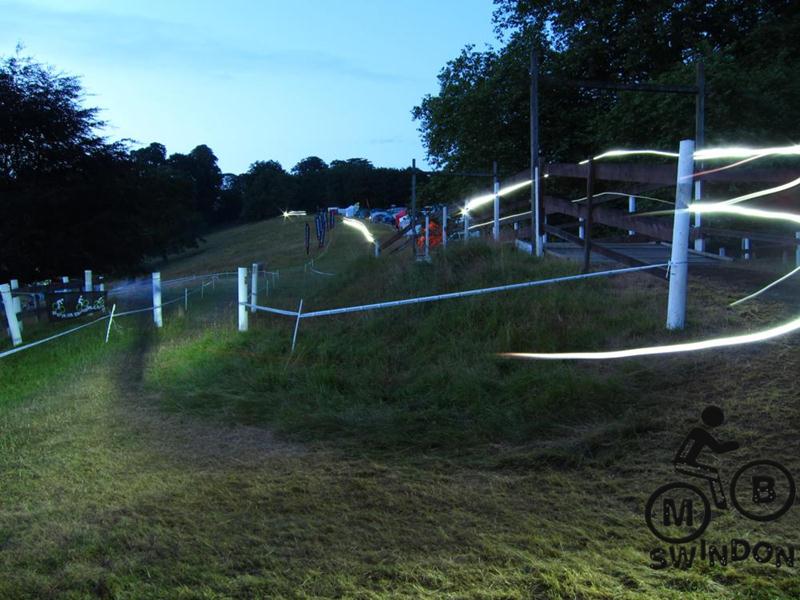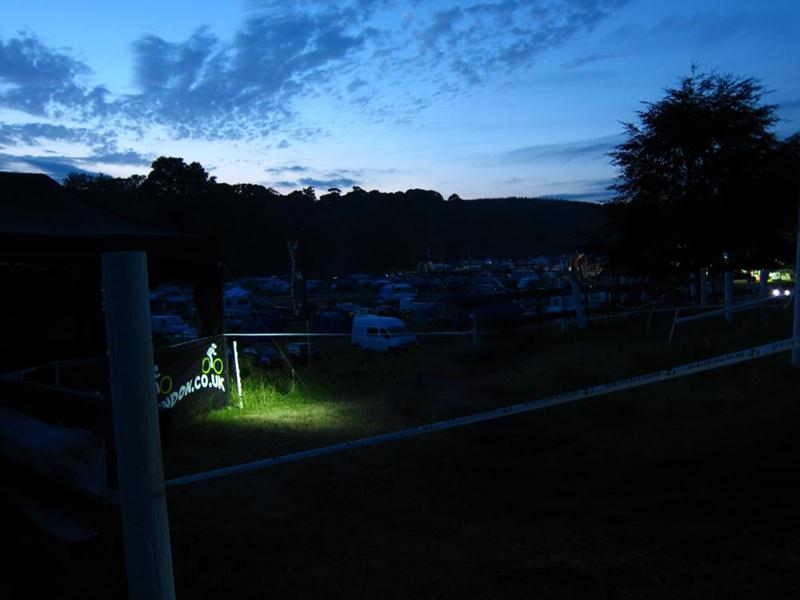 We did some calculations and worked out that Jerome would be going out at 11am and if he did a regular 40 minute lap then I would be able to fit in a 33rd lap and finished by 12:30pm. That would make our average lap time just over 44 minutes. I seem to end up doing the bonus lap at every event. The team told me it's because I like doing it and they're probably right.
There was some great team work clearing up the club stand and we were all on our way home by 2pm.
I'm really enjoying these race events so plan on doing more this year. The next club race event is Torq in your sleep. See our events page for all future events.
Results on the TimeLaps website: "proper job" were 17th out of 47 and "half a job" were 7th out of 7 in the mixed team category. They would have been 7th out of 17 in the mixed pairs category if they'd moved to that.
Course map: 11.7km (7.3miles) / 172m of ascent: OS Map, GPX. View on Bikehike.co.uk.