Words by Steffan James / Photos by Tom Scott
This ride was billed as a step up from the Club's popular novice-friendly rides, extending the typical 15 miles to 20.
The ride started in a car-park a couple of miles from junction 13 of the M4, which was very much 'in the middle of nowhere' – we even drove past a place called 'World's End' to get there! Despite its remoteness, almost 20 riders had made it, including a last-minute boy-racer entrance by Richard Ford, and Fiona and Tristan who'd found their own car-park a mile away. It was good to see a couple of new faces along for their first club rides, too.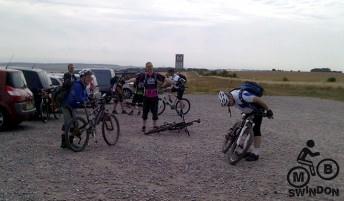 After the requisite amount of faffing, the group set off at a fairly frantic pace, though thankfully this settled after a while. After collecting the two extra riders, the group began a long descent along a farm track, and got a taste of what lay ahead: our unusually warm summer had left the verges overgrown and encroaching on the tracks and trails everywhere, whipping the riders' arms and legs raw.
Unfortunately, just as the group set off up a singletrack climb, Fiona's rear mech broke, and she and Tristan headed back to their car.
As the ride progressed, it became clear that the forecast rain was not going to arrive and that we were in for another scorcher, though fortunately long sections of the ride were under the cover of trees. Rafe and Phil manfully rode up front clearing a path through the undergrowth, but another problem caused by all the greenery was that the ground was often hidden, and Richard managed to bury his front wheel in a rut and go flying into the verge. Naturally, we were all very sympathetic.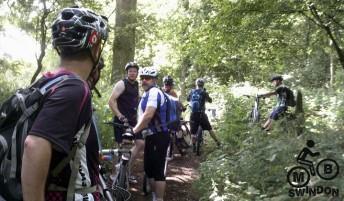 The route was reasonably flat – there were only a couple of short climbs that were steep – but there seemed to be quite a few long, gentle descents where everyone could indulge their inner racers. The group would often fragment on these sections but, as is always the case on these rides, the faster riders would wait at the bottom until back-marker Nigel brought the group together again and everyone was ready to set off.
After Tom had managed to find the only puddle in Berkshire and ridden though it, we set off on the last few miles, which included an excellent mile or so of twisting natural trail, lined with trees that almost made it feel like riding through a tunnel, which brought us to within sight of the car-park where we'd started.
A bit of last-minute route-finding was needed when the final stretch of bridleway turned out to be so overgrown that it was impassable, but a long, shallow climb soon had us back to the cars.
Some rides are dramatic; some are easy, some challenging. This was most definitely a fun ride! Sunny weather, interesting route and good company; what better way to spend a few hours at the weekend?
OS Map of the route. GPX File of route, right-click and select "Save As" to save to your computer.