See the MBSwindon skills training courses – these are recommended before you venture off for more expensive courses!
Shortcuts to video and photo gallery. The next course will be 16th-19th September 2013 (Mon-Thu).  Contact Mudtrek for info.

This was a three day mountain bike skills course with endurance racer Matt Page at one of our favourite holiday venues:  Mudtrek MTB breaks  in Wales. We've stayed there several times before (Oct 2012, Ladies August 2012 and Feb 2012). A few weeks after this event we helped build the skills park at Mudtrek.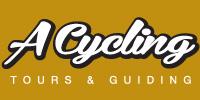 Matt Page is a pro-endurance racer, famous for his underground steps video on Youtube.  He's also won a load of events such the 2010 and 2011 24hours of exposure race and Transwales 2011 . See this interview from Singletrack magazine.
He's recently launched A Cycling to offer guided rides and coaching. We've got a guided weekend with A Cycling and Matt in May 2013.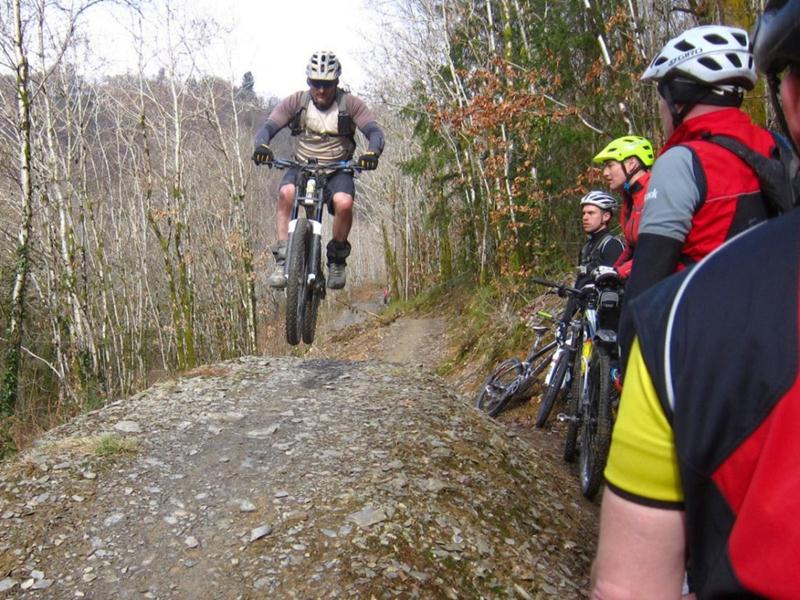 Our group of 12 met on Thursday evening at Mudtrek. We were formed out of a mixture of twos and threes of friends and a few solo riders. Things got off to a good start with the universally approved Mudtrek food courtesy of Nikki. A fair amount of beer was consumed too.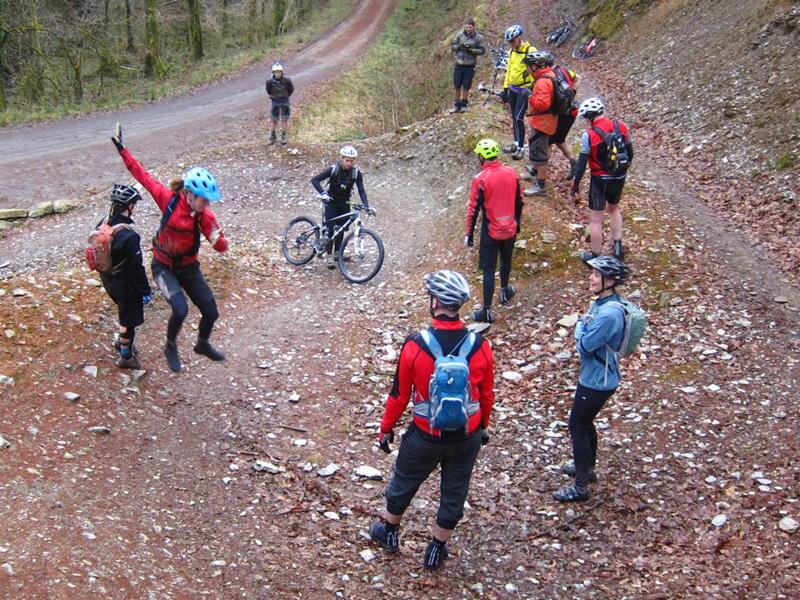 On the Friday some time was spent working on track stands and some braking trials on the steep track next to Mudtrek. This showed clearly how front brakes are far more effective at stopping a bike (providing the front wheel can grip). The group then split into two with each group spending half a day with Matt and the other half riding around a bit with Jay and Richard from Mudtrek.
I ended up in the morning group and we rode off to a rocky obstacle to practice descending. The training was a mixture of demonstration from Matt, having several goes, watching others and listening to feedback from Matt. It was all conducted in non-pressured way with each rider free to have as many goes as they felt like, or not. All riders showed a clear improvement after half an hour or so of practice. The other group then rode down the obstacle for us to observe.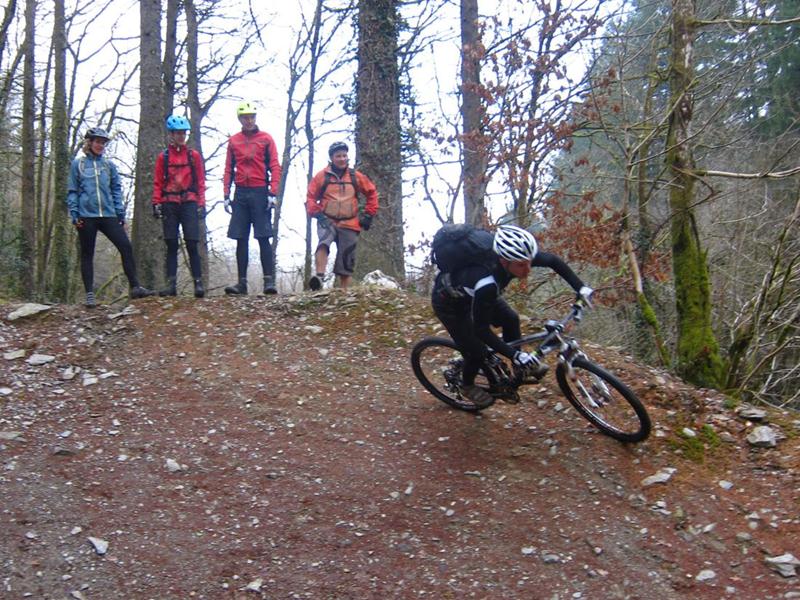 We then moved onto the quarry area to build confidence descending – no brakes allowed on the steep ramp. I was quite chuffed to ride up the ramp twice (to prove it wasn't a fluke) and then fluked a third. Talking of riding up, we then spent a good while working on the best technique to ride up another ramp. When this was too easy Matt added a slimy trunk to lift over.
In the afternoon it was our turn to ride around a bit, this time being observed by the other group on the rocky descent. Jay introduced us to a new descent and it's one of the best in the woods in my opinion. It was re-used at the MBSwindon trip "greatest hits ride" a few weeks later.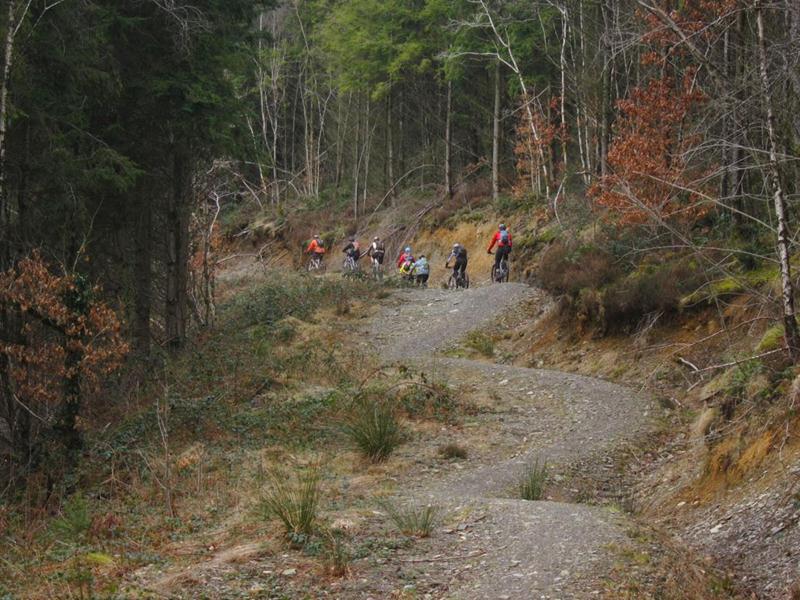 On Saturday we headed for the Brechfa trails. We were offered the chance of a lift down in the Mudtrek Land Rover. It would be wrong drive down right? So Matt and about half of us rode down.
At the trails we rode round the blue (brilliant trail) to a point near the start where we worked on pump technique. I'm not talking about fixing punctures either. This is using the upper body to keep the bike in contact with the ground over bumps to maintain speed. We had a bit of a challenge to see how far we could roll though we caught Huw cheating by using his pedals.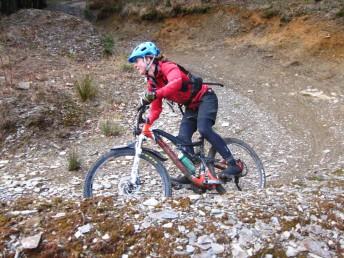 Next we moved onto cornering on large berms again via a mixture of instruction, practice, observing and feedback.
Then it was time to go airbourne with some tabletops. We practiced on the bottom tabletop on the blue route first, gradually building confidence on the steep entrance ramp. Once we were happy with that we rode to the top of the section and attacked the whole blue descent. This proved, once again, that the blue route really is a blast. It's excellent for carrying speed and gaining air off the bumps. I've got video evidence of clearing the last tabletop. Whoop whoop.
We continued along the blue route past the bus stop and stopped at the table with a view for lunch. We nipped down the black run back to our berm practice area. This includes the root of doom which, as usual, required two attempts before riding.
We nipped up a main track to the top of the black skills area and spent the afternoon working on bigger tabletops and steps. Sarah and Jay had a go on the rock jump too…Jay said it was easy. It's obviously all in the mind.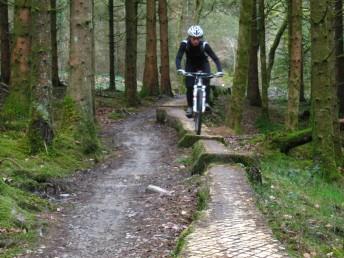 We followed the black route round and then finished with the final blue section. Once again the blue route proved to be a lot of fun. As speeds built up then air time was inevitable. As the last optional challenge Matt proved that we could ride down steep steps near the car park.
I was hoping that no one else would want to ride back to Mudtrek, leaving me to ride up the steep hill at whatever pace I felt like. Not so! About five of us rode back to finish off another great day.
The training ended with the skills course prize giving.
There was a ride on Sunday but I had to leave early for the March build day.
See Matt's blog post about the skills weekend.