MBSwindon Beauties Brechfa Weekend
By Sharon Bassingdale
Day 1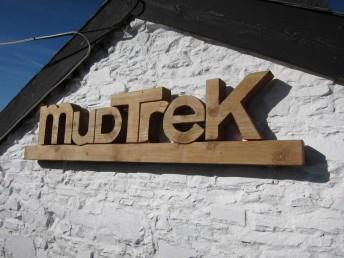 After much planning, much last minute faffing (glad you could join us Kate and Meredith) and much excitement (well, maybe that's just me then!) the MBSwindon Ladies Weekend to Brechfa was finally happening!
The ladies left from Swindon / Warwickshire / Highworth / Faringdon at various times, with the intention of getting to Mudtrek at 8pm for dinner. Hasten to add that the traffic of England did not feel the need to let the ladies have a nice smooth drive up and they all arrived at varying times between 6:30pm and 8:30pm. Our very very patient and kind host Nikki was quite happy to push dinner back until everyone was there.
The ladies arrived to find a lovely little treat on their pillows! They then promptly sat down to an immense dinner of soups/wings/lasagne/bread/wines/vodkas. Clearly Nikki is used to feeding the MBSwindon boys as there was enough to feed a small army! But it was exceptionally yummy and everyone was suitably stuffed after.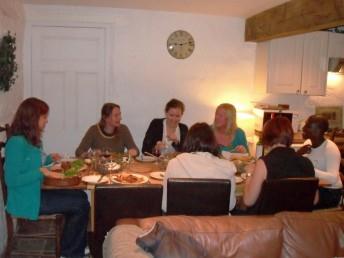 Our ride guide for Saturday came in and checked what we wanted to do on our ride. Cries of 'no hills, no technical stuff, and no rain' rang out amongst the group. Mmmmmmm its Wales – good luck with that.
After some catching up and introductions there was a game of Best of British to be played. This proved interesting with an American and Irish lass on the teams! Anyway, after deciphering of the rules (which took longer than the actual game) we were away. Educated by playing?!?!?!? Mmmmmmmmmmmm possibly not, but by midnight everyone was well up for a sleep, so we organised the sofa bed (I use the term loosely) and away we went, orderly queues for loos/teeth brushing/showers and finally to bed.
As per usual on the MBSwindon lades rides, what did we wake up to (other than mooing cows and baaing sheep)? Glorious sunshine (again…………… thank you weather gods!).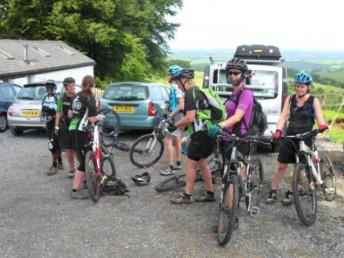 One by one we crept downstairs, trying not to wake the pile under the duvet on the sofa bed, but the pile was already awake. So pre breakfast was begun (yes, I know, pre breakfast!) A lovely big pot of tea to be made, cereal and toast and chat about what the day's riding would be like. Pre breakfast had, and with impeccable timing, in walked our actual breakfast (well it had help from Nikki obviously!). By the end of breakfast (which again could feed an army) we were well and truly ready for bed. I mean riding!
Nikki and Jay have got this down to a fine art so had allocated 'faffing' time! 'We don't need faffing time, we are much more organised than the boys and all our rides start on time'.
After some faffing with brakes/chains/lube then we were ready to go, just slightly after our planed exit time (well, we are on holiday!)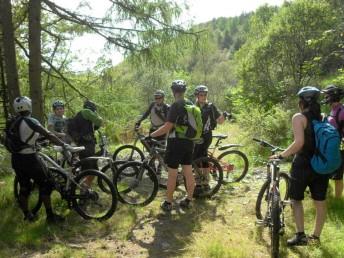 Jay assured us that there wasn't too much climbing and that it would be great fun. This was the first of his 'not so truths' that we would later discover he was very good at telling!!
The first thing we did was a climb up the drive from Mudtrek! First minor mechanical of the day: some gearing issues with Sharon's bike which our ride guide promptly dealt with.
When we congregated at the top, most were ready to go back down, but on we went. Some easy road and track riding initially just to get us warmed up before we headed into the back and beyond, quite literally. We were in the middle of now where!! It was ace!!
There were a few obstacles to negotiate very early on such as a tree across our path, and some lovely ruts and puddles. Now…….if you have ever been to Wales and done any sort of xc riding, you will be well aware that Wales ruts are approx 3inches wide (yes, only just wide enough for MB tyres), and approx 4inches deep (yes, nearly pedal height!) and Wales puddles are actually ponds!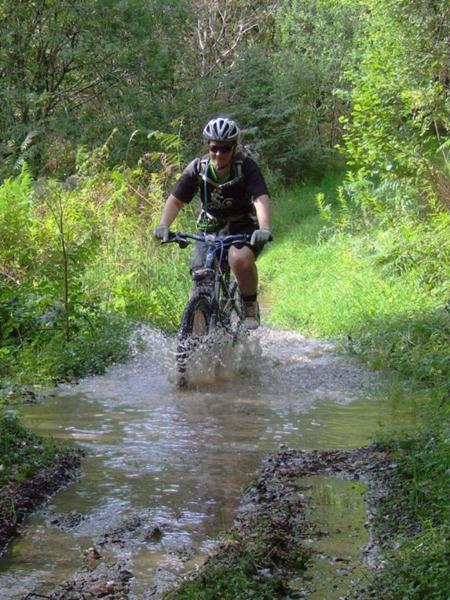 So……. this was a bit of a shock and wake up for, I think its fair to say, the whole group!!!!! Mmmmmmm so, we had no climbing, no technical and no sunshine!!! Well 1 out of 3 in the first 10mins or a ride isn't bad I guess!
Also, in Wales they don't have nice, easy, wide xc routes, it's more "find a path that sort of looks clear and go for it, crashing through the brambles/nettle/branches and whatever else happens to be sticking out". (Do see the guess whose legs are they competition a bit later on.)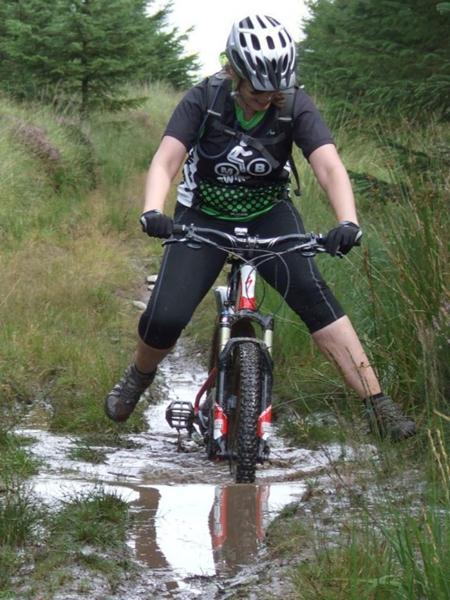 The technical aspect of this ride was something that not many of us have encountered before and there were a few parts that a downhill bike would have been very at home on! But, it was fun! We went down through the woods, which promised not to be too rooty. They weren't. However, they were very rutted, deep in mud, rocky and awesome!!!
Some rode, some walked, and most had to ride down a water fall (yes, I know, a water fall) to then come out the other side. What looked to be some nice easy slate climbing (well easy compared to what we had done so far) We had to ride up a water fall for about half an hour! We all successfully made it up to our lunch break stop, (lunch beautifully made by Nikki) on what seemed like the top of the world.
We had all dried out quite nicely now, which, Jay thought was a bit off really. So he took us on another very beautiful part of the ride, where another of his not so truths came out! Jay: "stay left, left is the best line, stay to your left". Me: "are you sure that that's the best line?". Oh I see why now: great photo op. Left was a Welsh puddle that once in it, came up to the hubs! Brilliant!
At this point we all decided never to believe a word Jay said again!
After that, the riding god a little less technical, a little wider and a little kinder.vFor about 5minutes, then it was back through another pond and up a quarry wall!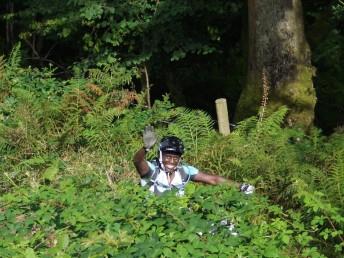 By this time we had been riding for a good few hours and were pretty knackered. Jay kindly agreed to adjust his planned route and took us back to the Landover. After an amazing fire road descent at around 30mph for seemed like 5 minutes, we arrived at a road.
Jay made us an offer – "you can either wait here and I'll get the Landover and pick you up, or it's a road ride of about 4miles". "how much climbing?" we asked. Jay "not much really, pretty easy going". We were dubious, but to start with it seemed he was actually telling the truth. This was until we had done 4 miles, got into Brechfa and then had to climb up out of Brechfa to the forestry commission car park where the Land Rover was.
Anyway, we all made it in one piece and lifted our bikes up onto the Landy. Jay took us to a very MB friendly pub where everyone had a drink or too, and had a good old chat about the day's riding and really got to know each other!!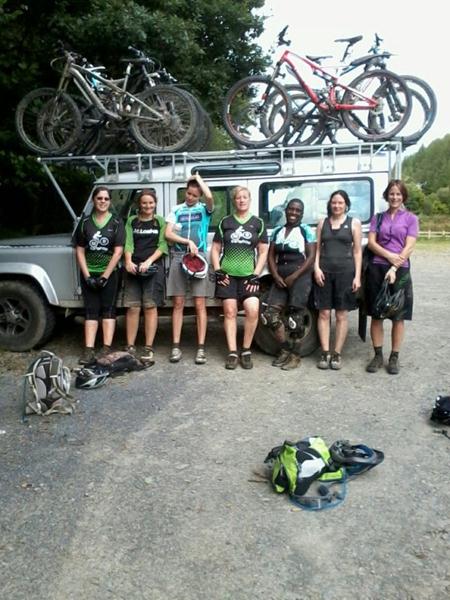 Stories of previous exploits on ladies rides were discussed and Lorna was sold a nice new Bionacon mountain bike (well, not sure if she was actually sold it, but it may be a nice Christmas present for her).
Jay took us back via the route that he will be taking the boys on in October, and all I can say……… good luck with that boys!
Back at the barn, it was a mad rush of getting very wet clothes stripped off in the garden/hallway and dumped in bags, showers and some delightful afternoon tea and cake (we had worked for it, and it is mandatory on our rides!). Some bike washing, maintenance, lubing occurred, maybe not as much as we should have but there you go, tea and cake was calling!
Dinner was again a scrumptious delight cooked by Nikki that filled us all up. Conversation returned to some of the more interesting subjects from previous rides. We did try to persuade Nikki and Jay to serenade us at dinner but there a resounding no from both. Jay very kindly put all the pics he had taken onto a cd and played them for us.
Oh my word! All of our stomachs absolutely killed, and not just from the amount of food we had eaten, but for those in the know, it was the last 5 pics, which must be seen in sequence that just had us rolling about laughing! Let's just say, the photo opportunity far outweighed Jays desire to actually help!
The night was a struggle and after some more tea and cake, pretty much everyone hit the sack at around 10pm!!!! For a very well deserved sleep.
Photos from the trip to Mudtrek in February 2012. Includes a map of a similar but longer route.