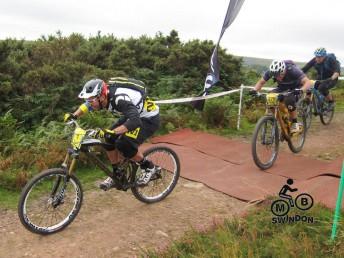 Photos from the Mondraker Gravity Rally 2012 based at the Holnicote estate on Exmoor. More info on the Shred Magazine website.
More photos: Flickr set and National Trust facebook.
Entry included a free set of RWD Brakes plus a pint of Exmoor ale. Which was nice.
The route took in three climbs and three great descents. Saturday afternoon was available to do as many timed runs down the final descent as you wanted to do.
Sunday used the full route and used all three  descents. The second  used a public bridleway so wasn't timed. The timing went wrong on the first one, so that didn't count either!  However, the best times from Saturday and Sunday counted.
Gravity rally route OS Map, GPX, Mapmyride.
Mondraker Gravity Rally 2012 results. Most of us took 4 minutes +/-10s. Fabian Barel did it in 3:01. James Scott came 34 with 03:24. It's his video below.