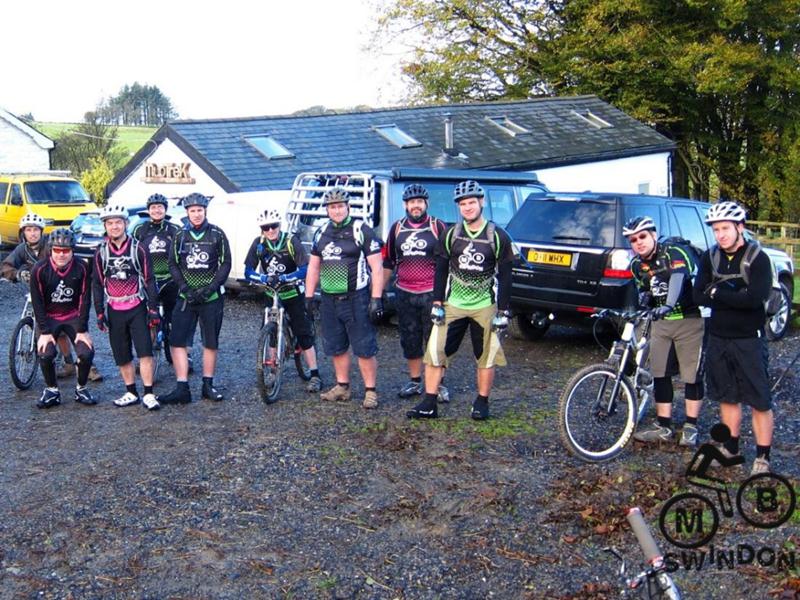 This was the third MBSwindon trip to Mudtrek in 2012! We originally called round in late February and the ladies visited in August.
We keep going back is because it's an ideal venue for a mountain biking weekend. Located in countryside near the Brechfa trails Mudtrek offers catered accommodation in 2 converted barns,  one day of guided riding, bike wash, clothes washing and drying facilties.  Plus the owners Nikki and Jay seem to like us for some reason. 
They like to be known as "multi award winning Mudtrek". They don't like to be known as "the bunk barn". Find them on Facebook.
On both visits we'd requested a long ride that started at Mudtrek towers. The February ride had been a muddy epic and almost killed a few people. This time I'd asked for a bit more surfaced trail and also drawn out some ideas on google maps.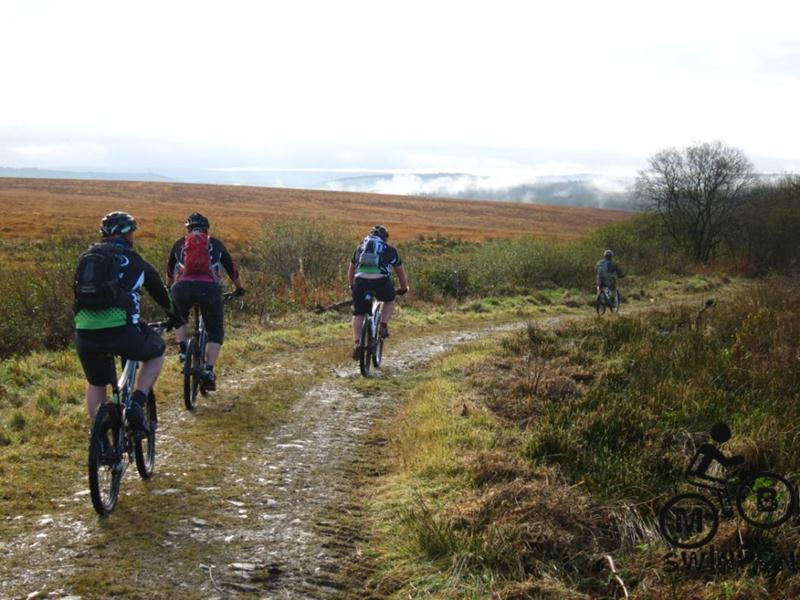 Jay had taken all this on board and had recced a complete door to door route that took in plenty of natural trails plus also the middle section of the Gorlech trail at Brechfa.
Twelve keen riders assembled on Friday at various times (I had a little lie down before setting out. Blame Nancy at Therapy4sport. She had been flattening me out on the massage table earlier in the day).
Saturday 20th Oct
One of our riders had flash backs to the previous ride and decided that a trip to Bristol was a better idea. He also muttered something about "not feeling too well". Come to think of it… it was Pete who fell into the mud pit last time.
So we set out with eleven keen riders plus Jay and Richard from Mudtrek. After a short climb up the track  and along the road we started with a long downhill on a fire road. It's always worrying to start with a big downhill because that usually means that the ride is going to end with a big climb. We already knew that actually and Jay took every opportunity to remind us.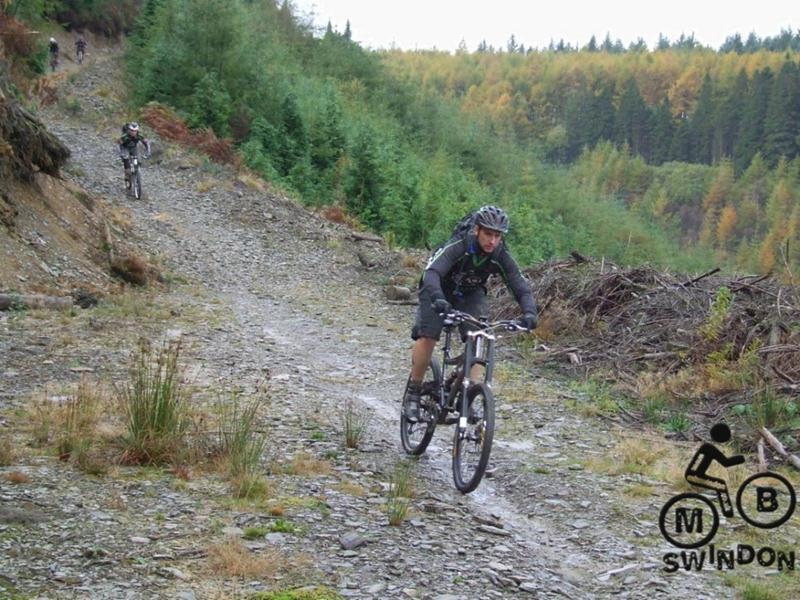 The downhill lasted for quite a long time and there was only one way left to go from there:  up. But we were fresh so we demolished the track climb. Jay promised us that it was worth it. Well, fair play, it was definitely worth it. A rocky track took us from the top back to the bottom in a few minutes. I've studied the photos and I'm clearly smiling on the rocky bit at the bottom.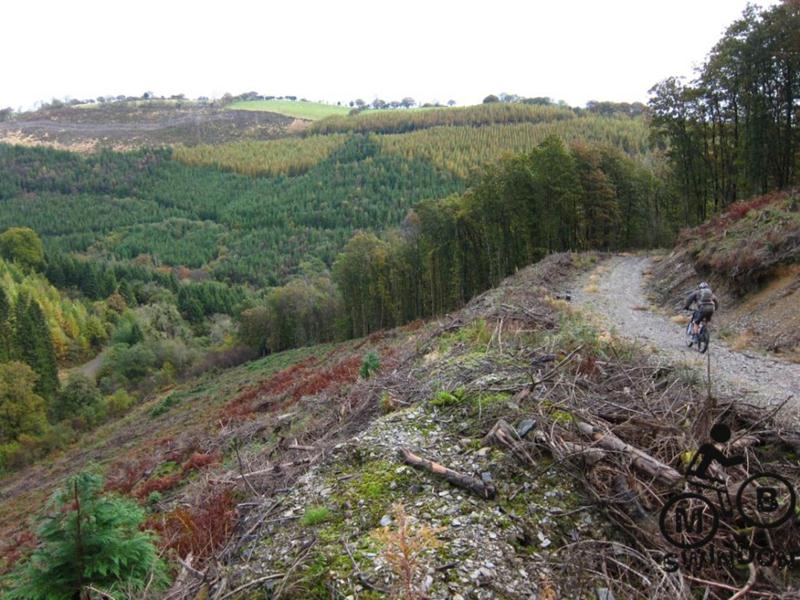 Being back at the bottom meant that there was only way to go again: up.  On our last trip the route up had been a really tricky path. This time Jay opted for an easier track and road combination. This lead onto a link section of fire road. The group picked up speed on a moderate descent.
This is rather like the Marin Rough Ride in that I'll tell you about it….There are two Garys involved: Gary Lee is the small one. Gary Palmer is the big one. Well, what happened was Gary was riding along and decided to overtake Gary. The gap was a bit small so Gary used the grass on the side of the track. He lost the front end on this and his left elbow caught the nearest rider (Gary) who was totally oblivious of this cheeky manoeuvre until  Gary elbowed him off the bike. So, if we were to blame anyone it would obviously be Gary.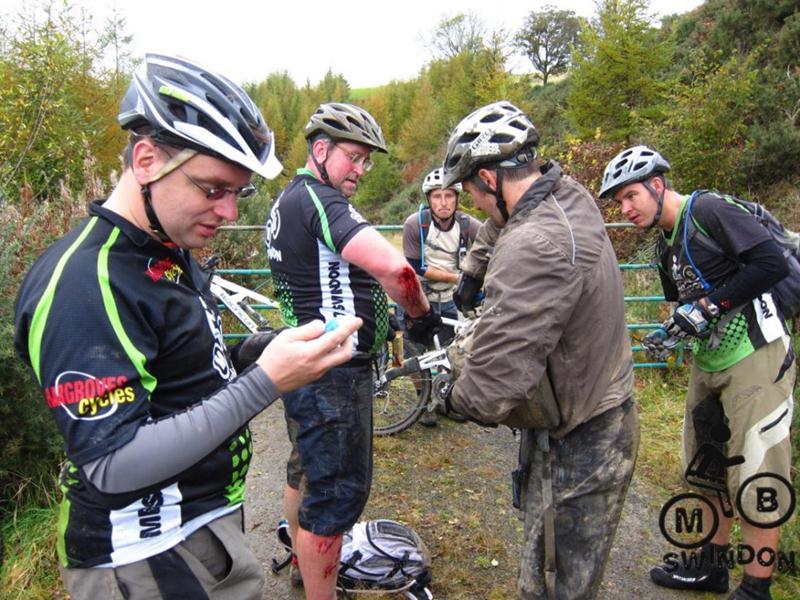 I was riding behind this and after the initial Gary on Gary action then they both ended up barrel rolling down the track along with the bikes and then slid along the cheese grater surface and finally narrowly missed being run over by me.
Once they'd picked themselves back up they both discovered that no bones or joints had been broken but they'd both been grated. One Gary had a lot of shallow cuts and grazes. The other Gary had a small number of much deeper cuts – looking a bit like a bit of bike had gone into him.
After patching up then both managed to ride from the crash site down to the nearest road where Nikki came and picked them up in the Mudtrek ambulance. She carted them off to Cramarthen hospital for a top notch patching up job. Richard accompanied them too.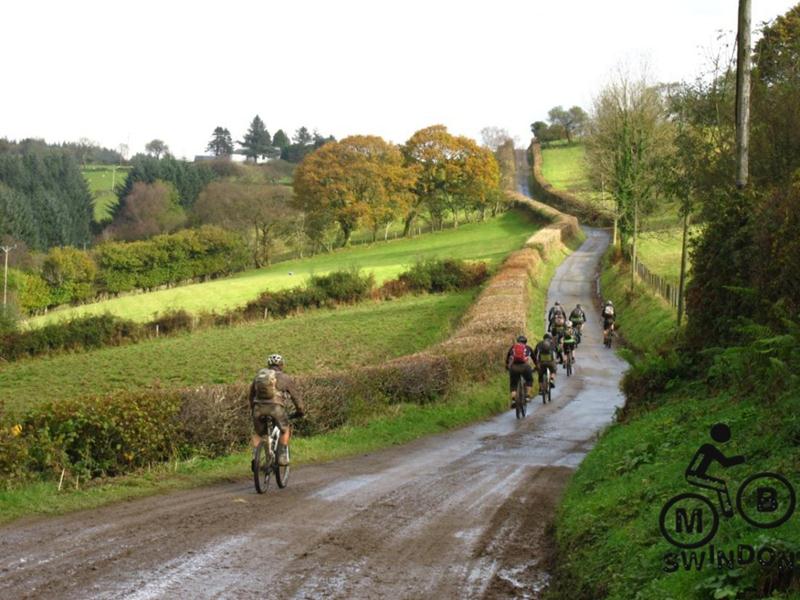 The remaining 8 survivors carried on with the ride. This climbed steeply up from Gwernogle (the lowest point of the route both times). After passing the chapel this dived off onto some very muddy bridleway. After some up and down and a lunch break we hit some really muddy uphill. The keenest three of us managed to ride about 80% of this. I've no idea why. Riding at walking pace over 6 inch deep sticky mud required maximum pedalling effort.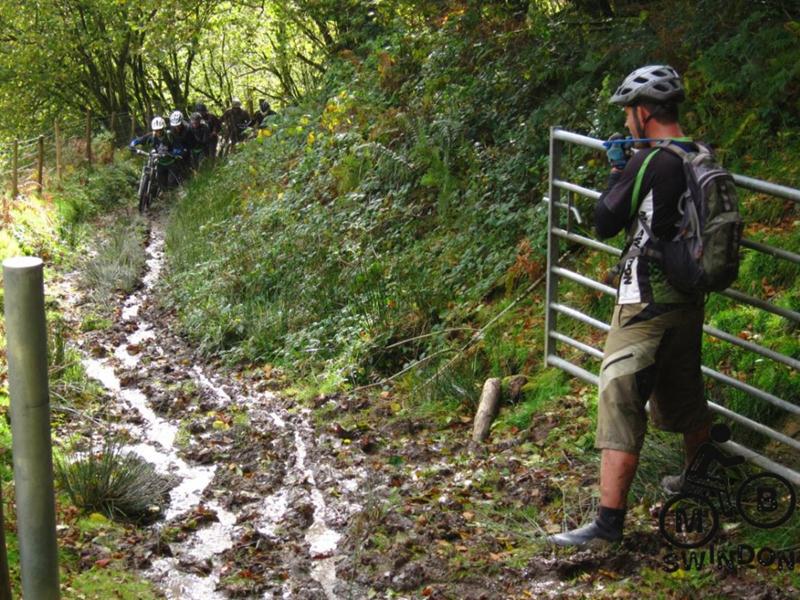 The route now craftily joined onto the Gorlech trail. Ingenious use of  a bridleway meant that we started right next to the end of a section of trail, crossed over it, then crossed a rive via a big ford before finally coming out at an earlier point on the Gorlech trail. We followed the climb up before nipping off the trail to use a bonus section that had also featured in the Brechfa Frostbite in January 2012. The steepest section was also the muddiest and Phil boldly rode down this and then fell off at the bottom. A strap on his rucksack caught on a tree and stopped him from going face first down more of the hill (photo).
We followed the Gorlech trail back round to the place where we'd joined up and then had the challenge of climbing up out of the valley. We bumped back into Richard at this point (he'd been off at the hospital). One of the Gary's had posted on Facebook that both Gary's had been patched up and were back at base.
It's fair to say that the climb up from the trail was a killer. Check out the determined look on Phil's face here. Jay planted the idea of a lift back to base for two lucky members of the group.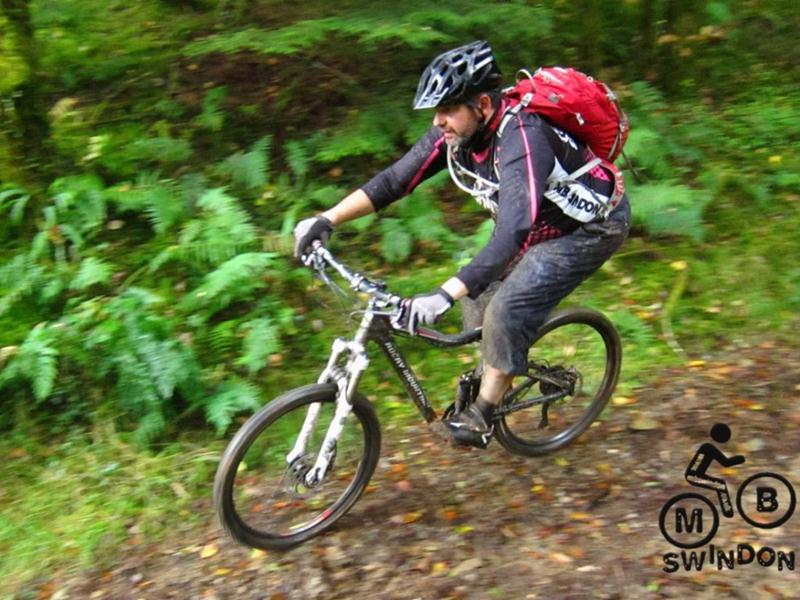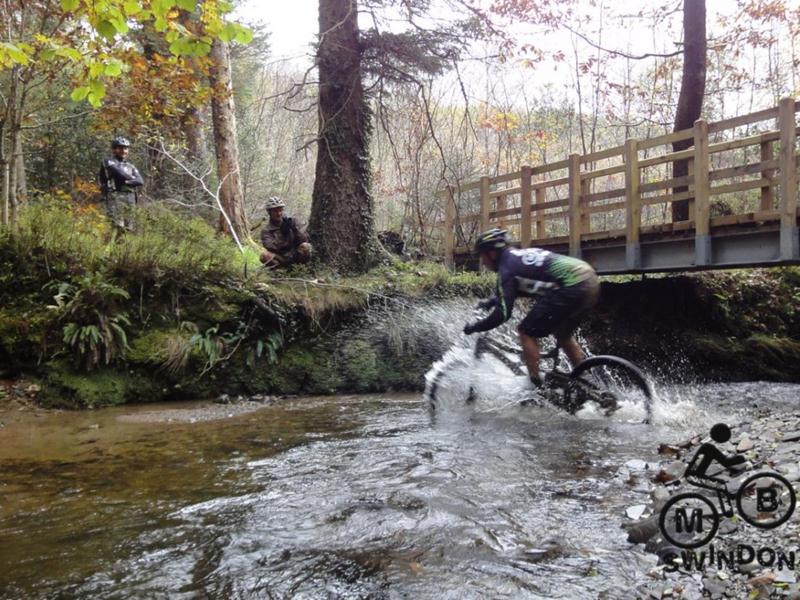 After following some more road the route climbed up onto the moors. I noticed that the radio masts on the top of the hill didn't seem to get any further away for about half an hour. We were following a bit of a circular path. The ground on the top of the hill was boggy and heavy going. The views were inspiring though – we could see all of the Brechfa valley down beneath us plus  Pen y fan in the distance.  It wasn't raining. Life was good.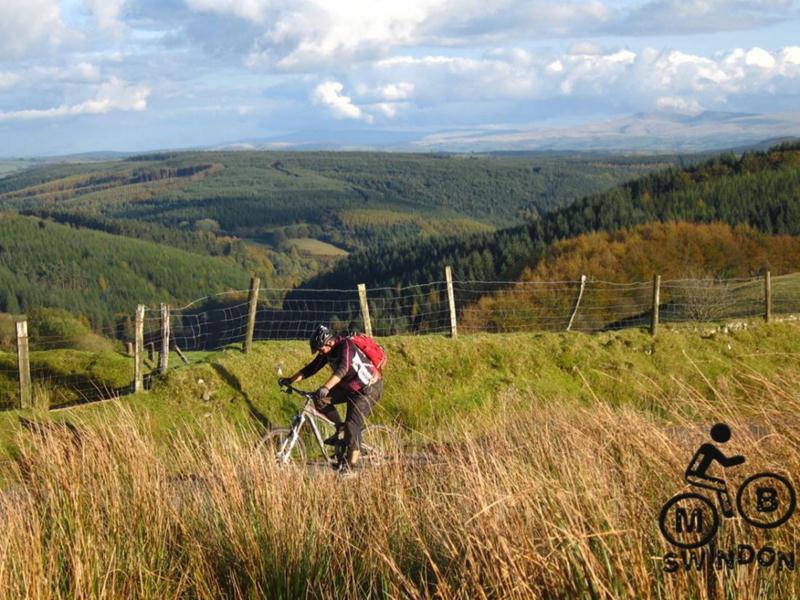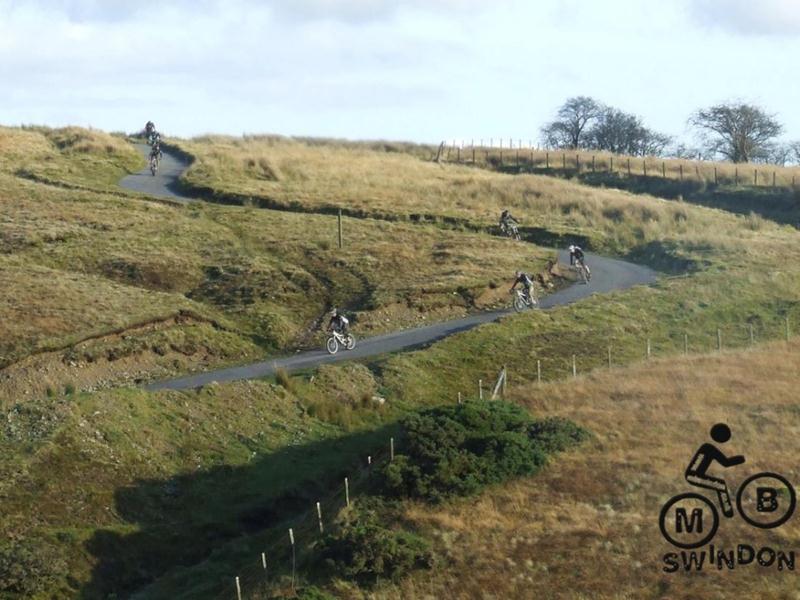 Once off the moor then the track entered woodland and gave us a long descent back down to Gwernogle. We had our last two fords of the day. Richard appeared in the Mudtrek land rover and two riders opted to miss out the final climb back to Mudtrek towers.  Tony Holmes is 20 years older than Rafe and Richard and he didn't take the easy option!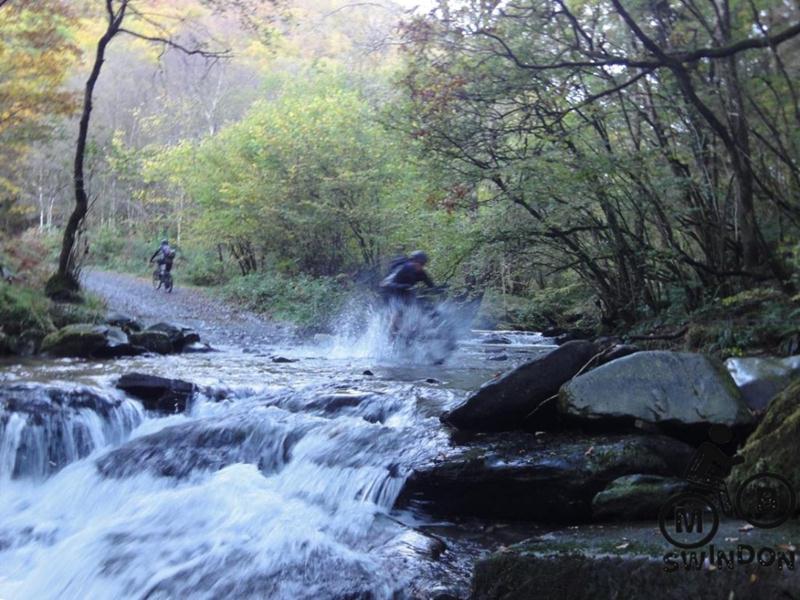 The final part of the ride was a climb up a lane from the lowest to the highest point. The first 1.5km of this have an average gradient of 1 in 8. It does level off on the top and this was another magic moment combining total knackeration, the lure of the end with beer and food, a setting sun and that feeling that it had all been worth it. It reminded me of the last climb on our Long Mynd ride.
 Back at base the bikes were washed, mud showered off and the beer drinking commenced. Nikki's food  is normally enough to saturate hungry mountain bikers but even after a starter and two portions of lasagne I was still hungry. We asked Nikki if she could help us out and she offered sticky toffee pudding for cash. We took her up on this offer and finally the fuel tanks were filled.
Rafe estimated that we had used 5,000 calories on the ride and deemed it "more tiring than a 100 mile road ride". The route stats were 45km and 1350m of ascent.
Maps
Mudtrek epic ride Oct 2012 OS Map, GPX.
A recommended method of viewing maps is to save the gpx and then load it on Bikehike.
Also as OS map jpg, 3D plot  and elevation plot.
Sunday 21st Oct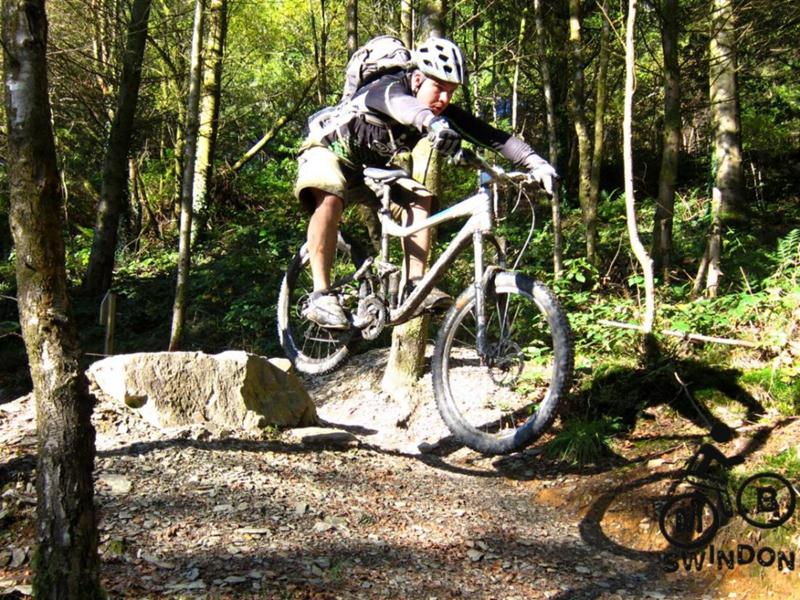 On Sunday we visited the Raven trail at Gorlech and left one of the Garys  on recuperation mode back at base. Only Philip Allum felt like joining me on the complete Raven route. The others opted for the blue/green combo (a really fun route). Our mud training paid off – a few sections of the Raven route were rock solid and dry. It was quite a contrast with the previous day. On Saturday  full output had achieved less than walking speed whilst on Sunday half output was enough to make the bike pick up like a motorbike on full throttle.
I'd forgotten how good the Raven route is. The big gully descent to the main track was very entertaining if you like being slightly out of control. We took the blue climb since it's more interesting that the black option and joined back onto the Raven route at the top. The swoopy section before the red link is still definitely one of the best sections of trail around. We were amazed by our speed and caught up several groups as we progressed round the trail.
Phil made good use of the jump at the top of the black descent. I wimped out. 
We made it back to the car park to find that the rest of the group packing up. We finished off with a trip back to Mudtrek for a shower and one final chance to deliver some cheek to Nikki.
Thanks + future visits
Big thanks to Jay, Nikki and Richard for another great weekend. We've got some plans for 2013! We'll be doing two riding trips (22-24th March and 18-20th October). We've been given a very special price for these. Contact tom@mbswindon or ask on our Facebook group  if you want to book a place.
Also, on 18-20th of January we will be staying over to help build the Mudtrek skills park. This is going to be around 250m of trail at a gradient of 1 in 10 that ends up back at the barns. More info will be appearing on the events page soon.