Mudtrek describe themselves as "the ski chalet for mountain bikers". They are located in Wales near the Brechfa trails.
See the ride report from October 2012. We're also visiting in January 2013 to work on the skills park plus there's another riding weekend in October 2013.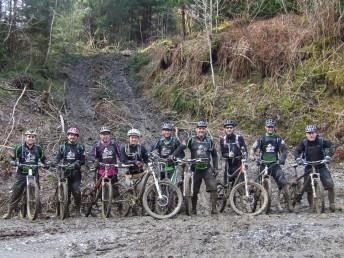 The approximate plan is:
Arrive Friday evening and drink beer (some might meet at midday and do a ride round a trail).
Ride straight from Mudtrek on Saturday with Jay.
Sunday do a shorter ride.
The price is £135 per person. That covers accomodation, breakfast, lunch and evening meal for two days (menu). The comfortable accommodation also has washing machines and clothes drying.  There's guiding on the Saturday plus we've negotiated an optional lift to the pub so that everyone can drink if they want to.
Read reviews on Facebook plus this on Bikeradar.
To book a place you'll need to send a deposit to Tom (email tom at mbswindon dot co dot uk for details).
Previous visits to Brechfa: April 2011 and December 2010 plus our Brechfa trail guide.