Brechfa Trails
Brechfa trails are located in Wales not far from Llandovery. In total there's 51km of surfaced trail broken down as follows [google map distances]:
Derwen trail Green: 9.2km (5.7 miles) [9.5km] 506m
Derwen trail Blue 4.7km (2.9 miles) [4.5km] 307m
Raven Black route 18.5km (11.5 miles) [18.4km] 725m
Abergorlech Red route 19km (11.8 miles) [18.3km] 506m
Total route length 51.4km (31.9 miles) [50.7km] 2044m
Combined Green and Blue 13.9km (8.6 miles) [14km] 813m
Combined Raven and Abergorlech 37.5km (23.3 miles) [36.7km] 1231m
| | |
| --- | --- |
| Brechfa Trail Route Map | Brechfa Monster Route Map |
The Abergorlech Red route starts from the car park near the village of Abergorlech, whilst the Raven Black, Green and Blue start from another car park. The Drop Off Cafe bus is parked in the second car park (Dropoff bus Facebook group).
The Black route isn't really any more extreme than the Red route. It's just got more steep climbing and several optional planks and logs.
I've invented a route that combines the Raven Black with a bit of the Blue (more interesting climb) and the Green loop (can be ridden really fast). That gives 24.6km (15.3 miles). If the Abergorlech route is added on then it becomes 42km (26.1 miles). It can be taken to 47km by doing the Blue loop again (worth it for the descent). Another little loop near the start will take it to 50km. I've called it Tom's Brechfa Monster.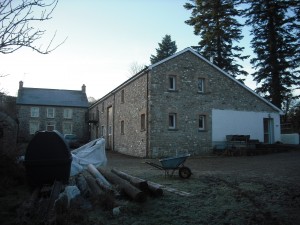 We've stayed at the Gilfach Wen bunkhouse (brechfa-bunkhouse.com) several times. This is a great place and will cost about £25 per person per night depending on how many people stay over.
The Plough Inn at Felingwm is a good place to eat.
---
Photos of Brechfa trails.