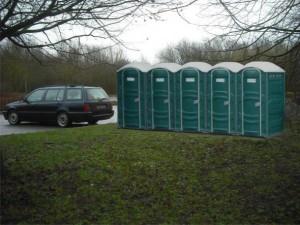 The Croft Trail recently took delivery of several portable toilet and changing units. These are located in the car park and will allow the trail to apply to become a trail hub in the South West.
This is all thanks to the help of a little known charity "The Southern Sports Trust" who found the website after reading the MBR feature in 2010 and decided that the club was eligible for its Sportaloo scheme.
The units were reclaimed from the Mean Fiddler organisation who'd used them at events like T in the Park and the Q festival. They were refurbished by community payback workers before being delivered to the trail.
Reponsibility for the maintenance of the units lies with the club and an automated email rota system involving all signed up members will soon become live. If you receive a duty call email then please do your bit to help the trail. The email will contain instructions about where to collect the gloves and cleaning materials and how to dispose of the waste.