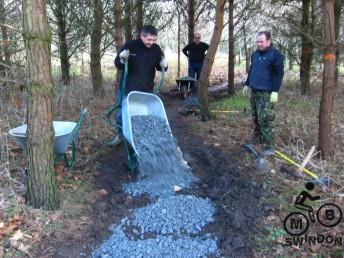 We made massive progress at the recent build days (trail patching Sat and Sun plus some drainage work  2 3). 
We want to meet up for a few hours  and shift some material that's ready to go in the triangle area…right where it says "stockpile" in the photo below.  (This session is in place of the postponed  Mudtrek trail build weekend).
We'll be meeting in the car park at 11am. Turn up any time you like – we'll be in the triangle (bottom right of map below).
See the complete build diary. Future events are on the events calendar.