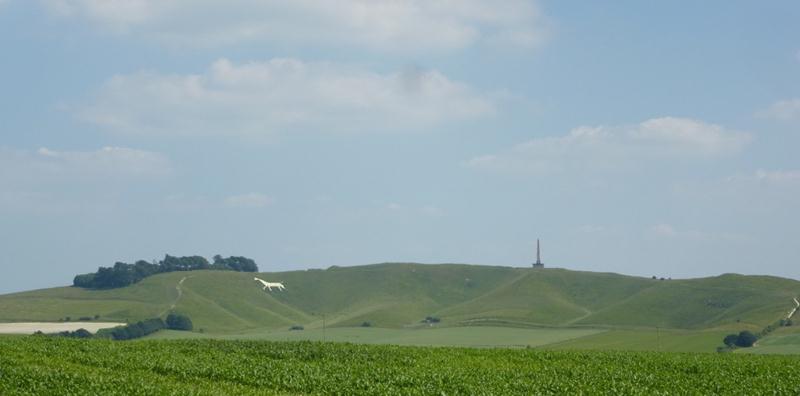 Epic Wiltshire Woods and Skyline Ride
By Tony Holmes
This ride came with a warning – a long distance and many hills with no stop until the Divine Café in Cherhill. It also turned out to be the hottest day of the year so far. In other words: a challenge.
Thirteen riders set off in good time (just before 9.30 am) down the very fast and dusty track past Four Mile Clump towards the village of Rockley. At this early point in the ride I realised something was a bit different – the trail was obscured by dust from the riders in front. A bit of a first for MB Swindon rides in the last year or so!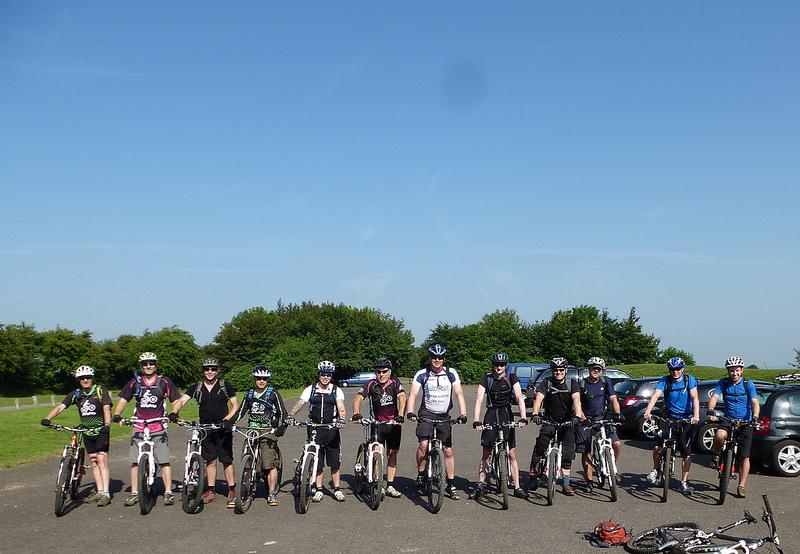 At Rockley we  had the first of several puncture stops; but were soon moving again on the climb up to Manton Down followed by an excellent single track descent to the River Kennet and the small village of Clatford. West Woods was up next with a sharpish climb and the opportunity to hoon about on the DH track. No takers this time as everyone realised that descending meant climbing back up again. At the top of West Woods we did manage to find some mud though and after all it would not be an MBS ride without mud?
The excellent climb up to Martinsell Hill went surprisingly easily and the reward at the top was an absolutely stunning view over the Vale of Pewsey. See some photos from an evening ride in the same area.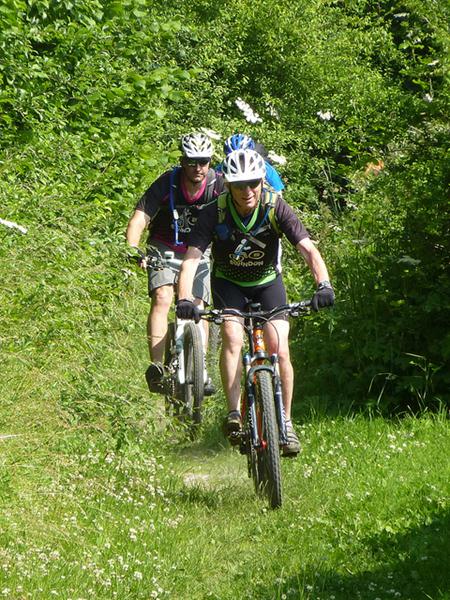 Continuing on past Oare Hill we crossed over the main road before realising we had lost two in some woods. Some 100 m up the track came the second puncture stop. The route now traversed open downland and newly mown fields which necessitated more faffing to remove cut grass from drivetrains – another first!
Knap Hill was next which made for superb riding with fantastic views to Silbury Hill on the north side and Vale of Pewsey to the south. Crossing the road we bade farewell to Leon who was pushed for time and needed to be back in Swindon.
The Wansdyke followed where we suffered the third (and final) puncture stop and lost three more riders to head back to Swindon. The Wansdyke gives an excellent ride along the top and over Tan Hill. Although the burrowing activities of rabbits do make for some interesting moments and at every gap in the ditch there is a stile and a bed of fairly aggressive nettles just to liven thing up.
The Wansdyke eventually led us past Baltic Farm, the descent down past Morgans Hill to the Wessex Ridgeway and the next big climb up to Cherhill Down with the impressive Monument. The descent to Cherhill down a white chalk track needed care and is not something I would like to try in damp conditions! A short stretch of road to the aptly named Divine Café and we were soon filling up with liquids such tea, coffee, and cakes etc.
Another short stretch of quiet road and a climb across Cherhill field gave an excellent view of The Cherhill Monument and the White Horse. We pressed on along excellent Bridleways through the villages of Yatesbury and Winterbourne Monkton towards the last big climb to Berwick Basset Clump. A loose granny ring on my bike meant this was a "Get Off and Walk" hill – my excuse anyway! It also gave the opportunity for a few ribald comments!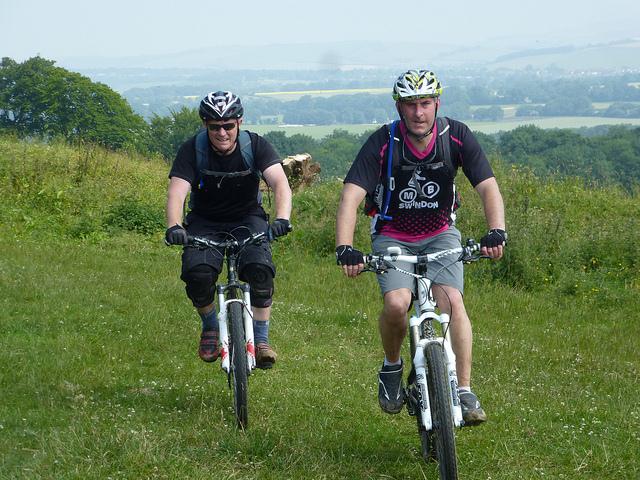 A short break at the top and we were back on the Ridgeway at Hackpen Hill and some familiar riding for me at least. The next few miles rolled by easily enough before the final sharp climb to Barbury and we were done. The ice cream van in the car park was a very welcome sight for some.
My stats are 41 miles, over 3400 feet (1030m) of climbing and 8 hours out (with 5:43 hours moving time) according to Garmin.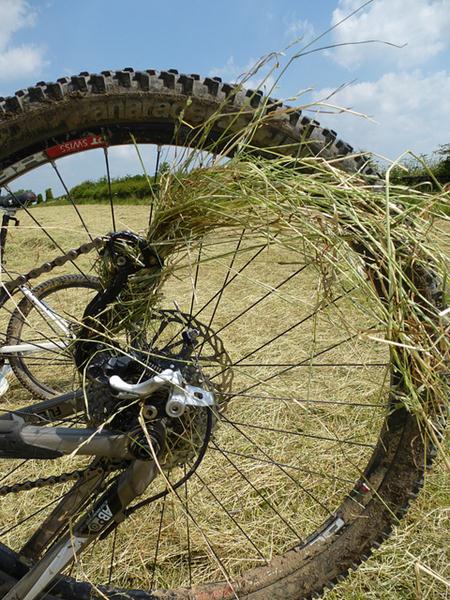 A beautiful, hot, sunny day with the Wiltshire Downs at their very best, varied tracks and bridleways, great descents reasonable climbs and very little road. This was a ride I will not forget in a hurry so thanks to Andrew for organising and leading and to everyone else for their company. For me this was mountain biking at its very best. An MBSwindon classic I would be happy to do again.
Ride Leaders Notes:
This was billed as an epic ride and it certainly lived up to that – the heat added an extra dimension. Well done for everyone who came along, even if you didn't make it all the way round.
For me part of the enjoyment of mountain biking is challenging yourself to do more – to go further, explore distance places and go faster. It may be hard work on the day but I get a real sense of satisfaction afterwards. I think (I hope) everyone who came felt the same.
I will be organising more local long rides, so watch out for them on the club calendar. Be warned though, they are not for novices or riders without fitness or the stamina for several hours of hard effort. I don't want to put people off, but equally I need to be up-front with you.
Hope to see you out there again soon. Andrew.
Ride report from the 2012 epic route including links to snow epic Feb 2012,  The FFS epic Sept 2011, Ridgeway epic (36 miles) July 2011.