This was billed as a long and epic ride so we knew what to expect.
There were 7 keen riders raring to go when I arrived at Coate Water at 9:30am. We started off by following route 45 to Chiseldon and then onto the well known bridleway to the bottom of the ridgeway. After declaring no intention for a race at the start of a long ride we had a bit of a race up to Barbury castle. We met Jon Proudman at the top. He'd ridden from Wotton Basset. We took the best descent from Barbury and then a mixture of well know bits to Marlborough.
Conditions were good – the ground was hard and this made for good progress. The group were all well matched in terms of speed too. Special mention must go to Stuart who kept up with our faster-than-normal pace for the whole ride.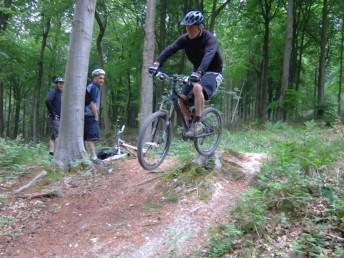 Coming out the other end of Marlborough we took a sneaky route into the middle of West Woods. This was uncharted territory for me and I'd heard a lot about the woods. I wasn't sure what to expect – gnarly downhill with massive gap jumps and intimidating doubles came to mind from the mythical status of the place.
What we found was a really swoopy singletrack line with a really nice set rollable kickers. There were some larger jumps too including a double with wooden shuttering that looked like it had two outcomes: a massive whoop or a trip to hospital.
Stuart did the best launch off a stump, proving that age is no reason to stop enjoying yourself.
We then rode out of the top end of the woods and doubled round to the Wansdyke. From the Wansdyke we were looking down onto West Woods and Avebury. We took the fairly predictable line along the ridgeline and took the longer option when we crossed the road. Our lead rider discovered that the rabbit holes on the Wansdyke were the perfect size for a front wheel to fit into.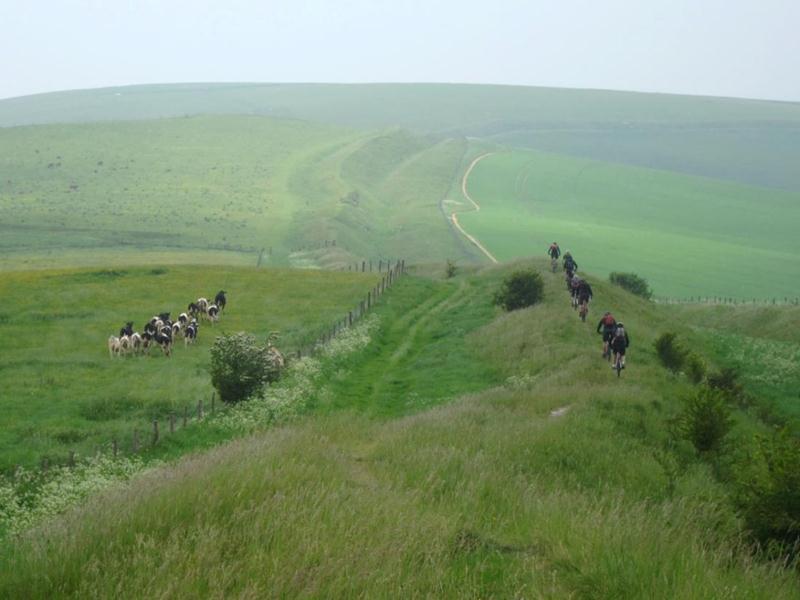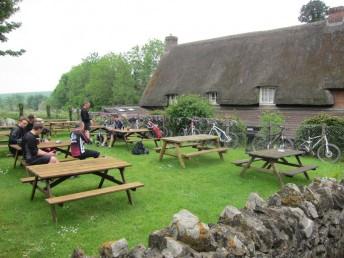 After some more traversing then we had big blast down the hill to the Wagon and Horses pub at Beckhampton. With the face stuffing and optional pints downed then we were mentally prepared to return to Swindon.
After easy ride to Avebury we had the climb to the ridgeway which turned into a bit of a race. I can vouch that beer plus a large pub sandwich are not great preperation for a beasting up a big hill.
We finished off by following the obvious route round the ridgeway, fixing a puncture, descending to the bottom of Barbury, a road race to ladder lane and then a real blast down the lane itself. It's definitely one of the best descents in the area.
Finally we split as various riders returned home in Swindon and some of us returned to cars at Coate Water.
A great route, thanks to Robin for that and for everyone for getting on with it.
See some similar ride reports: novice friendly May 2012, snow epic Feb 2012, Jan 2012, The FFS epic Sept 2011, Ridgeway epic (36 miles) July 2011 .