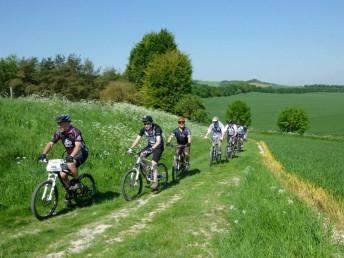 By Kristian Price
24 riders met at Barbury Castle on Sunday 27 May 2012 to ride a novice friendly route of just over 14 miles across the Ridgeway, the former Swindon to Marlborough railway line and rural lanes around Ogbourne Maizey & Rockley. The Ladies Only ride was also riding the same route….more on that later! The day promised to be another warm one, and we were not to be disappointed.
Leaving Barbury Castle car park we took a left turn and through the field gate on the right and rode down the hill that isn't Smeathes Ridge. Perhaps we should call this the Shooting School Run? It's an undulating field with a few natural rollers in it and then a muddy, though dry today, descent to the bridleway gate. This was great fun and technical in places, with some drifting through the midway corner.
Regrouping at the bottom we soon realised that we were missing a few riders. Jasons' chain had snapped and Nigel and a few others had stopped to assist. The addition of a new power link had hopefully resolved that small problem. Whilst we were faffing about the Ladies Ride overtook us on the way to Ogbourne St George and we weren't to see them again!
From Ogbourne St George we joined the Swindon to Marlborough Railway Path, maintained, supported and promoted by the Friends of the Railway Path Charity in conjunction with Sustrans and the Local Authorities as part of the National Cycle Route Network. This is a well surfaced path that provides a safe off road route, free from most vehicular traffic between the 2 towns and local communities.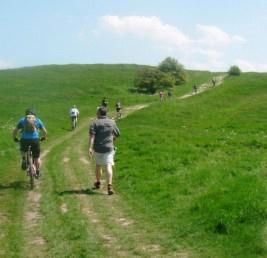 Unfortunately Jason's chain was still not quite right and we stopped again to try to fix it. Unknown at the time it turned out that a 10 speed powerlink had been installed previously and these don't quite work with 9 speed chains.
It was hotter than a hot thing when we stopped at Manton Down for a break and to fix the chain whilst in the shade of the copse there. It's always worthwhile having a few spare components, such as chain links and spare bolts in your riding kit.
On the next section some GPS units recorded a temperature of 32 degrees!! The bridleway through the woods had dried out quite a bit since I'd last ridden through there. It's an interesting section of singletrack whichever way it's ridden.
Returning to the surfaced trail of the Ridgeway, we rode the last 4 miles back to Barbury Castle at a reasonable pace, with the promise that the ice cream van might well be in the car park on such a hot day. Sadly, the ice cream van was not there initially, but whilst we awaited the ladies return…apparently they were on an extra navigational exercise….it arrived!
Thank you to everyone for turning up for this ride. The largest number of riders I've ever seen on a novice friendly ride and it's great to be meeting so many new riders on these events too.
Keep an eye on our events calendar for future rides.