This epic ride combined two of our favourite routes:
1 – a 27 mile loop from Swindon to Avebury and back via the ridgeway and the White Horse trail
2 – the Wansdyke loop taking in Morgan's Hill and the Cherhill Monument. (Previous ride report another ride report, OS Map, GPX file).
In all this gave us around 36 miles of riding (OS Map, GPX).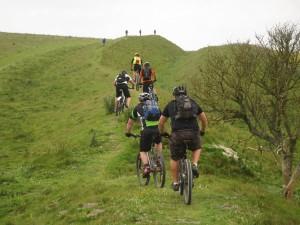 We started at the Check Inn in Wroughton. After riding up to the ridgeway from Wroughton we followed the ridgeway from Barbury Castle to Overton. We then followed a new route for us. After a short descent to East Kennet this lead to a long climb up to meet the Wansdyke. We were rewarded with great views in both directions. We agreed that this climb was better than our previously regular route from Beckhampton (see the Bing map).
We then followed our regular Wansdyke route to Morgan's Hill and the Cherhill monument.
As the day went on temperatures rose along with the humidity, making it very muggy.
The solution to this was to call into the Red Lion at Avebury for beer and ice cream.
After that we followed the White Horse trail back to the Check Inn at Wroughton.