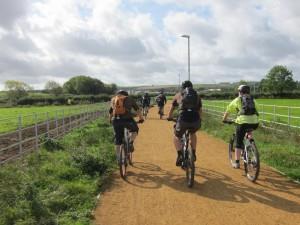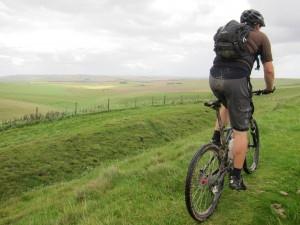 This was the FFS ride (Family friendly social).
A group of 8 riders set off from the Check Inn at 10am ish. The original plan was to ride around the Ridgeway for a bit and then make it back to the pub to eat at 2pm.
Chris introduced some spec creep, so once we'd made it to Avebury then a "short loop" round the Wansdyke was part of the plan. He had't factored in 3 punctures, each of which cost us around 10 minutes.
The short showers of rain interspersed with sunlight gave some great light conditions and views from the Wansdyke so we weren't too bothered. The various families expecting to eat at the Check Inn for 2pm were going to have a bit of wait though.
Grip levels on the chalky track back down to East Kennet varied from "not a lot" to even less. Once across the A4 then we just had to follow the ridgeway back to Barbury castle and then down to Wroughton.
We made it back to the Check Inn for 3:30pm ready for cider, beer and the meal.
Thanks to Chris for organising, the Check Inn for delivering a great meal and everyone else for getting on with it.
Route Map