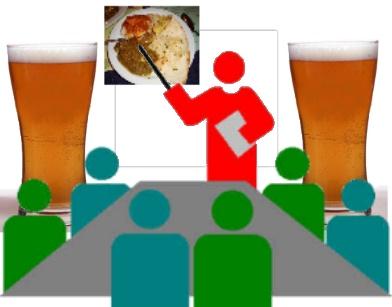 The first club AGM* was held at the Check Inn on Sunday 27th February 2011.
* annual general AGM meeting.
At 7pm the committee table was ready but there was only one guest present. With the typical MBSwindon approach to start times it was 7:20 before we had all 20 people present. We had the curry meal booked for 8pm, so we motored through the topics at a decent pace. We finished five minutes ahead of schedule.
Regarding the turnout: we were happy that we had enough people there to make the preparation work worth it. We assumed that the majority of the other 100 members were satisfied with the club and felt no need to be present.
The agenda consisted of:
---
Quick History Lesson
Tom Stickland
2008

September: it all began here with Phil and myself (Tom). Phil had heard about a trail and told me "it's not finished and some of it need work but it has a lot of potential." At that time trail was being built by Steve Smith of the Nationwide Building Society Cycling Club.
September: we started the Facebook group. Within two years the group had 400 members – 200 members per year.
We started our building work on the section near the start(gone), pitch sides, rock spines and the West side of pitch.
During this time we met Rafe and Alan and Jodie.

2009

January: we dealt with water logged areas (gone), and built the rock spines.
February: we dug up the newly built section on the West side of the pitch due to new tennis courts encroaching into the wood by a few metres.
In early 2009 the trail was handed over to Phil.
April: we built the new tennis court berms, roller coaster berms and surfaced the North side of the pitch.
April: Pete joined us.
June: we built the new start that is visible from the car park.
July: a major project to build a new descent and climb on Piper's hill.
September: we remodelled a section that we call "mway 2", adding a new descent and climb and an extended pond loop.
September: the first night ride.
October: website launched.
November: pond surfacing, Pete's steps.
Things went quiet from December 2009 to February 2010 due to there being no money, no materials and interminable rain. We decided to start the club to raise funds for the trail.
The club was launched in February 2010.
Review of the year (2010-2011)
Trail building
March: We amalgamated the blue and red routes in a new start layout.
March: Jez joined us.
April and May: we built the new section near the start with the woodwork. We added the berms near the pond.
April: Chris joined us.
June: we rebuilt the worst section of trail – the old concrete rock garden.
July: built the log bridge over the bomb hole in the section after the woodwork.
August: looked at the triangle several times.
September onwards: we resurfaced start sections, area after woodwork, most of mway 2 up to alley, alley, first and last sections of Piper's hill, rebuilt top of Piper's and half of the downhill.
We had 160 tonnes of material with a value of £2,300 delivered. That's enough to cover 2.2km of trail. Map measurements show that we surfaced about 2.4km of trail. We moved the equivalent of 1,600 barrow loads, or 640 power barrow loads. Taking a single shovel full as 4kg then we moved 40,000 shovel scoops; a rate of about 60mm of trail per scoop.
The trail is currently 4.2km long, so we surfaced 57% of the trail in 2010 and 82% of the trail is now surfaced.
Map showing trail surfacing progress.
Events
Over the year we organised:
59 trail build events
17 local rides
20 away rides
39 night rides
Total so far: 135 events
attended 4 events (Bikefest, Castles, Monster, Cheddar)
plus 2 social events (Curry night and Christmas meal)
Total so far: 141 events
Then 7 training days
Grand total of 148 events
We organised 8 Novice friendly events plus 39 novice friendly night rides, making 47 in total.
We organised 2 all women rides. We only started late in the year, so there will be a lot more in 2011.
Membership February 2011
120 club members
253 subscribers (join via front page of website)
428 Facebook members
98 forum members (active for 8 months (July 2010) so more than 10 per month)
In January 2011 the website had 19,500 page views from 2,337 visitors.
In 8 months since Google analytics began we had 25K visits, 12K unique visitors (1,500 per month) and 120,000 page views (15,000 per month).
Media mentions
We had 2 articles in the Swindon Advertiser, 2 mentions in MBR magazine and one in MB-UK magazine. We won the "Most Innovative Club" award at the 2010 Swindon and Wiltshire sports awards. This got us a mention on Total Star radio. Rafe has some events featured in the National Trails Ridgeway magazine. The "Good Mountain Biking Guide" is published on the 15th March 2010 with several MBSwindon photographs and the Croft Trail featured as a ride location.
The banner beside the motorway that mysteriously appeared also gained us a lot of attention. We've no idea who put it up.
Thanks
Thanks to Kat for making the advertising banner and the MBSwindon mugs.
Video
A quick review of the year via Youtube.
Plans for 2011
to continue doing what we do
local rides, away rides (trail centres, Quantocks, Mendips, Wales, Llandegla, South Downs etc)
more novice friendly
more all women rides
more training courses
more urban(e) rides
more weekends (Brechfa, Mid Wales, North Wales, Ridgeway, Alps, Dartmoor etc)
more trail building. Surface the whole thing, finish off Piper's hill and sort triangle.
I'm very proud of what we've achieved – from just Phil and myself the whole thing has grown. I want the club to continue being proactive, friendly, fun and welcoming to new members.
---
Womens' Officer's report
Jodie West
The ladies only rides at the Croft Trail have been a great success. It was snowing on the first ride day but we still had ten riders. We've got another two rides on the calendar and there will be more happening over the year. We've got our events listed on the Girlmtnbiker website too.
---
Financial Statement
Rafe Aldridge
I'd like to start by pointing out that none of the MBSwindon team receive expenses or payment for anything that they do. It's run entirely by volunteers who do it because they enjoy it.
The financial statement was presented to the meeting. Please contact us if you wish to see a copy.
---
Training Plans
Pete Ratcliffe and Chris Hopkinson
Following the success of Rafe's 'Introduction to Mountain Biking' courses last year then we managed to secure funding for Chris and Pete to also achieve MIAS Level 2 Instructor qualifications and so will be expanding our offerings for 2011.
The 'Intro' courses will be a very similar format to last year with 6 dates planned between April and August 2011. In addition to this we will also be offering a 'Trail Riding Skills' course – again with 6 dates planned between April and August. This new course will be based at The Croft Trail and is intended for both novice riders that want to take the next step, or more experienced riders that want to hone their skills to really get the most out riding more technical trails. Both course programmes will have a ladies only option.
This year we will be charging £15 for MBSwindon club members or £20 for non members – all proceeds will go directly into supporting the club and its work at the Croft Trail.
See the training page or get in touch with any of the MB Swindon team.
---
Election of Officers
Alan West resigned from his positon as events officer. Chris Hopkinson took his place. All other committee members chose to remain and were re-elected.
Phil Mayger – Chairman
Tom Stickland – Club and media secretary
Rafe Aldridge – Treasurer and webmaster
Pete Ratcliffe – Events officer
Jodie West – Woman's officer
Chris Hopkinson – Events officer
---
Discussion
There was a request for an update on the build plans for the triangle section. The answer is that we do intend to build around 1km of new trail in the triangle section, including two new bridges, jumps and a set of rollers and berms. This project has been put on hold so that the existing trail can be surfaced and made weather proof before the next winter sets in. Plans from December showing the triangle.
Sharon Yeates thanked the club for being sociable and welcoming to new members.
Pete Ratcliffe said that the committee had sent 2,900 emails between themselves over the year and were working continuously to develop and promote the club.
The committee stated that they were always looking for input and ideas from members, whether that be route suggestions, ride leading, helping at events, taking photographs, writing for the website, asking businesses about member discounts or any other way to help the club.
---