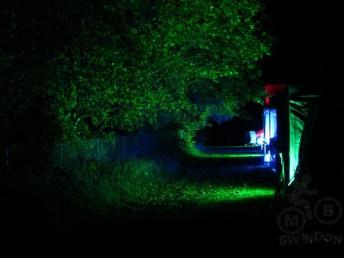 Bristol Oktoberfest is an 8 hour race event that's held at Ashton Court near Bristol. This event and the Bristol Bikefest are very popular with the club. This time we had 28 riders present plus 2 riding for Wiltshire fire service. We also had a renegade rider  with Dorset Rough Riders who was wearing an MBSwindon club top.
After a lot of trouble with council complaints about mud and damage in the camping field then Bikefest 2013 secured the use of the Cathedral school fields which are right next to the course. Oktoberfest used the same idea though the transition area was now at the top of the hill rather than the bottom.
Phil arrived on site before the gates were open on the Friday and secured a great track side location for the club. Thanks to Phil Allum for driving down to help set up the gazebos.
I arrived on Friday evening to find everything set up. We were joined by Nigel, Sharon, Debbie Davies, Sharon and Gary Yeates. John Speed helped with the site and then drove off to a Travelodge (I was told). Scared of camping?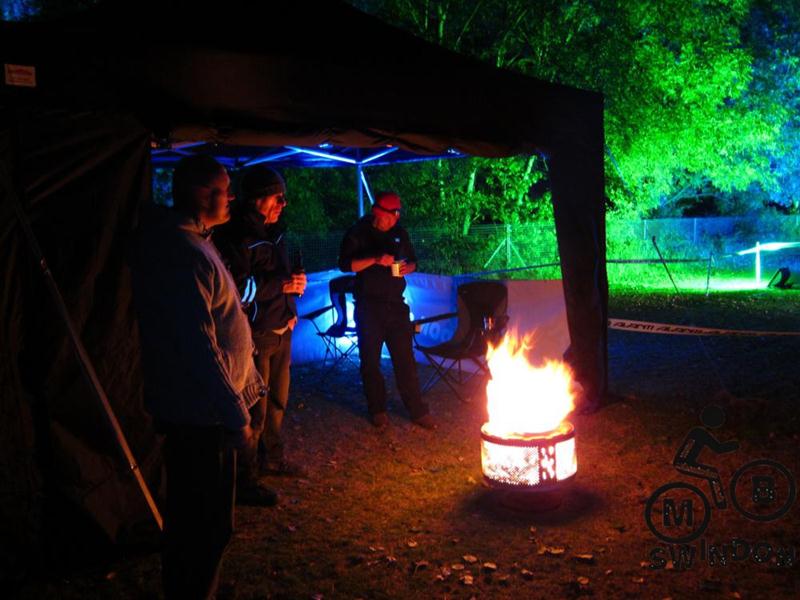 On Saturday morning the remaining riders turned up for 8am in preparation for the Le Mans start at 9am. We had a few non racing members present. Sharon Yeates was keeping tabs on team times and was joined by her apprentice Gary Yeates. Sarah had injured herself in a fall at Ashton Court a few weeks ago and had been replaced by a really keen Meredith. Gary Lee turned up to ride round Leigh Woods with Chris Hopkinson. Phil Allum was there for some sightseeing too. Kat was on hand with tins of cake. Also present Katherine (Nik Wadge's better half), Francois Ford's wife and  Ruan Jurgens Van Zyl. Apologies if I missed anyone else… I was riding all day.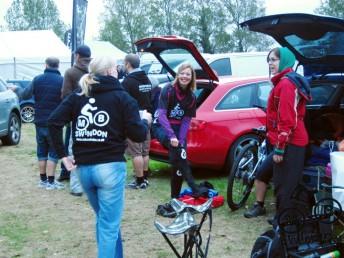 After years of riding in teams I'd recently done a few events in pairs. All the available pairs riders wanted to ride solo so I joined them. Four hours of solo sounded easy enough.  I decided two days before that I really ought to be riding for 8 hours. Jerome also made the switch. 
Once again I missed the start; I was ambling towards the runners when the announcement was made to start and they started running towards me.
I'll be writing more about how I got on in my personal blog when I get it set up (this week maybe!). Update: here it is.  Essentially, solo riding is mentally quite hard but also allows you to get into the zone a lot more easily. There's no transitions and waiting around and no stop/start activity.
Our four hour solo riders finished at 1pm. We had Craige Goodson riding the afternoon 4 hour solo and I heard he stopped quite early due to a mix up over the times and also needing to be somewhere else.
As usual the Pedal Progression jump ramp made an appearance with big cheers from the crowd for riders who gained air.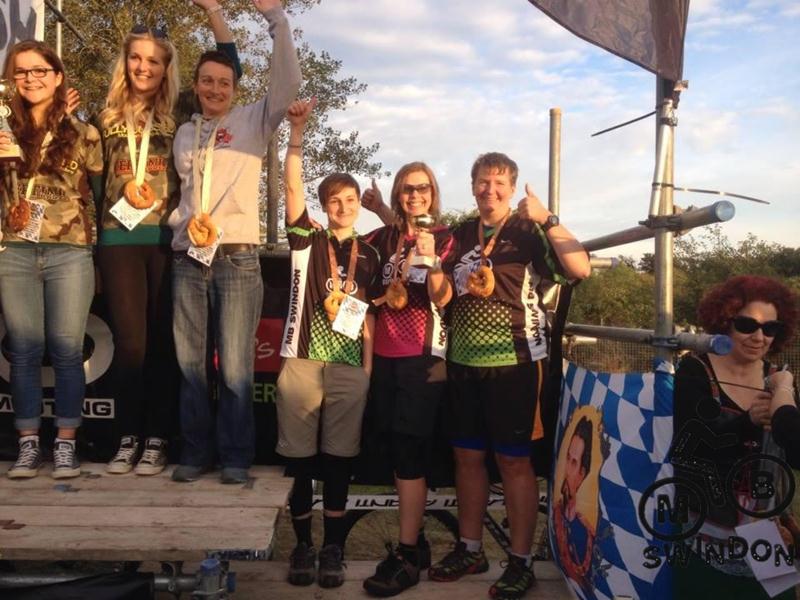 The results are shown below. Taken from the Time Laps website. In order of average speed. 
name: position/out of, category, (team members) [av lap time, av speed km/h, av speed mph]
xc race team 1: 2/14 , old gits 8 hour,  (Stuart Selwood, Malcom Toop-Rose) [30, 19, 11.8]
xc race team 2: 6/34, 8 hour (Lee Morgan, John Speed)  [30, 19, 11.8]
Craig Dolwin: 6/23 , old gits 8 hour [34, 16.7, 10.3]
Craige Goodson: 10/11, pm 4 hour (went home early) [35.5, 16.1, 10]
Old and bold: 19/28 ,  old gits 8 hour (Tom Scott, Graham Burgess, Paul Allum) [35.5, 16,10]
* Wilts fire service: 21/28, old gits 8 hour (Nathan Lenehan, Stuart King) [37, 15.5, 9.6]
Young and bald: 37/43 ,  8 hour (Phil Mayger, Nike Wadge, Neal Middlemore, Pete Ratcliffe) [38, 15, 9.3]
Jerome Crametz: 12/37, 8 hour [39, 14.5, 9]
Leon Cardy-Stewart: 14/35, am 4 hour [40, 14.3, 8.9]
Sharon Dolman: 2/7, am 4 hour [40, 14.3, 8.9]
Go with cake: 3/5, female 8 hour (Hazel Ross, Clare Bean, Ania Zielnik) [41, 13, 8.6]
Tom Stickland: 11/23, old gits 8 hour [42, 13.7, 8.5]
Ali Hardie: 4/7, am 4 hour [44, 13.1, 8.1]
That'll do: 42/43, 8 hour (Nigel Gregson, Elliot Harris, Francois Ford) [46, 12, 7.7]
Brake for cake: 5/5, female 8 hour (Sharon Bassingdale, Debbie Davies, Jenny Wright, Meridith) [47.5, 12, 7.5] 
*MBSwindon riders
More photos at: Rich Lewton photography and MnDPhotography.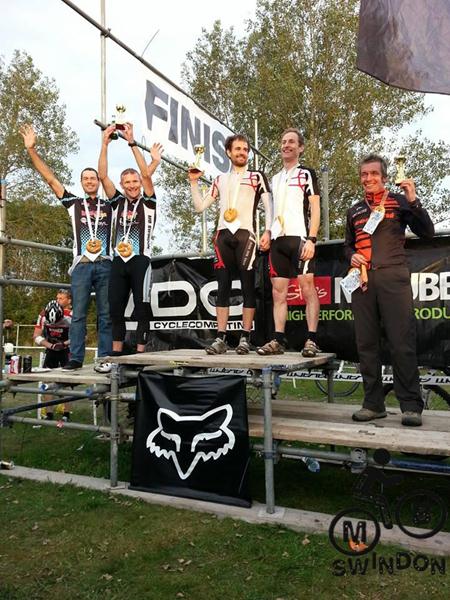 Previous write ups: