Novice Friendly Rides
We've got a monthly series of novice friendly rides.
Women Only Rides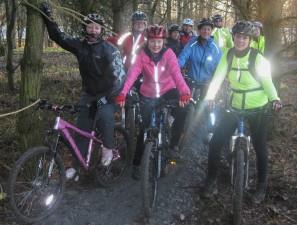 Club women's officer Jodie West has run several women only days at the Croft Trail with great feedback.
More will be appearing on the events page in the future.
Friday Night Rides
Our regular Friday night rides at the Croft Trail are also novice friendly. We do have several sets of lights that we can lend out. Email phil at mbswindon dot co dot uk to reserve a set. Meet at 7:30pm in the car park. Location map.
---