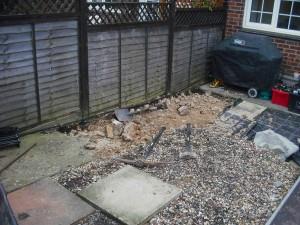 Saturday 29th Jan
I spent the day smashing up a concrete path in Marlborough as a source of rubble for the trail.
Friday 4th
I spent the afternoon and evening moving rubble from the house in Marlborough down to the trail. Chris brought us some concrete slabs on Friday night.
Saturday 5th
The day began early for me, leaving the house at 7:15am so I could pick up some more rubble. This time from Purton.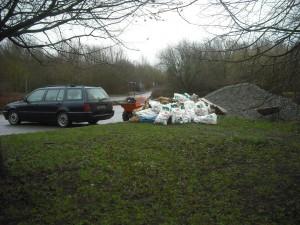 Brandon hire delivered the power barrow and compactor early, so by 9am I was moving the first load of rubble. Attention for the weekend was focussed on filling in the muddy area that follows on from the woodwork near the start. The exit bridge was wide enough for the power barrow to cross over which was useful.
I was soon joined by Andy and Jez who carried on shifting rubble from the car park down to the muddy area. This gave me an opportunity to go and pick up some more rubble from Purton.
Chris and Phil joined at midday when Andy and Jez had to go. They continued moving rubble whilst I went to pick up some more rubble from Marlborough.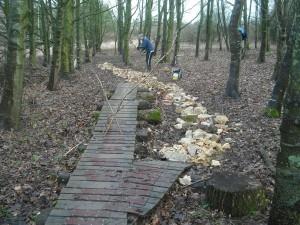 By the end of the day the entire muddy section was full of rubble. This includes the slightly more interesting and twisty route off the end of the log crossing. The end of this now has a drop off a pile of rubble which should be a fun little feature when it's finished.
Sunday 6th
By 10am we were at the trail ready to use the power barrow. Jez took the first load away from the car park and 5 minutes later reversed his steps back to us; the front right wheel was flat. I took this up to Bell Tyres and Exhausts to have it fixed.
By 11am the show was back on the road. Jez had to go but power barrow enthusiast Richard was on the scene. We spent the day shifting barrow loads of chippings down to the trail.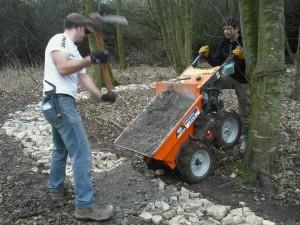 Pete and Phil spent the day hammering the rubble into the ground and compacting the chippings. We were joined by Matthew Kerry who spent a few hours on power barrow loading duties.
Tony joined us in the afternoon despite an ankle injury from the previous day.
By the end of Sunday we had 3/4 of the rubble area filled in with chippings. We estimate that one more day with the power barrow and the section will be finished.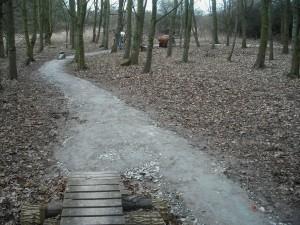 A big thanks to the people who came out and helped this weekend. It was an epic amount of work and it will pay off in the future.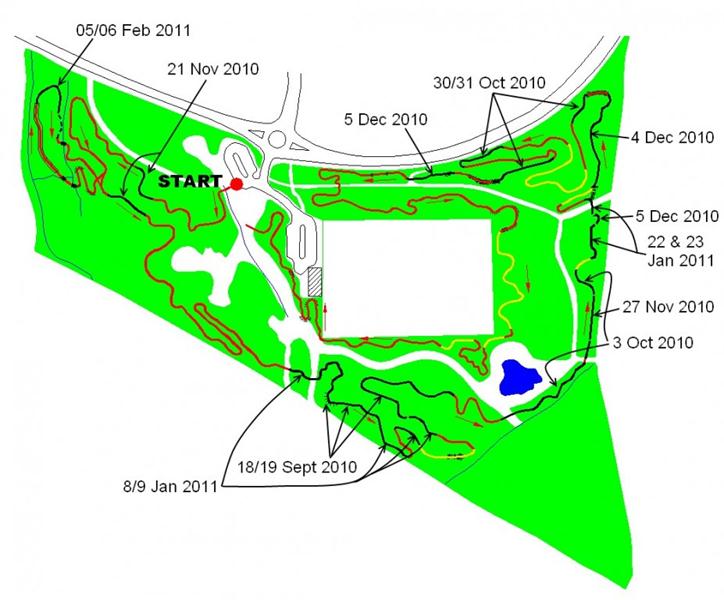 ---