By Tim Norris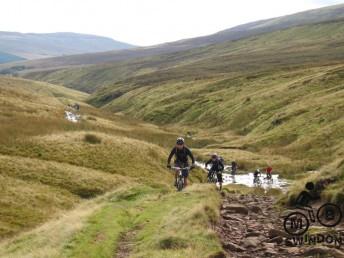 Ten of us gathered at the elusive car park half way up the Grwyne Fawr Reservoir valley a little north of Abergavenny (South Wales) – for an epic ride that certainly lived up to expectations of being tough on mind and body (event description).
I'd spent the previous week on Facebook revealing my trepidation and hesitancy of actually going on this ride. However, due to my love of long climbs up big hills *sarcasm* I went and this ride is one I will never forget.
The Black Mountains and Brecon Beacons are one of the harshest landscapes in the UK for walkers, climbers and Her Majesty's finest – yes we were in the SAS back yard! Rolling hills, high peaks, loose rocks, boggy ground and shifting weather patterns are the norm in this beautiful yet brutal part of the country – too much? No it felt brutal!
Straight from the car park at about 10.30 we were off on a short road ride then on to the first climb of the day. A long and surprisingly technical in places climb that elevated us 700m above sea level, approx 400m from where we had set off. The climb to the top of Y Das is a long relatively straight one and as the valley has lots of water feeding the reservoir all along the climb there were rivulets of  providing some technical negotiation of the rocks and in places quite deep water.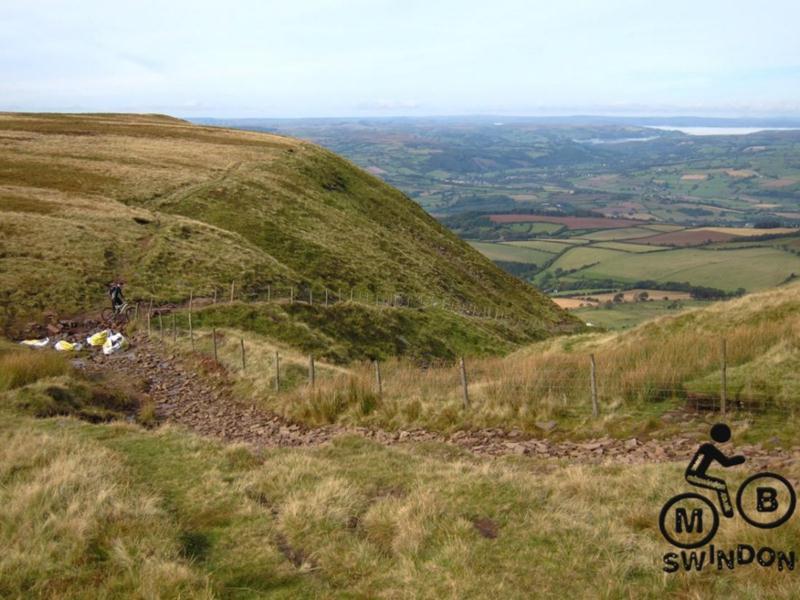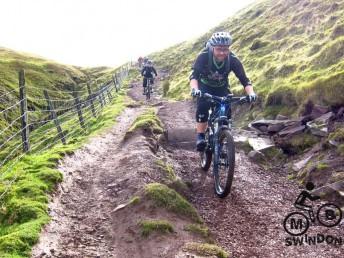 The climb was the longest but not steepest of the day and we were all looking forward to the almost legendary down hill section on the other side. Unfortunately the national park wardens and safety officers had gone a bit mad and decided to resurface almost the entire descent. Unfortunately for us they were still in the process of doing this, so the hill looked like the serious end of B&Q.  At least we could have ridden down a resurfaced descent. With work in progress we were faced with building materials every few metres.
So off we set navigating and weaving our way through huge bags of hardcore waiting for even the smallest break so we could ride properly. About 2/3 down he hillside we were clear of the building matter and could get on with the matter of riding and descending!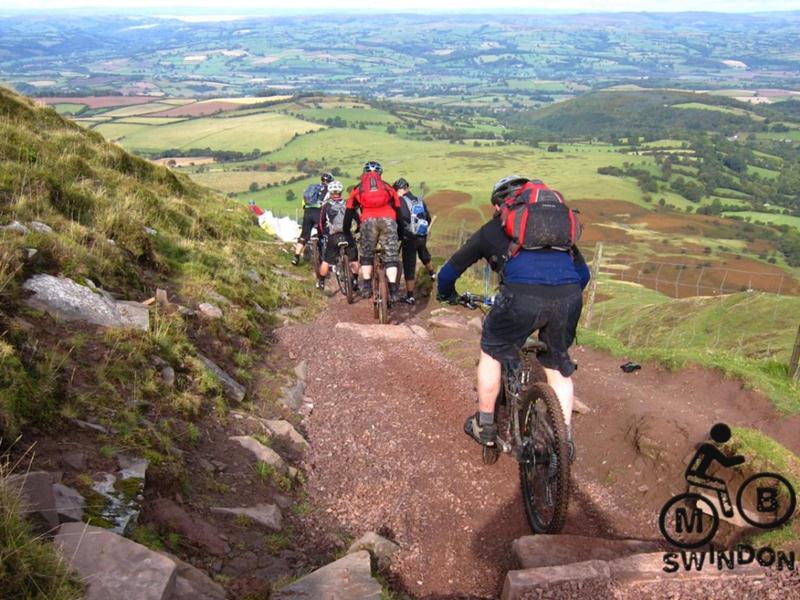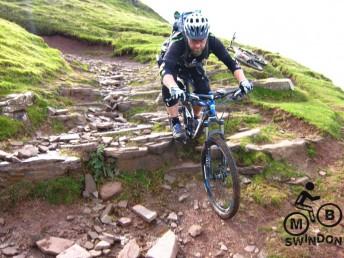 After a short stop at the big switchback while Tom went off looking for photo opportunities  we were off again and having fun…
A puncture from yours truly (I really should learn to keep mouth shut) afforded a short breather and no doubt detailed discussion of how gnarly some of the technical features were.
The rest of ride took in one small and two more large climbs accruing a total of 1171 meters in elevation gain for the day.  For those that have climbed or ridden Snowdon it might not sound that much but it was tough going. So steep in places that only a machine could pedal up (yes Tom did) and we found ourselves pushing and carrying the bikes sometimes for 30 mins or more at a time.
In return for what probably sounds like hard work we had the opportunity of a couple of pretty quick descents including a really long one (before our last climb). This really let the bikes pick up some speed and we had fun hitting the feeders, streams and channels at pace, avoiding rocks and hopping holes along the way.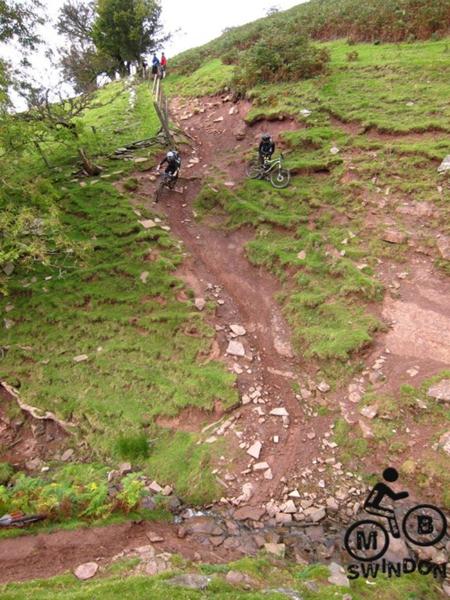 One of the highlights for me was a really steep descent into a tricky stream crossing provided one of the best photo opportunities of the day and gave one or two of us the chance to drop the seat post and really enjoy a bit of technical descending.
The second highlight was the final descent to the car park, not because it meant the car and ultimately home was waiting but because it was a real down hill treat! A steep muddy trail through the trees with huge (really huge) rocks and drops that made the climbs worthwhile.
I have ridden Black rated trails in Morzine which didn't compare to this treacherous but smile inducing final section of the ride. There we a few 'offs', lots of laughter and a fair amount of white knuckle moments which all resulted in some high spirited banter about how crazy and dangerous it was when we all spilled out into the clearing at the bottom of the final gulley!
After 26 miles and 6 hours later, despite the moaning and planning to lynch Tom during the long climbs, I think everyone had a superb day out, one that gave the each of us the opportunity to test every bit of riding skill we had or never knew we had.
Did I mention that we spent 6 hours in the mountains in Wales in October and it didn't rain? Cymru am byth!
Route map OS Map, GPX, BikeHike image.
Nearby rides: Brecon Gap, Cambrian mountains, Real Ale Wobble.