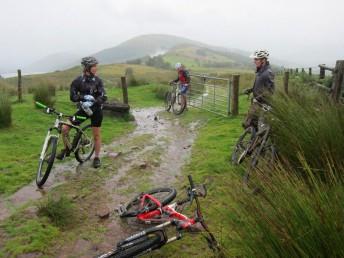 This was a mid week ride organised by Tony Holmes. There was a fair amount of rain falling when we gathered in the Pencelli camp site and it turned that I was not alone in looking for excuses not to turn up.
Once we were moving then the trip started to seem like a very good idea. From Talybont we followed the Brinore tram road to the top of the hill. The general levels of dampness increased and a chill set in as we huddled under some trees after crossing the top of the hill.
Tony had a cunning plan that would cut a bit of boring road out. A fast descent along a fire road took us onto the reservoir tramway.
Keen train spotters will be interested to hear that the Brecon Valley railway uses the line of the old Brecon and Merthyr Junction railway.
After a river crossing the route then worked its way up to the gap. This section seemed a lot shorter and less steep than I remembered it being from years ago. The weather had positively improved by this stage.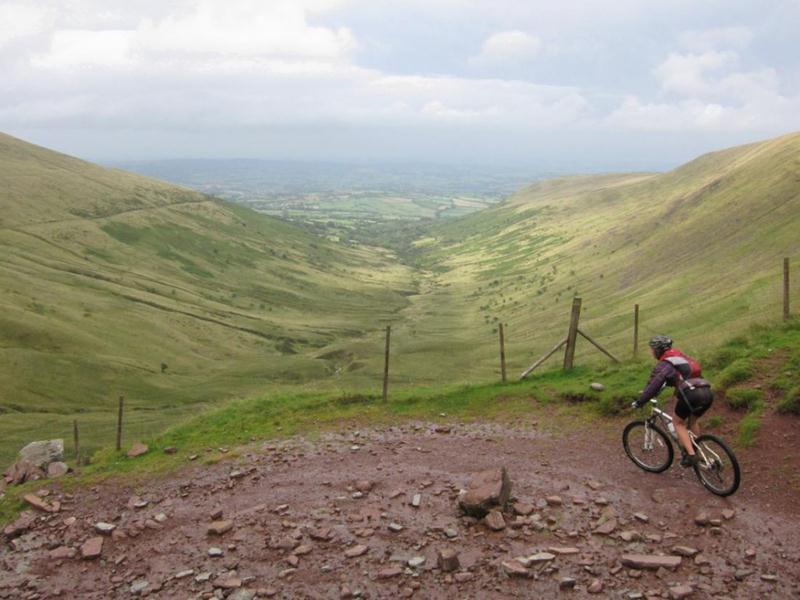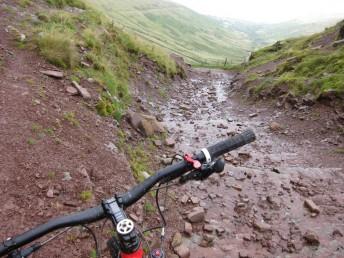 Sadly, the main gap descent was tidied up recently, so the rocky steps are less steep. All the same the top section is still a fun descent with great views.
There's a lot of down to do before the route reaches the roads on the north side of the Brecons. The obvious track at Bailea was missed out due to it being overgrown. The bridleway to Llanfrynach gave a final bit of entertainment before the final leg along the canal back to the camp site.
We called in at the Royal Oak in Pencelli for an evening meal.
Thanks to Tony for leading the ride.
Brecon gap route map OS Map, GPX, Mapmyride.