---
UK Bike Park is located near Blandford Forum in Dorset and there are several tracks on offer including 4X, blue, red and black graded downhill runs.
We paid £25 for a full day and got around 20 runs in.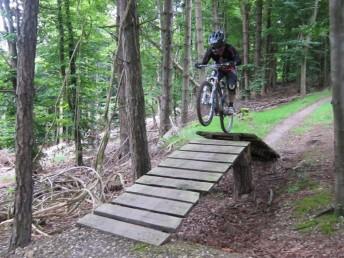 The car park and HQ/cafe are located at the top of the hill and the trails run down through the woods to the collection point for the uplift. This is an ex-army truck with a custom trailer on the back. This uses a steep track back to the top. After a short ride or push for the final 20m or so then you're back at the start of the trails.
There's plenty on offer here – the blue and red runs offer a lot of jumps and kickers with no threatening gaps or big drops. John was riding a hardtail down it with no big issues. The black routes have some gaps, bigger kickers and generally steeper lines. We saw James get some serious air time off one of the big drops.
My personal favourite was the red run with the line of wooden up ramps (as shown in the video below). The final obstacle on this route proved that I can jump off things as long as I'm not expecting it. Something to work on in the future.
James is planning on organising more DH days in the coming months. james at mbswindon co uk for more info.
Also see the Antur Stiniog trails at Ffestiniog.